The Old Cybercafe: Crypto Adoption Would Boost Business and Internet Usage
The cybercafé or internet cafe is a popular option around the world for those who want to use public computer to access the Internet, play games, create documents, chat with friends using voice and video calls, as well as other computer-related tasks in public.
And although the advent of the mobile phone, the reduction of cost of mobile phone and increased ownership of personal computer and lap top at home, and/or ownership of other internet gadgets and reduction of broadband costs may have made the cyber cafe less popular in developed and developing worlds alike in these times; the cybercafé isn't dead yet and continue to be a popular option for one or another reason.
First despite the reduced cost of personal ownership of computer, mobile and internet subscriptions, not everyone is able to afford them yet. Second, these personal gadgets may not necessarily suit the "traveler's" schedule and conveniences. For instance the cases of a home installed computer and even in the case of a portable laptop. You may not be able to carry them for case of home installed P.C. and may not carry them with you always for the case of a laptop, for one reason or the other. Even small technical challenges of using these personal gadgets do see many people using or opting to use public computers for instance if there is technical support available there…
…Let's just say the computer world is still a technical world until when either all computers can speak local dialect or all locals can speak and write the computer language and code.
We have heard the popularity of the sport-betting industry and how popular it is in cybercafés today in places like Kenya, but how can the traditional cybercafé reinvent itself to accommodate new aspects of the 'cyber life' such as trading cryptocurrency, mining etc? Will further adoption of cryptocurrency means new revenue streams for cybercafés or just not? How can these aspects change the traditional cybercafé as we know it? Will need for safety and security for digital assets leave everyone wanting to do it on a personal and private computer or will the cybercafé re-innovate to serve such needs?
Burgeoning or declining industry?
Since establishment of the first cybercafés in 1991 in San Francisco which were coin-operated computer stations installed in coffee-houses; and then the first true cybercafé in June 1994 -- called Binary Cafe – the industry grew later and millions of cybercafés were established around the world.
Information science and technology had proven to be a real deal in the wake of internet discovery and the www era is still huge. Then every government wanted to open up their economies to the massive opportunity and the result was empowerment of the world citizens not just with more computers and laptops but also with information in their heads about the massive opportunities in the then and even now burgeoning digital space...not forgetting the increased equipping of world citizens with the knowledge on how to operate the machines and the quest to make the computer and internet much more portable, easy to use and affordable across the globe…itself been a very long journey.
Now given the decreasing of price costs of the computer as we know it, there is not only a slimmer informational gap between the rich and poor but there also is vast knowledge on 'how to exploit digital and informational opportunities and you know, earn online, invest online, work online, trade online, collaborate online etc.' Beyond this horizon lies the specialized techies who pride in the possession of advanced knowledge or training of some kind in the digital informational world and apart from these few who can snatch a high paying job in a digital-friendly company or organization or something, everyone including or not including them, has a lot at their disposal to try their luck on, from online working, online betting, freelancing and now online forex and bitcoin and crypto trading.
Today, we have heard crypto cafes in places like Florida and even hijacking of a million public computers for illegal hidden mining of crypto in places like China, to new crypto-based revenue models for Internet Cafes in the Middle East; hence exposing the potential of cybercafes for cryptourrency addicts but also the dangers that come with the opportunity.
For instance, in the Middle East, MenaPay now allows 84% of the population of the Middle East who don't use modern banking systems or online shopping, to convert cash to digital assets, in internet cafes in their regions. MenaPay and Handy Café – the largest internet cafe software in the region (used in about 20,000 Internet Cafes) – partnered to allow users to generate extra income by selling MenaCash through the software, free of fees. In other words, users of the cafes can pay cybercafe usage with/by crypto via the software and can convert their cash to MenaCash crypto (which is pegged to $1) at the cybercafe points using with the Internet Cafes being MenaCash providers/resellers.
MenaPay can be used in many places in Middle East and complies with Islamic banking principles. These are examples of how the cybercafe may become different within the meaning of facilitating crypto growth, but that just one example.
Speaking from the experience of the third world, a few years ago, the internet cafe wasn't popular beyond the email sending and internet calling/chat buzz, then popularity spread with the increase in hunger for information and knowledge search in colleagues and universities, then came the social media and the increased adoption of the computer at the workplaces coinciding with the increased need to digitize and automate and connect the office and market and the shop to the "outer world.'
Then came the need to search for extra income and employment as the elite masses scrambled for lack of employment in domestic economies, and this coincided with greater interest for global companies to expand to more localities. Today, the computer is no longer for the elites, but anyone who can read, write, place a bet, play and even children as entertainment and gaming is now huge responsibility of the traditional computer.
Now that internet-enabled phones allow pretty a huge number of people to do emails, browse the web, chat and interact with friends on social media at a fraction of the cost and do some more complicated tasks such as create documents and collaborate on mobile devices, the cybercafe has lost much of the grip it had in the early 2000s. Nigeria, for instance enjoyed as much as 15,000 internet cafés in 2003 but now the number is much lower. Same for Kenya.
However, that happened even as the number of those accessing the internet around the continent shot up. As late as June this month, more than a half a billion people in Africa or about 40% of African population, accessed the internet in the month surpassing the figures for Latin America, North America and the Middle East. Nigerians comprised of 20% of all Africans online in the month. For country values, Kenya had 83 percent online; South Africa, 56 percent; and Nigeria, 60 percent. The increased numbers signify the increased hunger the content has for internet and it's a positive one for crypto industry most of whose undertakings happen online over the internet.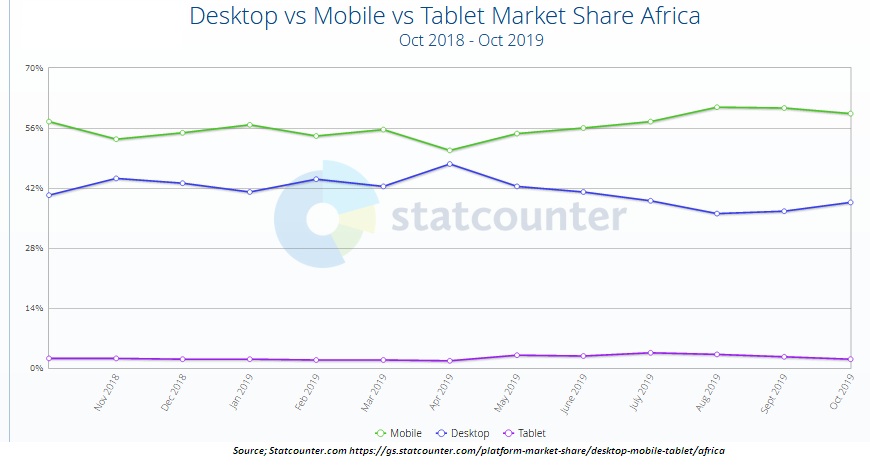 In other parts of the world, most people could be using personal computers at home to access the internet besides the use of mobile phone or portable devices, but the numbers of those who use a P.C. to access internet (again excluding those who use mobile devices to access internet) in Africa are much lower than those who use the P.C.s in cybercafés or access internet from public places such as cybercafés, schools etc in Africa. That's explains the popularity of mobile and other portable devices in facilitating internet connectivity in the region: it is far more popular than desktop and P.Cs.
It is true that 59% of all website traffic in Africa is being generated through mobile phones, but also the desktop share of 38.61% is a substantial one for those who must use a desktop for heavy and non-heavy applications. Part of it is those who do not have mobile phones even or whose phones aren't suitable or best for browsing. Since last year, mobile internet activity has gained just two percent and desktop fallen by 2%. Thus it is likely mobile crypto wallets are also more popular and will continue to gain more popularity in the continent than desktop wallets in future, but since that will mean light-duty cryptocurrency operations, desktop will still remain popular for heavy-duty aspects such as crypto staking, mining, masternode running and cryptocurrency trading must be done or even hosting blockchain nodes. Indeed, with advanced crypto adoption, desktop is likely to rule like is the case in the rest of the world.
The cybercafé has continued to be reinvented
According to the Communication Authority of Kenya, 99% of Kenyans accessed the net via the mobile phone. That's about 99% of the total 36 million who have access to internet. However, a good number of cafes have remained operational because they are the main places where Kenyans access government services, outside state offices, under the e-citizen services. The government services include registration and processing/renewal of official documents such as passports, land titles, driving licenses, car ownership among other services. Other services include tax certificate, filing of tax returns, conducting land searches, application of visas, filing of tax returns and application for certificates, buying electricity tokens. This is even as several government agencies took their services online.
Since digitization is a continuing project, they may service. Still the cybercafé is used for gaming, gambling and well blogging and reading. Let's not forget a few years ago -- in fact less than 10 years -- when online freelancing started being popular in the country; its impact on the cybercafé industry has been huge from establishment of specific freelancing bureaus to dominating of freelancing community among the browsers of the internet in the country including in cybercafés. Increased retail forex activity and cryptocurrency adoption could mean a new wave of rejuvenation for cybercafés. For just same reason we know: one does not need to own a machine or connectivity to access these services at much lower costs.
Forex and cryptocurrency trading in Africa
While the continued popularity and usage of the mobile phone and laptops and P.Cs at home has slashed the popularity of the net cafe by a more than half and expected to continue as faster devices get more affordable, some tasks and activities that heavily rely on the computer and internet will either be too cumbersome if not impossible to do on a phone…as discussed before.  
That aside, the high cost of managing a constant broadband or internet connectivity for such tasks is likely to discourage their popularity around home or phone even, especially for many people who value the consistency and predictability that comes with a regular job and are therefore unable to commit full time to work online on their machine before they can learn and be sure that it is a fully dependable something. Most of such are likely to go through multiple phases of testing of online opportunities before they can commit fully and settle.
Mention the current lack of knowledge and training among the masses which is unmatched with the desire to explore online opportunities and take online opportunities such as trading and investing in digital assets, and you could see cybercafés being huge practicing grounds for the "willing and learning' and double dealers switching between their regular job and online opportunities on a part time basis, before they can settle specialize.
Speaking about pricing, the cost of managing a PC that can run heavy desktop wallets and manage aspects such as crypto mining, staking and crypto masternodes is still high in these places -- mention a 4GB or 8 GB RAM machine with substantial storage space and higher processing speeds above the average.
It is very correct to say that many of those who are in cryptocurrency also currently use the cybercafés for cryptocurrency operations. But also, success of "cyber trading" may be as long a the operations can remain secure; in many cases a public Wi-Fi or internet is not the recommended option when handling private communications such as those involving cryptocurrency or money transactions given the low security settings.
Also the success would be boosted as long as such cryptocurrency undertakings such as trading can remain a social undertaking; we have seen betting be so and so online gaming. That will also happen even as innovations continue on how cryptocurrency wallets, staking, masternodes and heavy crypto trading can be handled smoothly on mobile devices or portable devices. The success will also depend on cryptocurrency adoption numbers.