Where to Buy and Sell Crypto on ATMs
More than 75 percent of Bitcoin ATMs are located in North America, more than 21 percent in Europe while Asia has about 2 percent of the ATMs. Many of these Bitcoin ATMs have Altcoin support, allowing customers to buy and sell other cryptocurrencies but again, not all cryptocurrencies are supported as it is. United States leads in the number of Bitcoin ATMs with ATMs in 1930 locations, followed by Canada with ATMS in 506 locations and Austria with 166 locations. The United Kingdom has ATMs in 128 locations while Spain has then in 50 locations.
In the United States, Los Angeles has the highest number of Bitcoin ATMs at 246, followed by Chicago at 158, and New York with 152. In Canada, Toronto has the highest number of Bitcoin ATMs--190, then Vancouver CA 73 and Montreal with 63. In Austria, Vienna leads with 61 followed by Graz with 28 and Innsbruck 20 machines. In the United Kingdom, London has the highest number of ATMs at 93, followed by Birmingham with 7 and Manchester 6
Coinatmradar.com tracks about 3000 Bitcoin ATMs, many or 1,473 ATM of which have Altcoin support.  are run by 419 operators. Nearly as twice ATMs are one-way, allowing purchases only compared to the number of two-way machines with capability for deposit and withdrawal of cash (selling crypto for cash). Of all these, about 1384 also support Litecoin, 809 Ether, 477 Bitcoin Cash, 280 Dash, 39 Zcash ATMs, 36 Monero and 24 Dogecoin.
The number of crypto ATMs is growing at a faster and faster rate. For example, it grew from less than 500 in 2015 to about 1000 in 2016 and then to more than 2000 last year and now more than 3000.
Here is a list of Bitcoin ATM operators at various locations

247 Exchange
247 Exchange and its partner MoneyPolo, allow customers to buy and sell Bitcoin and other cryptocurrencies in about 130 countries at about 400,000 agent locations. You only create an order on the site, provide details about yourself and then pay cash at an agent location. The cryptocurrency is then transferred immediately. On the other hand, to cash out crypto, you create an order, send the Bitcoin you want to send, and get cash back at any of the network's locations after 2 confirmations have been made to your transaction.
BCB ATM network
The BCB ATM network allows users to buy Bitcoin and Ethereum with additional support for other currencies like Bitcoin Cash, Dash, Litecoin and their own crypto currency, BCB, coming soon. With their machines, you can also sell crypto for cash by simply choosing the BTC you want to withdraw from your mobile wallet and receiving a redeemable code in return. They currently have ATMs in Birmingham, Essex, Coventry, London and Leicaster.
BitoEX
Using FamilyMart, BitoEX allows customers to buy Bitcoins at more than 12,000 convenience stores across Taiwan.
Bitpoint
Bitpoint machines allow for the cashing out of Bitcoins without users having to wait for three business days to transfer Bitcoins from wallet to a bank account. It also runs ATMs at various locations in London.
Bitstop
Bitstop allows persons to buy and sell Bitcoins simply and securely through nearly 80 kiosks in United States' California, where they have more than 20 ATMs and in Florida where they have more than 50 kiosks.
BitcoinPlug
BitcoinPlug lets you buy Bitcoins with cash at its 29 convenient locations today, but only in California.
Bitcoin Brains
Bitcoin Brains offers users the ability to buy and sell Bitcoins in Calgary, Edmonton, Montreal, Winnipeg, and Toronto.
Bitcoin Exchange
Bitcoin Exchange runs machines in Singapore to let customers to buy and sell Bitcoins.
Bitcoin Depot
Bitcoin Depot runs Bitcoin ATMs in more than 125 locations in the United States. The kiosks are distributed in Georgia, Alabama, Texas, Missouri, Illinois, Tennessee, Nevada, California, North Carolina, Pennsylvania, Maryland, Kentucky, Ohio, Florida, and Massachusetts. They are also adding more ATMs. Their machines allow you to buy and sell Litecoin, Ethereum, and Bitcoin Cash instantly, in addition to Bitcoin. Customers use the Bitcoin Depot Wallet App to receive, store, and spend their Bitcoins.
Bitcoin of America
Bitcoin of America is a Chicago-based licensed cryptocurrency exchange with more than 30 Bitcoin ATMs in Chicago, Detroit, St-Louis, Indianapolis (Best Mobile 8805 E 38th St, Indianapolis, IN 46226; ), Miami, Philadelphia, Baltimore, Los Angeles.
With their ATMs, you can buy cryptocurrency with cash and without a bank account, debit card or credit card, through a a wallet on your smartphone.
They also operate Genesis Coin that support Litecoin and Dogecoin.
Bitnational
Bitnational operates about 46 ATM locations in Canada where customers can buy and sell Bitcoins.
BTCU
BTCU and The National Credit Bank let you buy Bitcoins in more than 4000 locations across Ukraine. The service was launched in June 2014.
Chip Chap
Chip Chap is an app that allows you to convert bitcoins to cash and withdraw at more than 10000 bank ATMs in Spain via Halcash system. The ATMs are spread across Europe although the app is supported in Spain and may later include other countries such as England, France and even Mexico.
Currently, they have over 5,000 shops in Mexico, over 500 ATMs in Greece, and over 8000 ATMs in Spain.
CoinCloud
CoinCloud has ATMs where you can buy and sell Bitcoins in Arizona, California, Georgia, Kentucky, Nevada, New Hampshire, New Jersey, North Carolina, Maryland, Massachusetts, Michigan, Minnesota, South Carolina, Tennessee, Texas, Utah and Virginia.
Coinme
Coinme started as an operator, running several Robocoin kiosks since 2015. Later on, they adopted their own software and own hardware and started production of own machines in 2017. They also held an ICO for Uptoken, expected to give owners later access to discounted fees at machines if covered with the company tokens.
The company has more than one hundred Bitcoin ATMs in 8 states including in California, Colorado, Kansas, Louisiana, New Mexico, Texas, Utah (TBD) and Washington.
Coinsource
Coinsource is now a manufacturer but originally an operator but now a manufacturer. The company was using software by Genesis Coin but developed own software to have more control on customer experience at their ATMs. The company has compliance standards and is regulated by all governing bodies. They run both one way and two way machines (one way allows purchase of crypto with cash and two way allows this and also the selling of Bitcoin for cash).
Coinsource was the largest operator of Bitcoin machines as of November 2017. The company services 164 million residents with 182 machines in 19 states as of last month. They have ATMs in California, Nevada, Arizona, Colorado, Oklahoma, Texas, LA, Montana, Florida, Tennessee, Georgia, North Carolina, Delaware, New York, New Jersey, Massachusetts.
Cointed
Cointed is a cryptocurrency exchange with over 100 Bitcoin ATMS in different locations distributed in 4 countries including`Austria and Switzerland. Their machines have BTC, ETH, LTC and DASH buy/sell support.
Founded in November 2015, the company also offers (or plans to offer) other services such as crypto mining, and payment and an online shop from where people can buy gadgets such as crypto hardware wallets.
CoinFlip Bitcoin ATMs
CoinFlip Bitcoin ATMs lets you buy Bitcoins for cash as well as sell Bitcoins to withdraw cash. They have 68 ATMs spread in Nevada, California, Texas, Tennessee, North Carolina, Ohio, Illinois (where they have the largest number of the machines), Michigan and Wisconsin. All of their machines also support Litecoin, Ethereum, and TRON at all terminals. You can even cash out your LTC at their two-way models.
They also provide licensing and consulting, and advertising for cryptocurrencies.
Coinfinity
Coinfinity runs ATMs in Austria in Vienna, Graz and Wiener Neustadt, allowing customers to buy Bitcoins with cash.
They also launched a new project in 2015, called Bitcoinbon, to allow customers to buy Bitcoin at 600 locations (tobacco kiosk) using special prepaid cards with nominal 25, 50, 100 EUR and then using the code on the card convert it to bitcoins on the site.
Coinplug
From Over 7,000 regular ATMS in South Korea can now be used to buy Bitcoin.
Coinplug runs two own regular ATMs in South Korea, allowing customers to buy Bitcoin for cash or credit card. Customers can buy 10,000, 30,000 and 50,000 South Korean won (approximately $10, $30 and $50) in Bitcoin using the ATM-based service.
Coins.ph
Coins.ph and Philippines Security Bank run a service that allows you buy and receive Bitcoins through 450 bank ATMs in Philippines. Philippines' Security Bank runs the eGiveCash that facilitates this. You are able to buy and sell Bitcoins.
DEPOT LLC
DEPOT LLC now has about 112 bitcoin machines installed in Pennsylvania, New Jersey, Georgia, and Florida. They have installed 91 Bitcoin ATMs in New Jersey alone and 12 in Pennsylvania.
Their machines allow users to buy Bitcoin with cash. Remember the company also operates Covault, which is an ATM producer for the Covault 1.0 and Covault 2.0 machines -- one-way and two way Bitcoin machines respectively. They also do software leasing.
Digital Cash 2 Go, Inc.
Digital Cash 2 Go, Inc. has 24 machines installed in Illinois.
Digital Mint
Digital Mint also has another brand called Red Leaf Chicago, and their machines in 122 nationwide locations in Arizona, California, Colorado, Delaware, Illinois, Indiana, Massachusetts, Minnesota, Missouri, Nebraska, New Jersey, North Dakota, Pennsylvania and Wisconsin. Their machines allow customers to instantly and quickly buy Bitcoins and Litecoins.
You can also use credit or debit and they have a daily limit of $8,000 and an On-Demand teller daily limit of $20,000.
FOXBOX
FOXBOX has been in operation across Lithuania since April 2014 and provides more than 70 self-service terminals where customers can buy Bitcoins.
HoneyBadger
HoneyBadger is Canada's largest network of Bitcoin kiosks with around 50 kiosks around Canada.
HK Bitcoin ATM
HK Bitcoin ATM allows customers to purchase and sell Bitcoins, ETH, LTC, ZCash and BCH. They have ATMs in three locations. Other operators in ANXBTC Bitcoin and the Bitcoin Group Hong Kong who launched ATMs as early as 2014.
Instacoin
Instacoin runs a network of 81 Bitcoin ATMs in Canada in Montreal, Toronto, Quebec City for buying and selling Bitcoins. These are located in New Brunswick, Nova Scotia, Prince Edward Island, and Newfoundland.
Kurant
Kurant Bitcoin ATMs allow customers to buy BTC, ETH, LTC and Dash at various locations in Austria (30 locations).
Landmark
Landmark operates in U.K. and currently has 11 bitcoin machines installed in London (most of them are here), Leicaster and Coventry. Some of their machines support buy only while others support both buy & sell BTC and LTC features.
LocalCoinATM
LocalCoinATM operates machine in Toronto, and their machines have Bitcoin, Litecoin and Ethereum support. They also offer live phone and email support t.
The company has over 60 machines in different locations in Ontario.
RockeItCoin
RockeItCoin had 51 machines before September last year and by November had 71 ATMS. RockItCoin now has more than 120 crypto ATMs in California, Pennsylvania, Texas, Florida, Georgia, Illinois, Wisconsin, Indiana, Kentucky, Missouri.
They have about 23 Bitcoin ATMs in Illinois alone, 13 in Georgia, in Indiana they have about 11 ATMs and 8 are in California. Most of their ATMs support buy & sell feature for BTC, BCH, ETH and LTC.
Satoshipoint
Satoshipoint has 28 ATMs near and around London. The company was started in 2014 and was one of the first companies tooperate Bitcoin ATM in the U.K. It supports 52 cryptocoins and has processed 534,213transactions.
WBTCB
WBTCB runs a service called EasyCoin that offers several Bitcoin ATMs in the Czech Republic and allows people to buy and sell Bitcoins for cash at 250 locations across the country at Geco tobacco kiosks.
To buy Bitcoins, you provide the wallet address and then visit one of the Geco locations and pay with cash. To sell, you would have to generate the order on the site first and BTC address is provided where the bitcoins are sent. Then you receive cash after 1 confirmation for the payment.
Zebrapay
Zebrapay lets you buy Bitcoins at more than 1685 locations in Romania and it works like a Bitcoin ATM although you input the address or address shortener manually on the machine instead of using a QR Code scanner. They now support Ether and VEROS.
Manufacturers of Crypto ATMs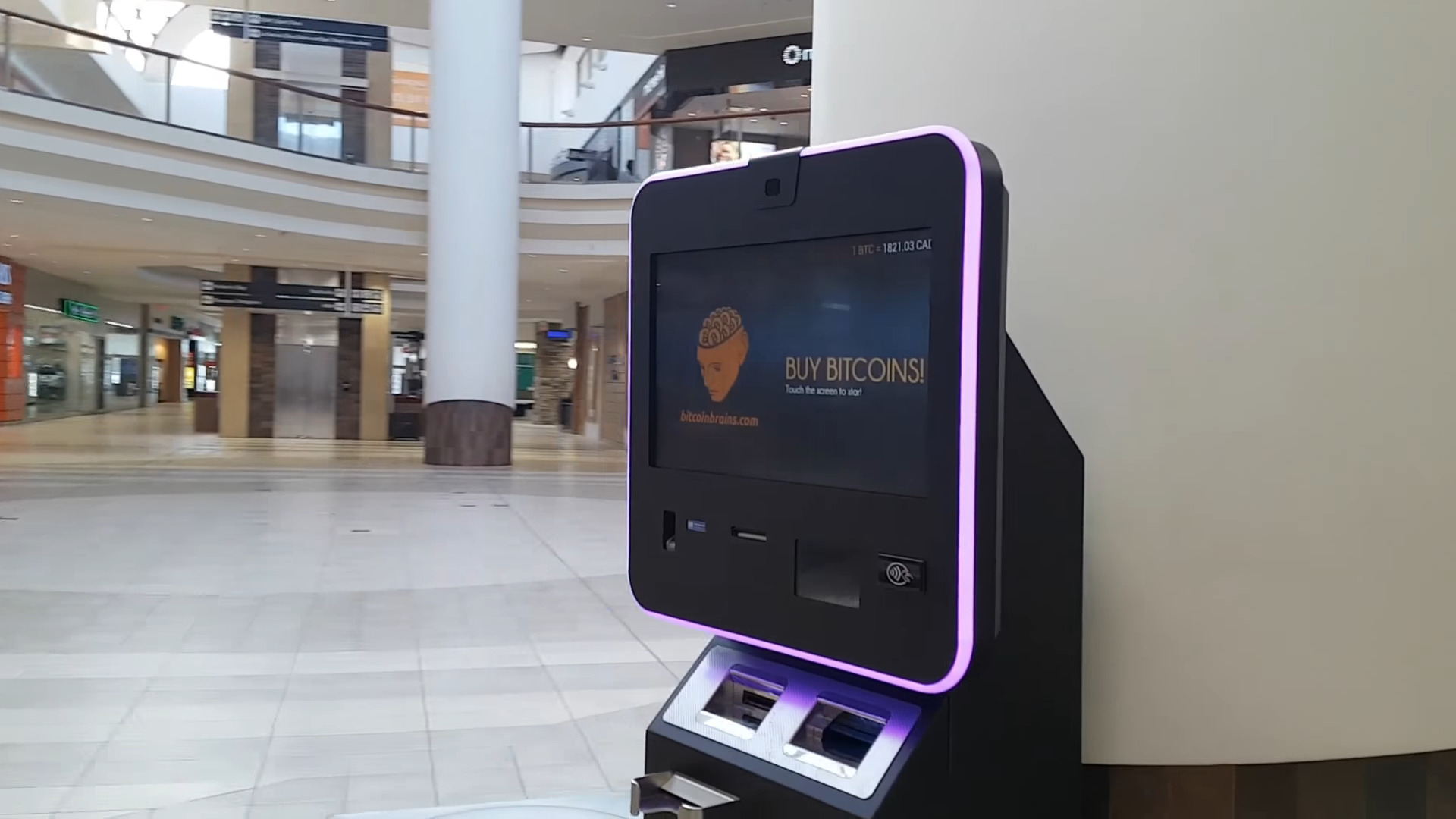 Genesis leads with more than 36 percent in Bitcoin ATMs, followed by General Bytes at more than 27 percent, and Lamassu with over 14 percent.
Genesis Coin has about 1026 coins installed. Their machines include the Genesis1 that supports Bitcoin, Litecoin and Dogecoin. General Bytes as a manufacturer of Bitcoin ATMs has sold over 1560 machines and more than 121 with fiat support. The machines went to more than 41 countries worldwide in all regions including Africa and Asia.
Lamassu produced the first prototype machine in February 2013. Their ATMs supports buying and selling Bitcoins, Ethereum, Zcash, Bitcoin Cash, Dash or Litecoin. Most of their machines (more than 200) are sold in United States, although they have also sold about 100 in Europe and in other continents. 
Other manufacturers include Coinsource, BitAccess, Covault and BiXatm. There is also Biitnovo, zzBit, BBFPro, Bcash Greece Inc, Kiosk Terminals, Skyhook, LocalBitcoins, Bitcoin D.A.V.E., CoinOutlet, Robocoin Kiosk and BTC facil as manufacturers.