Blockchain Can Improve Digital Identification Greatly
Digital identity is required in almost every sector worldwide today, from banking, healthcare, national security, citizen documentation to online retailing. The need has risen with increased digitization through modern technology. As such user and identity authentication and authorization is a very important process in a digitally developed commercial and social world.
However, centralized and traditional identity management comes with many disadvantages. First, centralizing identity creates a single point of failure and builds a repository of high-value data that can attract hackers.
Although common in cryptocurrencies scenes, blockchain could solve digital identity problems by tracking and managing digital identities in a secure and efficient way, resulting in a seamless sign-on and reduced fraud. Data and information breaches and fraud is common today. Blockchain can secure the names, addresses, phone numbers, and email addresses and avoid the many data breaches and theft.
Besides, blockchain tech can help eliminate digital clones that are common even though there is only one physical person. Multiple and different digital identities are common. For instance, IBM cites a 2016 Intel Security survey that found that an average person has 27 different digital identities.
Blockchain can improve data sharing and integration across organizations, departments, and users, reducing costs incurred in traditional systems as a result of variation of data and information across multiple systems of entry, record, and reference inside of an IT environment.
This is because blockchain can see identity uniquely authenticated in an irrefutable, immutable, and secure manner using digital signatures that are based on public key cryptography. Blockchain technology, although it has many disadvantages including lack of ease of usability, ensures that the owner of the private key signs transactions and verifies identity in question and proofs ownership of digital assets, trustlessly in a secure environment.   
As such, it could be applied in e-residence, management of passport identities, wedding certificates, national IDs and birth certificates. There are a few examples of using blockchain in these manners as we shall see later on in this article.
Blockchain technology, in short, helps keep personal information secure and private but shareable on a trusted network. It is made available only to those who need to know.
Companies also spend $500 million annually on KYC globally implementing processes and procedures and blockchain could help lower that cost. Every bank currently performs its KYC individually and then uploads validated documents to the central registry. Banks can then access this data to perform due to diligence and offer service to customers. Many KYC platform does not employ blockchain. 
Problem with current identity management systems
First, most of the current traditional identity management systems used to manage user and client identity are centralized. Centralized database systems not only deny the customer or consumer the right to control their own identities but they also leave it in the hands of organizations and governments...and those who can access these systems.
There is the risk of them being changed and altered without user's consent. Centralized databases are also easier to compromise compared to distributed or decentralized databases given that a hacker, for instance, would target fewer resources than in the case of distributed databases.
Equifax, a centralized consumer credit reporting agency, for instance, was recently hacked and the attack exposed social security numbers and other personal data belonging to more than 143 million American residents were exposed.  
These traditional identity management systems are password-based and these shared secrets are exchanged and stored on insecure systems. This means such data is not secure in very many ways. 
Traditional identity systems are also very costly in terms of the technology that underlie them and the processes that need be performed to reconcile data, assure data integrity and data integration. They also deny the customer great customer experience. 
Some countries such as Estonia, Kazakhstan, and India use some form of centrally-managed digital identities that they use to file income tax, register for the property, change email address, vote and withdraw money from an ATM or pay for packing. Although these systems show the many advantages over traditional identity management systems, they could be more secure (and with many other advantages) if hosted on the blockchain.
Benefits of Blockchain technology
Enforcing data integrity and provenance while distributing the most recent state of data among all interested parties are some of the toughest problems that data integration and integrity software has been trying to solve in a world of disparate and uncontrolled data sources, notes Stewart Bond, director, Data Integration and Integrity software research, at IDC. IDG, blockchain helps solve these problems.
It can help users and organizations to manage multiple copies of digital assets, to find the most recent versions and avail them to those people who depend on it. This applies to enterprises, consortium, regulators, and technology vendors, for instance.
Blockchain promotes distribution of data across a network. For banks and large companies, for instance, that would need reducing costs by eliminating traditional data aggregation and integration systems due to variation of user data and differences in digital identities possible in most traditional systems.
They would get the advantage of sharing the most recent data about a customer, for instance, when providing services. The data exchange can also reduce call center costs.
Data on blockchain cannot be altered by a single individual because network participants need to come into consensus using tech that the proposed transaction (change) is correct and valid. Even when that data is changed on the blockchain by creating a new block, it is made available to approved users in the network.  
Data on blockchain is immutable because a new block has content of the previous block in the chain and security improves as the chain gets longer.
For customers and individual users, in addition to improving security and user experience, blockchain eliminates the need to have and remember passwords for credentials in many systems. Customers will also benefit in terms of speed of transaction settlement following faster verification of data through a distributed ledger or blockchain version of a trade 
Examples of blockchain-based digital identity systems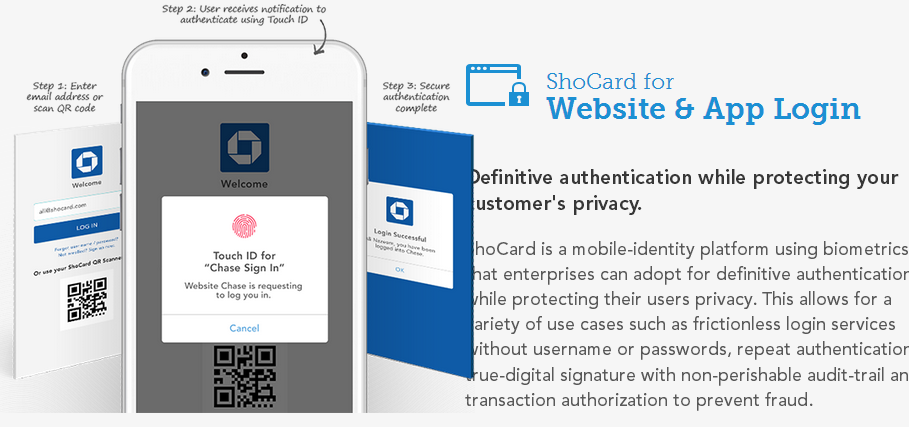 ShoCard is a block-based enterprise identity authentication platform and single sign on (SSO) solution for business. It improves client (suppliers, partners and customers) security while providing good customer experience.
It eliminates need for passwords within the enterprise to authorize network and data access and instead uses blockchain-based identity verification and authentication processes.
It is being used by different types of organizations including banks and other companies. Customers can even share digitally signed client data by sending them to other organizations.
ShoCard uses Bitcoin blockchain. For use in airlines, a "Single Travel Token" can be generated based on client travel documents and airlines can use a public key to call up those documents. Any airline connected to this ecosystem can verify the identity of the passenger in this manner.
There is also a mobile application.
Deloitte's Smart ID also uses blockchain like ShoCard. KYC-Chain is based on Ethereum and uses smart contracts to allow customers open accounts online while complying with laws and regulations. However, it relies on a trusted gatekeeper, a person who first checks the document to authenticate them then upload them to the distributed database.
iSignthis provides automated KYC identity proofing by using real time electronic verification of regulated payment instruments and have recently partnered with Denmark-based Coinify. R3 Corda runs a KYC that allows identity owners (institutions and individuals) to manage their identity as does MyBit, while Tokenize is also using blockchain to help people connect their physical products with their digital identities.
IBM and SecureKey Technologies also announced on May this year, a partnership that would enable use of IBM blockchain technology to help share digital identity across banks, telcos, healthcare providers, and government agencies.
The technology would "make it easier for consumers to verify they are who they say they are, in a privacy-enhanced, security-rich and efficient way" according to IBM announcement.
IBM blockchain is built on Linux Foundation's open source Hyperledger Fabric v1.0. With the technology, financial service firms can verify identity immediately when customers are opening bank accounts, when citizens are renewing driver's licenses, when companies are contracting suppliers to provision utilities, in communication services, and helping to submit income tax returns.
Blockchain-based digital identity systems can help with quick checking and proving of credit rating, background checks, and employment attribute data to banks, lenders and a prospective landlord or agent.
The project by IBM will be launched later this year.
There are many blockchain projects in which a digital ID is created to act as a digital watermark which is assigned to every online transaction of any asset.
These companies include 2WAY.IO that transforms public node into a public node by adding a permissions layer. The private nodes can then connect information silos & secure communication channels. Another one is Atencoin, which is run by National Aten Coin (NAC) Foundation. 
With BlockAuth, users can own and operate their own identity registrar and submit their information for verification while Blockstack provides decentralized public key distribution system and registry for apps and user identity. Applications can request permissions from users and then gain read-and-write access to user resources.
Bitnation works as a decentralized identification solution such as blockchain passport and a marriage certificate while BlockVerify is used to improve anti-counterfeit measures  in pharmaceuticals, luxury items, diamonds and electronics among other industries.
 Others include Cambridge Blockchain LLC, Civic blockchain-based identity management platform that helps lock out identity thieves and fraudulent activity on credit report,  Credits helps firm deal with challenges relating to provenance, authentication and reconciliation while CredyCo is a document verification SaaS that uses smart contracts. 
There is also Cryptid for encrypting data, Evernym, ExistenceID digital identity system that helps users to store and share valuable documents, among many other solutions.