Wink Gaming Platform Review
Wink is the gaming platform which is holding an IEO on the Binance Launchpad starting this week until July 30. The gaming platform is backed by Tron, will be the seventh project on Binance's IEO token launch platform, but the first gaming project to launch an IEO on Binance.
Wink is a rebrand of the popular Tronbet game, which was the first Dapp to launch on Tron network. Tronbet is also the leading dApp in terms of active users and transaction volume across all major blockchain platforms. It hosts games such as Poker, Dice, and Slots, which have attracted a community of over 16,000 players.
Wink works as a decentralized DApp platform with games hosted on it, and it supports English, Simplified Chinese, Korean, Russian, German, Spanish, Portuguese, and French languages. The game maximum level achievable is Lv. 99 with different features being unlocked as the user attains higher levels.
Some of the compelling features on the gaming platform include smart-contract based staking for those who want to earn passive income with crypto, free transaction costs, free games (some), etc. It will also have integrations for stablecoins, security tokens, and microloans; as well as integration with products like the BitTorrent File System (BTFS) and the SUN network.
With this gaming platform, users can play games to accumulate tokens and they can also show their loyalty to specific DApps on the platform and my tokens bound to individual DApps. Every user can earn tokens from all dApps hosted, through RainDrops, as long as they have Rain Power, which is earned through staking WIN tokens.
Win Token System
WIN token is a TRC-20 token and based on the Tron blockchain. Holders of the token will earn staking rewards based on their Earning Win Power.
All dApps connected to the gaming platform will be sharing a portion of winnings with WIN token holders through the Win Drop. The to-be-introduced Win Drop is a reward distribution mechanism to encourage the growth of the community. It will take place every day and will incentivize participants with TRX every day with the amount of TRX given to a user being proportional to the amount of power they have accrued from staking WIN.
WinDrop will also reward players of 3rd-party DApp tokens to encourage the development of games.
Holders of Win tokens will also get additional incentive through airdrops. Airdrops will also be given to holders of other TRC-based tokens where people holding other TRC tokens will get WIN airdrop tokens.
Participating in the IEO
Due to the fact that some tokens sell out in minutes as a result of high demand, Binance Launchpad uses a lottery-like system that requires entrants to have a certain amount of Binance's own token, the BNB, in order to qualify. For this of their seventh IEO project, Binance Launchpad will require users to hold tokens for a week but starting with the 9th of their IEO project, the holding period will be extended to 30 days.
To participate in the Wink IEO, users will need to participate in the lottery system by holding BNB for a week before receiving the lottery ticket. A maximum of 200,000 winning lottery tickets will be selected, with $30 allocated to each winning ticket.
A user can claim up to 25 lottery tickets based on their daily average BNB holdings over the specified period with those holding 250 less or equal to 250 being able to claim 25 tickets, those holding between 200 and 250 BNB 20 tickets, those holding between 150 and 200 BNB being able to claim up to 15 tickets, those holding between 100 and 150 BNB receiving up to 10 and those holding between 50 and 100 being able to claim up to 5 lottery tickets.
Incentivized cross-blockchain games 
What WINk does is letting users play, socialize, and stake across multiple blockchain ecosystems using the WIN tokens, the native digital asset for the platform?
It has a host of features including letting developers build cross-platform dApps of different kinds. Users can play these games without worrying which platform it was developed for while developers can develop platform-agnostic dApps and games.
Currently, in addition to Poker, Dice, and Slots games, other games hosted on the Wink platform include Moon, a game in which players are paid based on a multiplier that starts from 1x and can reach highs of over 250x. The multiplier increases steadily but can crash to zero at any time. Players are allowed to cash out at any time to receive the multiplier value. 
Ring & Duel, another game hosted on the platform, is a game in which players can choose which color they predict the wheel will land on, with each color rewarding separately: grey rewards 2x the wager, red 3x, blue 5x and gold 50x.
Wink will also host Slots game and has partnered with premier slot machine developers for this reason in order to deliver a casino experience. There also will be a full suite of table games commonly found in casinos, including blackjack, roulette, baccarat, sic bo, and Russian poker. Another is an online poker game powered by blockchain. The team is also working with game developers, publishers, and IP-holders to bring more properties to the WINk platform.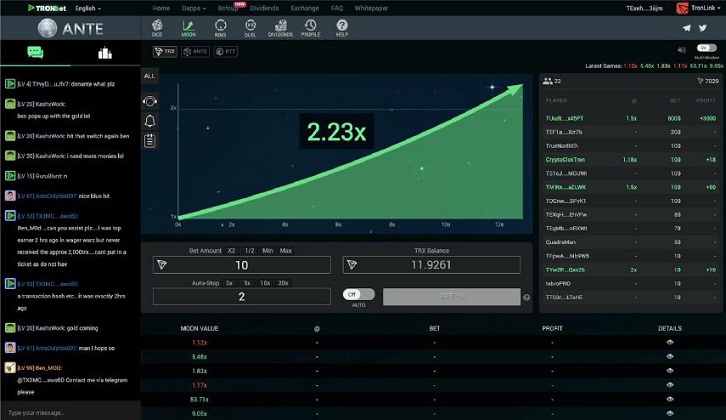 Supporting development of games/dApps
For developers, Wink will have tools and APIs such as the TRC20 and TRC10 transactions, Windrop pools, mining system, social system, Decentralized Exchange, WINk Account System, WINk wallet, Mobile API and more, in order  to allow development of games both by experienced and non-experienced game developers who can also easily transition to the TRON blockchain with the WINk team supporting them with a full back-end system and smart contracts.
Each dApp developed on the platform will have its own utility token that provides extra value but these cannot be traded. Their true value is unlocked through Win token functionality since holders of Win will get exclusive access to WIN token airdrops.
Developers can develop dApps and submit them to the DApp Store for easy distribution, so dApp listing on dApp Store is another great feature for this gaming platform.  On the platform, developers will be able to pay for promotional advertisements on the DApp Store to drive more traffic to their games.
For advertisers, Wink will include advertising options using a Cost per Milli or per banner/time basis with advertisers making known their products to over 40,000 weekly users across all blockchains. The advertising revenue will be transparent to all users of the platform and will be redistributed to all WIN holders.
Developers can also implement crypto and fiat payment services into their dApps: Users can make payments using cryptocurrencies in their wallet, or from their credit card, debit card, or bank account. Users can also withdraw crypto to fiat whenever they want. Therefore, the platform will have fiat on-ramp.
Staking
The platform allows anyone to earn more tokens by staking Win tokens. For instance players can earn DICE by using TRX to play games on the Wink platform, whether they win or lose the game they are playing. Holders of DICE can then receive daily Dicedrops (TRX, BTT and other tokens) by freezing DICE earned by users but not yet withdrawn from the smart contract to their own wallet.
It currently supports TRX, DICE (TRC20 token on the Tron blockchain), and BTT (TRC10) tokens with more to be added soon.
Staked Win tokens cannot be traded, sold, or used in any way and in order to withdrawal the stake, users must submit a request and wait for a certain amount of time. The staking and distribution mechanisms will be announced later. The rewards will be distributed in the form of TRX.
There also will be a content discovery mechanism on Wink platform, to help users/players discover games/dApps and/or receive recommendations on new games and incentives to try them out.
Tournaments, events, and advertising
The gaming platform also encourages social events including live operations and events in addition to competitions. Events such as Binance Charity Poker Tournament will be an opportunity for the game to give back to the community. There will be other events such as celebrity poker tournaments or car giveaways which will promote contests between players.
The platform recently held the Charity Poker Cup together with Binance, TRON, and Litecoin.