Projects that are Combining VR with Blockchain
Both technologies share one thing: they are not so popular technologies in the public eye. But they can help each other in a variety of ways. For instance, virtual reality is good at and popular with the creation of virtual environments in real-world applications such as gaming, property markets, security and organizational training, and classrooms.
On the other hand, blockchain, with its decentralized capability, allows for instant dissemination of information and thus improves performance in environments (such as virtual reality) where the storage of data in centralized units could hamper growth and performance.  
Blockchain also allows for voice chats and body tracking of avatars in virtual spaces, through the use of P2P technologies, which allow for massive user scaling while keeping costs down. That is a very important point!
Besides, when data is stored in blockchain distributed ledgers, users have more control for their data and there are more privacy and security for data and to prevent copyright infringement.
We wrote about a number of projects in the area of VR gaming based on blockchain here. This article goes beyond VR gaming.
AR Token
AR Token is a decentralized AR/VR ecosystem for exchanging 3D content. It is owned by Cappasity, a well-known firm in VR scenes.
The platform allows for the creation of AR/VR/3D content, each of which is assigned a hash and stored on the blockchain to prevent copyright infringement. Details of the content transaction are processed on a smart contract protocol.
Users will be able to sell and buy content using Cappacity (CAPP) tokens whose Phase 2 token sale is scheduled for March 22 this year.
Blockchain 3D Explorer
Blockchain 3D Explorer is a 3D rendering of the blockchain or decentralized ledger, which enables users to view workings of blockchain in real time in the virtual reality environment. It will help users put into perspective how the network is organized and even pinpoint exact transactions on the network and watch as transactions move from node to node.
That said, it is a wonderful tool for teaching blockchain. Besides, it is free on the various platforms that support it, including Windows, Linux, and MacOS.
Bountie Coins

Bounties, an upcoming video gaming platform based on blockchain, will use Bountie Coins which players can use to buy into matches and tournaments but also to purchase merchandise, hardware and games. Participants can claim stakes when they win matches. Players also earn coins when they top the charts on leader boards.
Players can play solo or in groups and the system can match players with others.
The coins will be bought on the gaming platform or can be acquired through match and tournament winnings or ranking on leader board. There will also be referral rewards, quest competitions and promotion and marketing giveaways.
The ICO took place in March.
Cappasity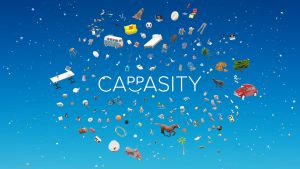 Cappasity is a blockchain based ecosystem that will allow developers and users to create their own 3D and VR and AR content for sale, rent or usage in promoting their products.
The Cappasity utility token (CAPP) can be used to pay for the content and be exchanged for other currencies. It will also act as a trustless copyright storage.
Phase 2 of the project's token sale ended in April.
Ceek
Like most of the blockchain-based virtual reality projects, Miami, Florida-based Ceek develops social virtual and augmented reality and 3D experiences. These include live concerts, classroom experiences, celebrity concerts, charities, or sporting events. The experiences can be viewed on any virtual reality head-mounted set.
It is already providing CEEK CITY experiences that include a theater, concert arena, sports complex, hangout lounge and more.  
It also combines peer-to-peer social experiences and networking.
It also has CEEK, which are ERC-20 compliant tokens to enable users pay for access to exclusive experiences, rewarding of users, voting, engaging in contests, and sale of virtual goods and more transactions.
It also has the Celebrity Coin Cast that allows entertainment industry to mint custom coins. These coins can gain their own inherent value in CEEK platform.
Decentraland
Decentraland is a virtual reality or 3D interactive virtual world that can be visited using virtual reality and over the web. The virtual land is based on Ethereum blockchain, specifically Ethereum smart contracts. Virtual reality content is rendered for each parcel through reference points.
Users can explore hosted content -- go to a casino, watch live music, attend a workshop, shop with friends, start a business, test drive a car, visit an underwater resort, and much -- or create own content and experiences for sale.
It sold 70,399 of the land to over 3,000 participants (addresses) for 161,483,050 MANA coins in an August 2017 ICO. MANA coins can be used to buy any empty land parcel.
It is targeted at artists, gamers, students and online communities who can make money building and selling virtual reality and 3D content.
Flip/Gameflip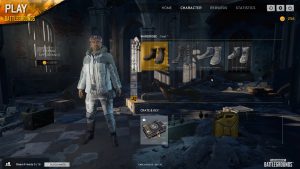 Gameflip is a decentralized ecosystem that brings together all gaming assets for all mobile, PC, console and VR/AR gaming platforms.
Sellers and buy will transact using FLIP, an ERC-20 digital currency whose whose token sale took place in December and concluded after reaching cap before end date.
GazeCoin
GazeCoin works more like a content monetization platform that lets advertisers create virtual reality experiences on its platform, which is built on blockchain. In addition to using GazeCoin tokens, developers can create derivative tokens built on the GazeCoin platform.
Users on the other hand can view this content in virtual reality. It uses a custom engine to track user's eye movements (thus its name) as they watch the content and the platform can reward them with tokens. In short, it works as an app for VR/AR advertising, copyright tracking and user rewards to fix daunting monetizing problems in VR/AR platforms.
The project raised $6,215,827 from its ended ICO, selling a total of 29,508,557 coins at the rate of 1 ETH = 1,398.4 GZE.
Indiesquare
Indiesquare created the Bitcoin VR game, which is a simulation of live Bitcoin transactions, on the blockchain. It is available on Steam VR gaming marketplace.
Players can virtually walk around the blockchain in the "Forest of Satoshi" using virtual reality headsets, to see transactions processed. They can also prune the network using bow and arrow.
It uses the VR Bitcoin block explorer to let users see real-time Bitcoin transactions happen in VR. Players can grab the falling transactions or shoot them with a bow and arrow.
IQeon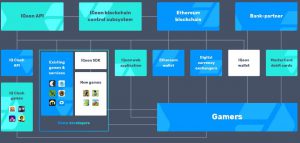 IQeon is a decentralized gaming platform based on Ethereum and which will integrate games, applications and services based on intelligent competitions between users. It will bring together players and third party developers.
It will use IQeon token. Toekens earned in one game can be used in another and can be exchanged on cryptocurrency exchanges with bitcoin, Litecoin, Ethereum, etc. IQeon tokens can also be exchanged for fiat.
IZX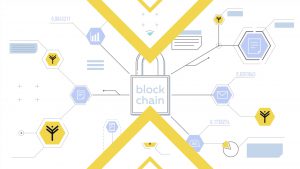 IZX is an open blockchain platform for game developers, advertisers and players, and which will also use virtual and augmented reality.
Already with 29,718 active players, players will receive bonuses by watching content on virtual reality experiences created by advertisers and marketers, so it works like a content promotion platform for those who need to promote their products on the platform.
The issued IZX Drive can be mined, bought and exchanged on crypto exchanges (starting June 2018) as well as used to buy assets.
Nanome (Matryx)
San Diego-based Nanome (Matryx) signs virtual reality interfaces for pharmaceutical clients. It has also manufactured the Calcflow, Nano-Pro, and Nano-One products being used by world's largest research and development labs. It mainly focuses on STEM (science, technology, engineering and mathematics).
 It now wants to bring its virtual reality products on a  decentralized platform in collaboration with Matryx. The platform will utilize the MTX tokens which will be used to incentivize collaboration on the platform.
For instance, pharmaceutical companies, universities or governments will be able to post bounty on the Matryx platform. Users can find and be assigned the bounty in VR, then design and submit solutions, with the winning designer compensated at the end of the competition. The winner and company that posted the bounty will share revenues. 
Their ICO raised 12,382 ETH.
Mark.Space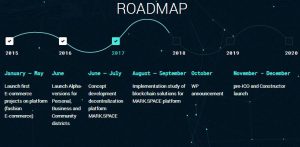 Mark.Space is a blockchain-based platform for creating and launching 3D, VR and AR spaces and objects. It will be possible to create the units with little or no knowledge in 3D or VR or AR coding. The platform will support internet browsers and virtual reality headsets, making it possible to play content on the browser without any installations.
Created units will be up for sale and rent as the owner desires. The ecosystem will use MARK token (MRK) and with it, users can buy the VR units, make payments and buy ads to promote business. It uses the Proof of Work concept.
GPU-miners will receive rewards in MRK for supporting the network.
The ICO started on January 28 and ended on 28 February.
The Abyss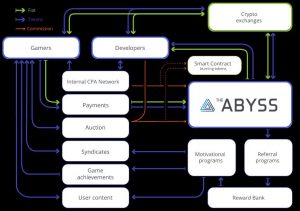 Abyss is a digital distribution platform that will let players earn in ABYSS tokens from in-game activities and payments by other gamers while developers can earn from referral games and marketing efforts.
It will have all games but with a focus on Free2play MMOs and cryptogames being a key priority.
Token sale started Jan 2018 and closed on 15 Feb 2018.
VibeHub
VibeHub is a cryptocurrency-based virtual or augmented reality platform on blockchain, with a VIBE currency and a marketplace. It raised more than 5,000 ETH in a last year ICO so much of the features are in development or beta testing.
It will let anyone buy or sell virtual reality (augmented reality is on the way) sessions including live performance recordings, music, offering from celebrities and class lessons. But there will also be games and other content as well.
They also live-record unique social experiences, lectures, talks, performances and streams in volumetric videos to be hosted on the platform. Users will be able to watch or attend these events at a fee. There is already a decentralized wallet in place as well as social features such as profiles and postings where users can share posts like Facebook, or for marketing your content, as well as email and messaging. Market listing is on the way. The platform will also include dating features.
Sellers of VR or AR content will receive payment in VIBE, an ERC20 tokens, which can be traded and exchanged on Binance, EtherDelta and HitBTC crypto exchanges. The currency will also be used to buy digital assets and vote on the platform. There will be no fees for micro transactions.
The VR/AR content will also be viewable on the web and Oculus (both are on beta testing now), with HTC VIVE/PSVR support coming soon.
Virtual reality games on blockchain
There is definitely a host of virtual reality and 3D games or simulations or renderings on the blockchain today. One such is Bitcoin VR and Blockchain 3D Explorer.
ViTokens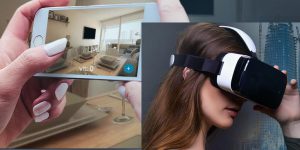 ViTokens is a is a token to be used at the ViMarket, which will offer a platform for developers and marketers to develop and sell 3D content such as virtual home walkthroughs and fashion content, virtual reality, augmented reality and artificial and machine learning content.
The platform will offer retail and market data insights by transforming the traditional 2D retail browsing experience into immersive VR. It will use VIMI browser extension to track retail browsing activity and data to maximize engagement and exposure.
The Pre-ICO was held last year and ICO ended on Mar 19.
Voxelus/
Revolutionary VR
Voxelus has branded to RevolutionVR. The company has a multiplayer VR Game but also a marketplace where users can transact 3D assets at the marketplace using Voxels (VOX) cryptocurrency, which can be exchanged for Ether and Bitcoin on the platform. You can also use Voxels to buy equity in Voxelus.
The platform allows anyone to create, share and play virtual reality content without any knowledge or experience in VR coding.
It was started by Halsey Minor who started CNET and Salesforce.com.