Blockchain can help Kenya win corruption war, have good elections; Says Task Force
Hot from the pot this week are recommendations from the Kenya's Distributed Ledger and Artificial Intelligence Task Force report which concludes that blockchain and AI, alongside other technologies, can help Kenya deal with runaway corruption, land fraud, election fraud and improve a host of other processes in the public and private service sectors as well as governance.
The task force, which was appointed last year by ICT Cabinet Secretary Joe Mucheru under the direction of the presidency to investigate the impacts and influences of blockchain and AI to help Kenya respond from a point of information, finally handed its report to the Information Communications and Technology Cabinet Secretary Joe Mucheru yesterday.
The Cabinet Secretary, who said had previously been sued for not releasing the report, noted that it was a report he felt comfortable forwarding to the President "knowing that it covers the many important areas that we as a country must address for technology to move us forward." He said blockchain and AI provide "an unprecedented level of integrity, security, and reliability to the information it manages, reducing the risks associated with having a single point of failure."
Mr Mucheru said he was excited by some of the recommendations of the report such as using AI and blockchain to host electronic elections in 2022 because it would mean that "by midnight of the Election Day we can know who has won." Which will be great if it comes to pass, he said.
He said he found the report a good one having looked at all the opportunities presented, which Kenya would have as a country and the ability the technology has to tackle Kenya's main problems like corruption and election disputes. He said the government "Big Four" agenda -- which is main areas of target for economy by the current government namely food security, affordable housing, manufacturing, and affordable healthcare -- would be impacted by the technologies but full advantage would happen if they are implemented alongside other digitization and supporting technologies such as Big Data, Data Science, the Internet of Things (IoT), coupled with 5G network internet.
Create jobs
When it comes to adoption of technology, many oppose it for fear that jobs would be lost. Not so as evidenced in developed economies. Adoption of technology, Mr. Mucheru said, would help create many jobs. He said Kenya was leading especially in the field of freelancing and being able to provide the skilled manpower for many of the Artificial Intelligence companies globally and many of them have set up shops here creating hundreds of thousands of jobs for the youth. He said some companies have started adopting these technologies in the country and they are solving real problems.
He added that the great challenge now was "passing the information to the political class and explaining to them how this is going to work." He was optimistic that people "should also trust technology to deliver free, fair and transparent elections" if they can be able to trust technology like M-Pesa.
The 192-page report looks at various field blockchain could be applied in line with the government's Big Four agenda. Led by Prof Bitange Ndemo, who is an associate Professor of Entrepreneurship at the University of Nairobi's Business School and who chaired the task force, the task force received 150 presentations including international ones before reaching the recommendations.
Project digital pesa
One of the recommendations in the report is for Kenya to have a sovereign digital currency issued and supervised by the central bank. Not many countries have issued these, but the push and pull to, is immense.
Mucheru, however, said the country was capable of leading the world through introduction and issuing of a digital currency given its successes with MPesa mobile money service which has had global successes, and that there was no reason why "we should not be able to export that to the rest of the world."
He said that the recommendation for a digital currency was coming from the industry and they would support it as a government. "We will put the report to the public and hope we can get a lot of feedback from them so that we can give the direction as government," he said. The plan would probably go well hand-in-hand with recommendations to adopt blockchain for public service and governance.
The central bank digital currency for Kenya as proposed by the report is to be traceable and different from public cryptocurrencies such as Bitcoins and altcoins.
Elsewhere, the issuing of digital currencies by central banks around the world is also something recently recommended by International Monetary Fund's Christine Lagarde who said that these will offer " immediate, safe, cheap, and potentially semi-anonymous transactions."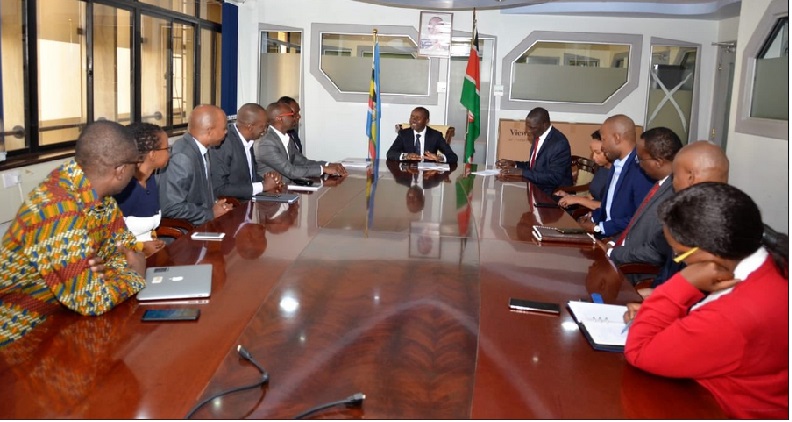 Fighting corruption with blockchain
Corruption is considered a biting problem in the country.
Blockchain helps create immutable and unalterable records that can be verified publicly by anyone and it secures data from hacking through cryptography. The technology also introduces peer-to-peer networks through which digital information and value can be shared by departments, banks, ministries, groups, individuals and companies in ledgers and near instantly.
If implemented, it could reduce corruption that happens by document falsifications, impersonations, and duplication and loss of records or deletions. It could also reduce lengthy bureaucracies, delays, duplication of services and unnecessary intermediaries in provision of government and non-government services, all of which encourage or facilitate corruption and bribery.
It could improve government processes and trust in governance by reducing the time it takes to provide services and therefore improve efficiency and cut costs greatly on the side of government and tax payers. It could actually help grow economy! Government spokesperson Col (Rtd) Cyrus Oguna said blockchain will be key in enhancing government processes.
According to the report, Kenya, if it implements blockchain and AI in fighting corruption and improving service delivery and processes, will join countries such as Ghana, Georgia and Ukraine which are already using it to fight corruption, build immutable land title systems to prevent land fraud and improve confidence on land assets, and to enable the banking industry.
World Economic Forum also said that Artificial Intelligence eliminates the need for intermediaries, cuts red tape and reduces the risk of arbitrary discretion.
Ndemo explained that if systems such as IFMIS, Kenya's Integrated Financial Management Information System for integrated procurement, could employ blockchain, corruption would end since other organizations like the Auditor General can be able to see the transactions in real time and stop the theft of funds before it happens instead of chasing already stolen funds.

The report recommends a National Payment Gateway using a public private partnership model, a gateway that would be the central point for all digital transactions/payments whether mobile or not, such that all payment modes interact which each other i.e. ATMs, banks, mobile money and so on.
This would reduce cost of transaction and be the start point for a full digital economy, probably laying grounds for the digital money. The cite India's National Payments Corporation, which brings together all retail payments in India. It says blockchain and AI can help reduce transaction costs.
Free and fair elections
Disputes related to elections in Kenya are not uncommon, happening every electioneering year, and the outcome mood over contested presidential election results was so supercharged in 2007 that it led to widespread violence in which over 1000 people lost their lives and millions of property damaged. It's history every Kenyan has put past and blockchain and AI could make a repeat further more impossible if implemented.
Prof Bitange Ndemo who chaired the task force said Kenya has been having problems with elections and the Huduma Namba creation, the developing of the trusted identity will help in the creation of many solutions.
Some of the issues of contention in past elections have been with electoral registers which have been moving to digital versions in recent elections but still with multiple manual processes, manual processes of relaying election results because results must be relayed to headquarters for manual verification and announcing, delays in announcing results due to counting and relaying and verification challenges and disputes, and lack of trust with and among election officers with corruption all tied in it. Not a single instance there have been claims of changing or altering results at the final minute of announcing, and sometimes courts have nullified results based on evidence of altered results.
It is interesting to see how blockchain would, alongside other technologies help improve the situation.
Ndemo explained that election results could be streamed to political parties at the same time they are streamed to the Independent Electoral and Boundaries Commission (IEBC), the body mandated to hold elections and announce results. This would reduce electoral disputes since everyone would get the same version of truth.
Digital registry
Digital registry would be the first beneficiary sector to blockchain and AI although both of these techs do more than just digitize records and facilitate their sharing. For instance, having a uniform and single digital record for each and every person on blockchain not only means that the record cannot be altered at will but also that the record can easily be shared among departments, ministries and private sectors and the individual will not have to go through registrations in each of these any time he/she needed their services.
But the immutability and verifiability of records in blockchain also improves trust  for public service by citizens and could remove corruption that happens through duplication, impersonation and falsification of information. The fact that most of corruption thrives within slow and manual or semi-manual processes is well known, and manual processes also increase expenditure for government and tax payers.
The report says use of blockchain can improve processing of import and export documents by agencies (KEBS, KRA, KPA, Police and Anti-Counterfeit units) and ease doing of business in Kenya. It can improve agriculture, for instance by helping to track agricultural produce from seed to marketplace, improving farmer training and other things. It could also help unlock sharing economies where the middleman does not take it all but the created value is shared equally.
Mr. Mucheru hailed the report's recommendation for a digital register saying that the technology could facilitate sharing of information and if an individual has charged their land title with one bank and wanted to get a better interest rate from another, they do not need to go through the same process of registering with the second bank. He said this could make it easy for people to get loans, mortgages and other financial services. With permissioned blockchains, for instance, banks are able to improve user verification processes and perform due diligence faster and increase efficiency because the records are shared instantly in the networks.
The report recommends the creation of a digital ID or digital locker for every citizen to securely store official documents (e.g. credit report, birth certificate) which would act as one of the grounds for the introduction of the National Payment Gateway.
Blockchain can also improve manufacturing and supply chains. Ndemo said traceability of products from production to consumption via blockchain would, for instance, help solve problems such as the recent meat contamination where meat being sold in the capital city was found to have high levels of unwanted chemicals.
Mucheru said the government would take advantage of cutting-edge technologies to improve service delivery. He said he was committed to ensuring complete implementation of the recommendations and would "provide the necessary impetus for all stakeholders to propel the ICT sector into the global digital ecosystem that will play a vital role in the economic transformation of Kenya."