List of Healthcare Blockchain Companies
Companies are looking for new technology that can aid in better management of medical records. They seek solutions to enhance pharmaceutical supply chain and smart contracts for payment distribution. At the end of the day, healthcare is a business, whether for-profit or not-for-profit. Healthcare companies need to use the same logic as any other business when making purchase decisions, thinking about efficiency and savings.
The health field is an excruciatingly complicated business. For example, doctors classify medical conditions with over 87,000 ICD-10 codes.
Google saw the problem, tried to fix it with Google Health, and gave up in 2011 because it was too difficult to get everyone to adopt their guidelines to unify the system. Billion-dollar companies inundate and indoctrinate a gullible population with unhealthy food and lifestyle choices. Vested interests can block progress, and each state or country has different regulations.
So can blockchain startups really add value in the medical sector, or is it just a lot of wishful thinking? In this post, we'll take a look at some of the cryptocurrency companies who are trying. Below are just a few that are developing ideas to change healthcare services and grab a slice of this multi-trillion dollar industry:
AMCHART
AMCHART is a hybrid public/private blockchain-based, international Electronic Health Record (EHR) on the Blockchain. It uses AI to facilitate analytics and uses incentives to better healthcare outcomes.
It facilitates the sharing of health records and data (which will be accurate, transparent and immutable) across multiple platforms (eliminating the need for multiple iterations of EMRs) instantly between patients, medical professionals and certified partners. Medical professionals and clinics or hospitals will be able to access this data at less cost and use it to improve services.
This is in addition to tracking health habits and trends such as your sleep, fitness, health, calories and more using an iOS app. Patients will also be able to access their records easily.
Their ICO ended on April 30.
ARNA Panacea
ARNA Panacea targets the cancer diagnosis markets and wants to bring various industry participants together to allow for better and quick collecting, storing and usage of medical research data in advancing cancer research and treatments. Their tech helps achieve precision medicine during early diagnosis of cancer and the monitoring of the efficacy of treatment.
Their first product is ARNA Breast Cancer Test technology that allows for testing of cancer for detection during its early stage. The tech is based on unique isolation technologies and analysis of circulation of tumor DNA in human blood.
The platform will help processing of clinical trials data and support researchers during R&D and marketplace for all participants involved in clinical trials and sale of final biotech products to patients.
BlockRx
BlockRx uses blockchain and Advanced Digital Ledger Technology developed by iSolve to bring together Life Science Researchers, BioPharma, Medical Device Manufactures, and Healthcare Providers in order to improve healthcare outcomes and treatment processes/procedures. The Digital Ledger Technology integrates legacy systems on the blockchain.
Basically, it facilitates the transfer of data and information (patient data, clinical data, drug production data, product shipping data and sensor data) among participants sharing the network. Patients and hospitals can record, share and get incentivization on data.
The platform will allow manufacturers and suppliers to track the source and origin as well as delivery of drugs in the supply chain and thus eliminate counterfeits. The ICO ended on January 31.
Bowhead
Bowhead platform comprises of the Bowhead hardware device to monitor a person's biometric data and a personalized health mobile app (iOS and Android) for individuals who want to take control of their health data and outcomes. The device works together with the app to record data and provide health recommendations to users.
You download the app and input health information. The practitioner will provide a review and recommendation about your health based on your information shared. Thus, with the two - -app and device-- you could, easily at home, go ahead and improve healthcare slowly on a daily basis. You can also set goals and get recommendations on how to achieve them, and track performance on your way to meeting them.
Users are incentivized to provide data and that can be used for research purposes. The startup unveiled v2 hardware device and blockchain ecosystem at the CES 2018 that took place in January. The device Users can earn crypto by tracking their healthy behaviors on a daily basis.
Burst IQ
Burst IQ is a blockchain platform that uses machine intelligence. It gathers data from various sources and creates a single repository that can be shared easily, quickly and securely, all within HIPAA standards and compliance.
Users can save, access and share data through the HealthWallet (including medical or EMR), genetic, molecular diagnostic data, behavioral health data, pharmacy data, personal fitness device data, nutrition data). They can share the data with doctors, dermatologists, spouses and other people.
BurstIQ marketplace is a place where users can gain information and insights (via power of AI) into their disease risks, search for interventions and providers according to their needs. Users can donate their data to a research project, get personalized lifestyle coaching and other health benefits, and receive matched clinical trials (leveraging AI). Users can also create wellness plans and benefits by taking advantage of AI features.
Doctors can also use insights from the platform to offer the right care to the right patients in a timely manner. They can access patient histories and data (with consent) before patients can walk in thus saving time for medication and make timely decisions about the health service. They can also use the platform to gain more customers and loyalty based on their performance and by announcing and providing high-value benefit bundles and other offers to clients.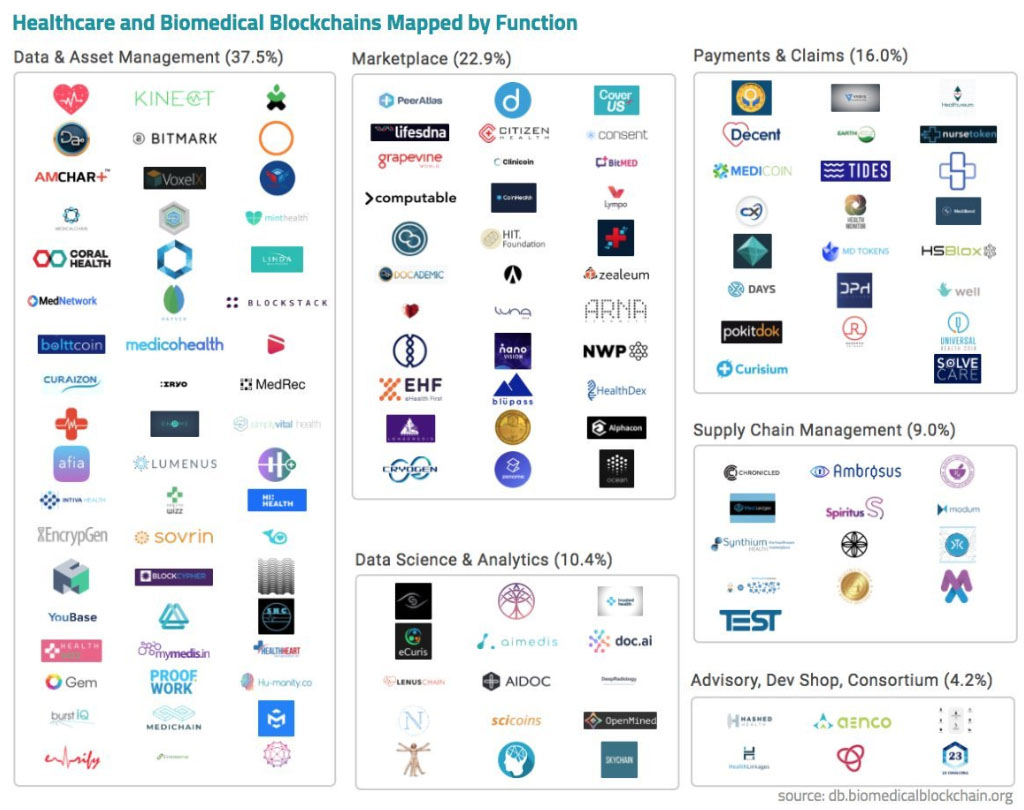 Clinicoin
Clinicoin is a blockchain application that rewards users for participating in healthy physical and mindful activities and connects them to health and wellness information, digital tools, and people to keep them at peak performance.
Essentially, users can earn cryptocurrency by mining while doing activities (such as healthy exercises, nutrition, and physical activity) that help them stay healthier. Providers can also collect data (and compensate users) for completing surveys, tasks and participating in research to improve their lives. Additionally, they can exchange CLIN tokens in a decentralized health and wellness marketplace for digital tools, products, and services. The app can connect to third party health tracking apps.
Developers are able to develop, deploy, and monetize their software applications on the platform. They can, for instance, earn CLIN tokens when their users participate in health and wellness activities using their apps. Healthcare and research providers, on their part, will be able to communicate with users and gather data to pursue their research or other goals.
Dentacoin
Dentacoin is a platform that packs a healthcare database, DentaVox, Dentalcare app dental insurance, and trusted review features. The Dentalcare app is a health training app where users can learn and develop healthy care habits daily -- maintaining dental hygiene as well as getting other recommendations in the app, and earn from doing so.
For instance, they can get reminders, notifications, voice navigation and tutorials about regular check-ups, better nutrition and so on. Dentists can receive up-to-date feedback from patients ans market research data thus can adjust to needs of the market and customers.
Trusted review platform launched on mainnet in the end of last year while the Dentacoin integrated platform was launched on May. Healthcare Database Integration will go live on the third quarter of 2019. They can also pay with Dentacoins just the same way they can receive coin payments from their customers or patients. With DentaVox web app that collects information and does market research, dentist will access valuable information to improve their services. The ICO ended in November 1 2017.
EncrypGen
EncrypGen runs the Gene-Chain, which facilitates sharing, storing and re-marketing of genomic data and enable science, security firms, governments, universities, business and individuals to meet their goals using this data.
DNA tokens is the exchange point and medium of exchange for anyone who wants to share and trade genomic data on the platform. Those sharing the data will be able to identify and choose researches they can participate in and when they can do so. On the other side, interested firms can search for data sets they need and request access.
Fitrova
Fitrova is a blockchain-based platform that uses smart contracts to facilitate payments to Health & Fitness clubs while also facilitating the storage of billing and membership details and the sharing of client goals and feedback.
In addition to digitizing data and information, it will help users to access low cost and faster transactions. ICO is already complete and the token is already listed on a number of exchanges.The alpha version of the Fitrova Fitness App will be released on July 2018.
Iryo
Iryo is a blockchain platform that facilitates secure exchange of sensitive medical data with open-source API that enables developers to create solutions that helps scale the network.
It seeks to unify health records on the blockchain and enable users/patients to share them as they wish (all with incentives) with hospitals, specialists, and researchers, all while making it available for medical research and improvement of medical interventions and outcomes. Patients will be able to access more intervention options and at lesser costs.
OpenEHR framework will enable consistency (by eliminating the possibility of them being reformulated as happens in legacy systems) in data types across medical, thus empowering global interoperability among medical researchers and clinical specialists. Medical and research institutions will be able to use tokens to offer incentives to users in order to collect anonymous health data.
It will provide medical institutions with multi-vendor options such that they will be able to choose third-party providers as wished.
ICO is complete.
Medibloc
Medibloc, like many other blockchain-based healthcare platform, is building a healthcare product around information and data. It facilitates the gathering of data from patient/users via documentation and the digitization of records.
The digital data can be shared at will by patients, for instance shared with research organizations for research purposes (and research organizations will compensate for that data). Healthcare providers will use the information to reduce medical errors by accessing exact and more accurate (and much more) information or histories.
MedicCoin
MedicCoin is targeting at using innovative user reward programs to drive a community-based crypto ecosystem in order to improve scientific research and charities.
First, there is a solution called MedicEMR (Electronic Medical Record) that wants to ensure that everyone has access to high-quality medical care through donation of free, open source medical software and service relating to that software. In addition to being an EMR software that accepts crypto payments, it will let physicians and patients earn crypto when they use the platform.
The other solution (coming to alpha phase in the end of this year) is a Medic Phone, a blockchain application that will be accessible on desktop, tablet and smart phone and which integrates with EMR. The HIPAA-compliant app will enable patients to access affordable medical help (or speaking to a doctor) and telemedicine at any time. People can pay for services using MedicCoin, PayPal, and credit card.
It also promotes health habits with users being able to earn when they walk.
Their ICO is complete.
Medicalchain
Medicalchain is a blockchain platform that targets at securing health records and maintaining a single version of patient data-sets on blockchain. This data can, at request, be made available to approved doctors, hospitals, laboratories, pharmacists and health insurers.
Using shared or provided patient information, doctors can provide better recommendations and even carry out better online consultations with better outcomes (for instance using an installed webcam). Patients or users can get information on who accessed and used their data and lock access.
Suppliers and manufacturers can also use the platform to track and manage their supply chains and deliveries. Research institutions that Medicalchain connects to would be able to work with users willing to have their data used for research, depending on what the researcher wants. The platform will use MedTokens for payment of workers and for compensating users.
MediLedger Project
MediLedger Project is led by the LinkLab and Chronicled and started in 2017. It brings competing pharmaceutical manufacturers and wholesalers. The company uses blockchain innovation to improve track-and-trace capabilities for prescription medicine. It meets the U.S. Drug Supply Chain Security Act (DSCSA) as well as operational needs of the industry.
It consists of supply chain participants, service providers for the industry and trusted technology companies. These operate nodes on an open system architecture. The system allows for full privacy and there is no leakage of business intelligence. It also allows for capability of drug verification and provenance reporting.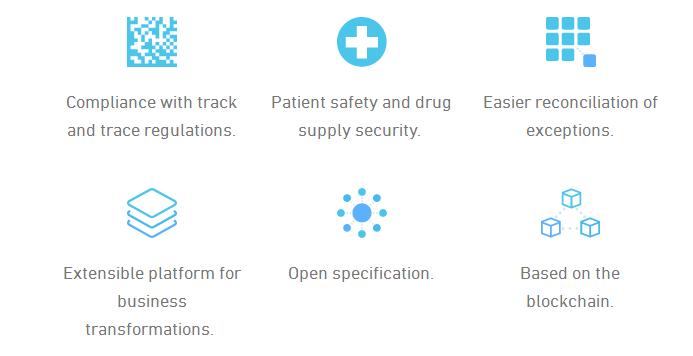 MEDX
MEDX is a decentralized healthcare information ecosystem built on blockchain, for the benefits of all participants: patients, healthcare providers and data researchers. 
With the blockchain application, patients will be able to save time and money by accessing their health data easily and by selling it to medical researchers for instance. Researchers can utilize that information to keep up innovations and hence boost quality of medical care services, processes and quality of treatments, diagnosis and interventions, etc.
Besides, the blockchain will help in the reduction of medical errors by providing more accurate and permanent information about the patients.
For patients, doctors and decision makers, the platform will provide necessary information to make healthcare-related decisions.
The ICO is complete.
Nuvus
Nuvus will merge big data and Blockchain Technology to help bring critical information about Cannabis (and related innovations and treatment breakthroughs) to pharma discovery and to improve the lives of patients. In simpler language, the startup wants to accelerate adoption of medical cannabis for treatment world-over and aid its research.

Users such as Cannabis growers, processors, distributors, retailers, doctors will have access to supply chain thanks to IoT and sensor technology on the platform. The Global Exchange Platform will facilitate exchange of data and supply chain verification.
The ICO took place between April 28 and May 27.
Patientory
Patientory is a foundation of entrepreneur and healthcare expert Chrissa McFarlane. It will offer health products through physician-coordinated care. It lets users manage health information in a true interoperability and security manner. Using a healthcare app, patients can keep a track of their health history. Patients can track doctor visits, medical bills, personal medical information, insurance, immunizations and pharmacy medications.
It also partners with Startup Health portfolio, which runs a global campaign to transform health. Some of the people in its advisory board include Shawn Wilkinson, CEO of the blockchain company Storj.
The data is distributed in a encrypted form and adheres to the Health Insurance Portability and Accountability Act (HIPPA) Security Rule.
It launched PTOY token ICO on May 31 2017 and raised $7.2 million in three days. It facilitates exchange of blockchain-powered health data and information.
Blockchain, for instance, could help the U.S. healthcare system move from the current fee-for-service model to value-based model.
Payors can transfer PTOY tokens as incentives to providers as incentives to providers who offer superior care with better patient care outcomes.
Patients can instantly access and manage their health information and reach out to the community to learn about their conditions. They can also interact with providers. Healthcare can save costs by providing coordinated care.
Project Shivom
Shivom is a blockchain genomic data hub that wants to improve the way DNA data is stored, shared, analyzed and employed in improving precision medicine and biotechnology R&D.
Led by geneticists, scientists, digital currency experts, and proficient business developers, it will enable volunteers to donate DNA data for medical research, and to collaborate with healthcare industry and institutes.
The platform, which is already accepting alpha trial sign-ups, will enable clinics, genomic counselors, pharmaceuticals, research organizations, governments, patient-support groups, and insurance companies to break down data silos and boost clinical trials. They can also collaborate to facilitate a wide range of multi-Omics based activities in drug R&D.
The startup, which now has a strategic alliance with Genetic Technologies Limited, has already raised $35 million hard-cap target for their ICO.
Robomed Network
Robomed Network is a decentralized medical network that connects service providers and patients using smart contracts. Patients pays for results and not the medical process. It was launched in Dubai and has around 30,500 services and around $2 million worth of services.
The company raised a total of $14 million from an ICO that concluded in December 2018.
SSOT Health
SSOT Health is introducing a SecuredPHR data wallet app to facilitate sharing of data. This HIPPA/CMS compliant storage app will let all users keep all personal medical records up to date, and they can authorize sharing out at will.
They also have the SecurePharma app that has in-built AI to help individuals, pharmacies, PBMs and drug manufacturers in the supply chain. Their other app is known as SecuredClaims and it uses SSOT AI engine to handle complexities of insurance claims.
The start up started piloting this program within a hospital environment this second quarter of the year and are also listing the token in various exchanges. They will release the SSOT Pharmacy Blockchain Framework in the third quarter of the year and SSOT Health Insurance Claims Framework in Q1 of 2019.
The ICO is complete.
SimplyVital Health
SimplyVital Health was launched in February 2017 and runs a product called ConnectingCare that brings providers from various clinical organizations onto the same platform. They are able to view same data for shared patients. All users are able to benefit from strategic opportunities facilitated by AI-based algorithms.
This helps drive down the cost of care. Providers are paid for working together and for results. In other words, reimbursement depends on their ability to prove they worked together. This helps provide better quality for users.
They are also launching Health Nexus, a fork of Ethereum that enables sharing of data safely. It is a new validation and governance protocol focusing on HIPAA compliance.
Read more on the project here and website for ICO details.
Solve Care
Solve Care is a blockchain platform with a wallet, Care.cards or personalized healthcare apps that links, syncs and enables sharing data and information across wallets for increased and improved experience in treatments. It also facilitates crypto payments among participants or parties. With the platform, users can connect and transact data with each other.
The Care wallet allows for enrollment of users, verifying eligibility, searching for providers and selecting them based on needs, giving referrals, as well as cost sharing in health issues/matters. The cryptocurrency will facilitate payments between the insured and insurance, patients and doctors, employers and employees.
Solve Care will improve coordination among participants and thus making administration easier and less costly. Insurers and administrators can reduce administrative costs, fraud and abuse as well as improve healthcare outcomes for members. They can also use data and information to provide exiting and better products and services to their customers.
TrustedHealth
TrustedHealth is a blockchain-based platform that wants to build a holistic network of healthcare services. With PatientLink solution, patients (currently more than 300 patients on the platform) all around the world can create an account and link to (now more than 80 on the platform) world's leading doctor specialists from around the world and seek help for life threatening diseases. These doctors use the Trustedoctor tool to access data and network.
With Trustedoctor, patients can arrange real-time consultations with the right doctor specialist for their specific needs.
Patients, patient organizations and other users are able to share and disclose data for research and receive rewards in tokens. In addition to facilitating research crowd-sourcing, the platform uses cryptocurrency to allow partners and institutions ( hospitals, clinics etc) rights to use the system data as well as the platform's research output.
The ICO is complete.
Well
Well started its ICO on January 3 and has already been raised $3million. It is raising funds for its platform that seeks to connect healthcare specialists and patients worldwide through a blockchain-based marketplace for healthcare. It is already a working and profitable business so it is not starting from scratch in the area of health. For instance, it had the largest therapist network in 2017 and had conducted 22,916 consults as of January this year. It will be using blockchain to expand business.

Well tokens will solve the problems of cross-border payments, data accessibility and at-risk populations. The platform has a built-in secure messaging and private clinical network with over 1,600 providers in 49 U.S. states and other places around the world. Blockchain will lower the barrier for contacting physician and lower costs of healthcare. It is also more private and could generally save thousands of cost in healthcare systems for operators.
Clinicians hosted by the platform speak different languages and it is supported by many companies.