Roger Ver, Bitcoin Investor and Advocate
Roger Ver is a well-known early Bitcoin investor and evangelist who has probably done more to promote the usage of Bitcoin and its technologies than anyone else. He started investing in bitcoin-related startups and ventures in 2011 and is a frequent speaker at events and on TV advocating for blockchain technologies.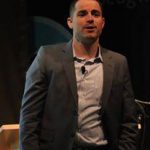 He is also the CEO of MemoryDealers.com that sells Cisco memory and networking equipment all over the world. The company was founded in 2000 and accepts bitcoin as payment since 2012. He was appointed chairman of the Cryptocurrency Advisory Board of the MGT Capital Investments  in 2016. 
Roger Ver was born in February 1979 in Silicon Valley, U.S. but moved to Tokyo, Japan in 2006 after controversial arrest and 10 month sentence for selling illegal firecracker on Ebay, and harassment.
He bought a St Kitts and Nevis passport and renounced his U.S. citizenship in 2014.
Investments in Bitcoin
He came to know Bitcoin in 2011 at the time when a single bitcoin was valued at $1 and started investing in many bitcoin-related ventures in addition to his own website MemoryDealers.com becoming among the first mainstream businesses to accept bitcoins as payment.
He first invested in Charlie Shrem's Bitinstant.
He also invested in many other startups including Blockchain.info, which offers an API and software to aid bitcoin-related developments and has facilitated over 100 million transactions by users in over 140 countries; Kraken, a bitcoin exchange market; and Ripple, a payment infrastructure that connects banks, payment providers, digital asset exchanges and corporate via RippleNet to facilitate sending of money globally.
Others include BitPay.com, a platform that facilitates storing, spending and accepting bitcoins as a payment method, and conversion of bitcoin into dollars with the BitPay Card; Bitcoin Foundation, which that offers server technology that helps to de-anonymize blockchain transactions; Ogrr; and Bitcoin Chipin among others.
He also created bitcoinstore.com in 2012, a store that offers hundreds of thousands of items for purchase with bitcoin. He is the CEO of Bitcoin.com since gaining its control in April 2014.
Bitcoin advocate
Ver was named "Bitcoin Jesus" for advocating it for many years. It's said that he was worth 400,000–450,000 BTC back in 2014.
He hosted the largest bitcoin AMA ("Ask Me Anything" forum) on Reddit in 2015.
Now a citizen of Saint Kitts and Nevis, Ver visited U.S. in June 2016 where he spoke at a crypto conference in Denver, Colorado. He was then appointed chairman of the Cryptocurrency Advisory Board for MGT Capital Investments in June 2016. MGT works to improve cybersecurity and is headed by John McAfee.
He also writes opinion pieces for bitcoin-related websites and online forums in addition to advocating for usage of bitcoin in conferences such as the 2017 Nexus Conference. For instance, he supports increasing the blockchain block size limit, which he views as contrary to the preferred strategy of rapid and widespread growth of bitcoin.
Journey to voluntaryist and arrest
According to his own account, the story starts with him reading Socialism to "hear the other side of argument" but got convinced to become a voluntaryist in his early days and later became a Libertarian as he read ideologies advanced by the various economics writers.
"The more I read, the more appalled I became at the economic ignorance displayed by politicians and governments around the world. I became frustrated because anyone who spends the time to study economics can learn that nearly everything the government does makes the world a poorer place and that people, especially the poor, would be much better off if everyone was simply allowed to do anything that is peaceful," he writes.
He started teaching these ideologies and became a Libertarian candidate for California State Assembly in 2000 to further spread the free market that, he felt were being prevented by governments. He held that "Nearly everything the government does makes the world a poorer place and that people, especially the poor, would be much better off if everyone was simply allowed to do anything that is peaceful."
He was invited to a debate at San Jose State University against the Republican and Democratic candidates, where he argued that "taxation is theft, the war on drugs is immoral, and that the ATF is a bunch of jack-booted thugs and murderers in memorial to the people they slaughtered in Waco, Texas."
"Unbeknownst to me at the time there were several plain clothed ATF agents in the audience who became very upset with the things I was saying. They began looking into my background in the attempt to find dirt on me," he writes.
He was then arrested for what the government argued was illegal fireworks on eBay, in other words, dealing with an explosive without a license. He had started a business that sold online a firecracker called "Pest Control Report 2000", which was used by farmers to scare deer and birds away from crops.
He argued that the firecracker was being sold by everyone else, including the manufacturer, and only he was prosecuted while others were simply told to stop selling it.
It became clear to him that the arrest was as a result of the "Things he had said, not the things he had done" according to his account. He was then sentenced to ten months in federal prison, but moved to Japan in 2006 after probation.
"After my release from Lompoc Federal Penitentiary I had to deal with three years of lies, insults, threats, and general harassment by the US Federal probation department. I moved to Japan on the very day my probation finished," he writes.