How to Back-Up and Recover 2F Authenticator Secret Keys For Your Cypto App
Google Authenticator or Authy and many other authenticator apps are popular now for securing all sorts of apps and services. These authentication apps and services add another layer of security on top of using normal passwords or pins by requiring that the owner of the account verifies further that the account belongs to them either by using codes accessed on or one-tap sign requests sent to mobile devices that the user owns. It's called 2-Factor (2F) authentication.
Because 2F authentication for your cryptocurrency apps is as advisable as other security measures for securing your cryptocurrency such as cold storage, being aware and being proactive about phishing attacks and other tips is also advised by experts. Here, it's important to note that this sort of awareness is always important to have, in all situations, no matter what sort of security you use. If you choose to use 2F, it is necessary to enable it as soon as you can, but that comes with some responsibility to store your secret key properly. For instance, most cryptocurrency exchanges now allow users to secure their accounts and assets using the Google Authenticator app or another similar authenticator app. 
How can you recover from a situation where your Authenticator account's secret key is gone or where your mobile device on which you had your Authenticator app is broken? The answer lies in the method you used to backup your Authenticator key. This is because this method will allow you to recover it when you reinstall the Authenticator app on a different device.
Well, if the secret key that you used when you signed up for something like a crypto exchange is available, then restoring your Authenticator app becomes very easy. In this case, you would only need to install Google Authenticator again on a new device and then create a new account for the app or service by adding the secret key previously mentioned. You will then be able to access the codes or one-tap logins you need again to access the services you were locked out from. 
What all this means is that the best way to save yourself from the agony of losing your secret keys to your authenticator is just to write all of them down and save them on a different device. On top of this, you should keep the file or paper where they are written in a separate place so recovery will be easier if the device is lost or becomes unusable.
For those who have looked further into recovery options from events related to secret keys, they are supplied by the crypto exchanges and services to which you are logging into with the Authenticator. Generally, you may be safer when using such services because they can do a reset for you if you lose your Authenticator's secret keys. Still, it's important to remember that may also take a while and may require the customer to verify that the account belongs to them. In this case, it can be advantageous to use a centralized exchange as their support teams will typically be better at assisting customers with this process. 
The latter may, for instance, involve you contacting them directly. On Binance, for instance, that starts by clicking on "Lost Your Google Authenticator?" on Binance's website and if you don't have the backup key for a quick reset, you can confirm the application reset with the "confirm reset" option in an email you'll receive. Following this, you'll be required to input the last deposit address you used and then upload 3 pictures of your relevant ID card. Generally these are pictures of the front and back sides of said card, and one with you holding it. You then submit them to complete the reset process.
With most exchanges, this process usually involves several hours to days of back and forth emails with support. One of the most important things to remember, however, is if you are using the Google Authenticator app or any other Authenticator app with your crypto related services and it happens that the service or company behind the service cannot access your data, it may not be possible at all to recover it via support. All is likely lost in that case.
Backing up and recovering the Keys with Google Authenticator and other Alternatives
Google Authenticator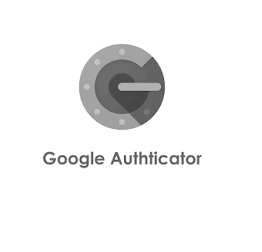 Google Authenticator is definitely the most common and popular implementation of a 2F authentication app on the market. When installed on your mobile phone, GA allows you to add a verification account by scanning a code on any website that allows for 2F authentication verification. 
It works by installing an app that generates the codes in question, though the user will need to first scan a QR code or enter security key provided by the service to be able to save the account being authenticated on their device and for activating 2FA. This time-based One-time Password Algorithm (TOTP) secret key(Authenticator secret key) is automatically saved on a certain folder and in a certain file format on the device being used but cannot directly be accessed by normal browsing of the files on the phone.
It's also important to note that in all of these cases, the app in question generates a code every 30 to 60 seconds, which is basically a one-time 6-digit code that can be used to authenticate yourself and login to a particular service. The code is generated even offline so there's no need to be connected to the internet. This method is much secure than SMS authentication since the code cannot be intercepted as it is generated on the device directly.
Once you create an account for a service or app like a cryptocurrency exchange, you can then access security codes on your phone, and the codes are required to be typed into the crypto exchange website or app before you can be allowed to login and use the service. You can also add in as many accounts as possible for instance if using multiple exchanges or trading apps and each one of those requires or allows you to enable 2F based on the Authenticator app that you use.
All generated codes are time based. Without these codes, regardless of whether you have the password for the exchange app or website involved, it's basically impossible for anyone to login to the connected services. So unless your app is cloned by a thief or installed on a different device or the device is stolen and the thief happens to know the password to it, only you as the approved owner of the physical device (and service accounts) will be able to login. This also means, however, that if you change timezones frequently, you need to change the timezone connected to the email that's connected to your GA, or else, you'll also lose your login privileges. Furthermore, as with any Authenticator app, it's important to remember that there are risks involved. Nothing related to the internet is ever perfectly safe. 
Auto recovery of Google Authenticator App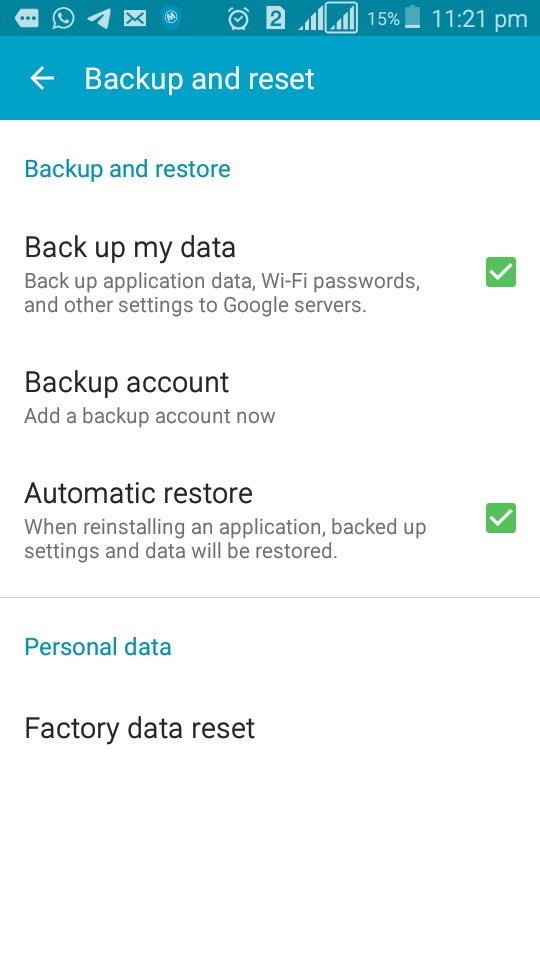 Even so, GA is perhaps the safest out there and it includes an auto-recovery feature. As you likely remember, most Android and iOS devices allow for the automatic backups of files and data to Google Drive or to iCloud from time to time. That requires you to have selected the "Back up and reset" option on your device's settings. Even so, you can still enable manual backups to Google Drive or iCloud from time to time. This automatic backup's utility lies in the fact that it allows you to not bother with backups every time you update your device or install a new app or open a new account on the Google Authenticator app.   
Although it has its security repercussions, GA is quite easy to use, because all you need to do is ensure your device is set to automatically back up apps and their data, which can be done from your device's "Back Up and Reset" settings.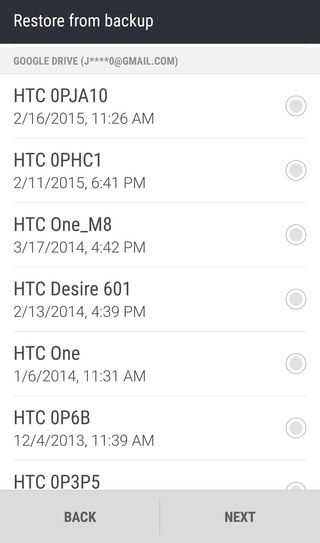 Furthermore, from your new device, restoring a back up is easy to do and it gives you back all of your data together with your secret keys. With apps installed via the Google App Store, you can restore all of them to your new device automatically when you sign in to the Google Play Store for the first time on your new Android device. Data and apps that were previously backed up on iOS devices via iCloud can also be restored from an iCloud backup. This also occurs automatically when you sign in to any Google Apps for the first time in the new iOS device.
Through using these two methods, you should get back the Authenticator app's database and keys if they were backed up on your previous device(remember, this only works for iOS and Android stems). At this point, you can now use the synced Google Authenticator app to get the codes to log in to the services for which you enabled 2F authentication before losing your previous device. If the Google Auth app on the new device is unable to sync with the previous data and still requires you to manually enter its secret key, you will need to retrieve it manually using a method explained later in this article.
If you are using Google Authenticator with a Gmail account, moving your Google Authenticator to a new phone with the same Gmail account can be done from your two-step verification page easily by adding the new number and scanning the QR code that the app gives you (this may not work with other accounts like those you have opened with crypto apps or websites). For all the other service accounts, you would have to manually transfer the key from your device to the new device if the backup and reset option above is not available.
Doing manual backups for Google Authenticator and recovering the backup
Assuming you had not previously enabled auto backup and recovery on your device and you still have the files on that same device but the apps are gone or you just had the device repaired back to normal but the apps are already gone. Installing Google Authenticator without the digits and letters for that secret key will not work until you can get your hands on the key to manually input it when required on the Authenticator app on the new device. A manual recovery and access to the key may be needed, which means you might need to manually extract the respective key from your device.
Additionally, Google Authenticator has its share of security problems when it's being used to backup data such as your private keys and your Authenticator's secret keys online on the cloud. Therefore, manual backup, transfer and restore may be an option for many users.
For those who would rather do a manual backup of device and files to restore them later on a new device in case something happens to the current one, when doing a backup for both the device and apps, you can still manually do the back up and transfer the backup files to an offline memory or storage device to restore in a different mobile device.
Nevertheless, a semi-manual backup can be easier to do when third party android apps are used. This is automatic but you can still export the backup files involved manually to your offline PC or storage system, which you can then use to restore later on a different device if you do not have access to the current device.
With or without root access to your mobile device, the backup of your files can be done manually and offline with third party apps that are easily accessible directly from your device's storage and you can then transfer them to a different storage location at any time and use the same apps on a different device whenever you choose to do so.
Still thinking manual? Remember you can also backup the entire device from the hardware by pressing "Power" and "Volume" and "Home" buttons (combination of which depends on your device type and model) and selecting the backup option to backup to memory card and this backup is still directly accessible from the memory card with or without root and can be copied to PC or some offline storage or Google Drive, iCloud or wherever you want to back up the files. So once you have the backup files, you can manually restore them to your new device easily and quickly with all apps and data as things were prior to your mobile breaking down or getting lost. Unfortunately, you would need to get a new phone that is compatible with the older phone model or similar model or use a compatible method that can be able to restore these backups from your previous phones, otherwise it may not work at all.   
Manual backups and manual restores have some other disadvantages as would be expected in that you would have to have performed a backup manually after installing your Authenticator app and already using it with the account for which you want to restore the Authenticator to get the Authenticator code for, and the backup should have been transferred after that, to a storage or memory you can access after your current device is lost. This is not undoable and can be pretty secure. It can also be done for any of the 2FA apps installed on smart phone devices apart from Google Authenticator. This sort of drawback of manual methods typically causes people to choose to enable auto backups via the cloud, which is more secure with apps like Authy. 
Extracting the secret key manually from your device
If the files are still on the device but Authenticator app uninstalled or not working, the folder where the key was automatically saved when you registered a service account on Google Authenticator app is not directly accessible by browsing your folders normally.
To manually access and extract your credentials on Android smartphone and access these folders and files, you would require root access and although root access lets you do more with your device in terms of tweaking, it can significantly damage the security of your apps and make your device prone to viruses. Root access by the user also voids warranty on most devices but you can always unroot or remove root access completely once you copy the files desired. Who knows, the recovery of the key may be more important than keeping your device covered by its warranty. 
This method works by granting yourself Adb root access to your device and files. The Adb root access on a device can be attained using apps like [root] adbd Insecure for stock ROMs (the main software with which your device was shipped with): If working with a custom ROM (customized phone operating software), you may already have root access but if not, the device can be rooted easily with apps such as KingoApp. Some devices have system apps that block root access, which need to be removed. 
Once the Adbd Insecure app is downloaded on stock ROM, you can open it and set Adb to insecure mode with the application or connect the smartphone involved to a PC or laptop to be able to copy the Google Authenticator databases to the computer. That's what all this rooting grants you access to -- to view and access and copy and move the files, which access is disabled on stock Roms. To use Adbd Insecure app with a stock ROM and some custom ROMs, you would still need to root the device with an Android root app or via PC and grant permission to Adb Insecure App under SuperUser mode. After this you basically need to open the Adb Insecure and set it to adb onto insecure mode.
Root allows you to access the root files and folders. So you would also need Root File Explorer or Manager app to access those files on your device and then open it, navigate to "data" folder then tap on "data" folder again and find "com.google.android.apps.authenticator2" and then navigate to the "databases" folder where your key was saved when you enabled your service account on Google Authenticator. Once the "databases" folder is copied, the key is located in there and you can access it using Sqlite editor commands on your PC by first downloading and installing SQLite on your device.
sqlite3 ./databases
select * from accounts
With the custom ROMs where the TWRP recovery is installed, the key may be located at, "manager\twrp\data\com.google.android.authenticaitr2\database\database." This can then be accessed by the Db browser for SQLite on the PC and by selecting "database structure," then "ID file" and then moving to "browse data" at right side tab.
Data recovery after uninstalling or losing apps
Assuming you just uninstalled (or someone did) the Authenticator app and everything else is working fine. Or the phone device has lost all apps either by uninstalling or other methods of wiping. Then you might want to do data recovery to recover data from the internal memory or memory card. Recovery works even for deleted and formatted devices depending on which software you are using.  
In this situation, recovery can be done by connecting the phone involved to the computer involved and installing specialized data recovery software on your desktop computer. You can also get free and paid versions as well as those that can be installed on phone to recover the data from there, and as expected, there will be those working for iOS and those working for Android devices. It works save that all data recovery software takes time to recover apps and data. If unable to do it, then you might be able to get data recovery services do it for you.
You basically want to be sure you can recover and access the "com.google.android.apps.authenticator2" and the associated "databases" folders files where the key is located. You can access these folders and files with a computer after recovery from the computer's internal memory. If, however, you're doing the recovery process on a phone, you still might be required to have root access in order to access these folders if the recovery software does not allow you to access them.
Recovering Keys on other Google Authenticator Alternatives 
The one frustrating thing about Google Authenticator app is that its databases and files automatically stored on the device, have their file permissions setting set to public and not private, which opens the files to be potentially accessed by anyone who accesses them even when stored on cloud for instance if a person can use software to access these folders while there; and which means it can be insecure to move them to cloud and from device to device with online syncs. This applies for both the GA databases/ folder, and the databases file itself -- for instance their permission level need to be set to full access or the app would keep crashing on your device. This can be confirmed and tested easily with root file browsers that allow you to set permissions for different folders and files. The app has been found to not work well when the permissions are changed to not full access permissions.
Besides, there is no encryption for the database in the storage meaning it can be copied easily via Sqlite without a thief needing to worry about encryption. So data saved on cloud via GA may present some security issues when saved on cloud. For each app, Android also apportions a separate user-space to isolate the app's access to the rest of the file system. 
Google Authenticator Alternatives and how to recover keys on them
Although every other website and app that allows for app-based code authentication says "Google Authenticator" as the app to use, most of these Google Authenticator alternatives can be used instead, on each and every website and app where Google Authenticator works. 
Generally different apps carry different advantages compared to GA.
Authy
Authy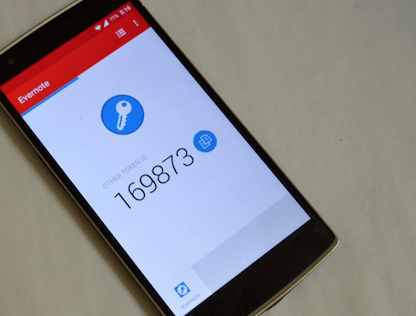 is a good alternative to Google Authenticator app because in addition to working on Android, it works on more platforms; Chrome extension app and browser extensions, allowing you to gain access to accounts no matter what device you are on. A user is able to just add devices to their account and all of their 2fa tokens will automatically synchronize on these devices.
With the multi-device functionality support on Authy, the 2FA tokens will sync to any new device you authorize. This multi-device functionality feature means that you do not have to have smartphone or tablet with you to access the certain app or service. The multi-device functionality may sometimes look insecure for some people, but it is optional and can be disabled at any time on Authy.
Authy also provides a cloud backup option but after the data is encrypted before it is backed up. Thus data stored on cloud is secure. The encryption algorithm is bank and NSA-grade. Plus it allows a user to automatically with less time, recover Authenticator on a new device in case they have lost the current one or had not backed up. Recovering from a lost device is easier for one because you only use devices that are added and authorized as you de-authorize the one that is lost or stolen. With Authy, the automatic restoration from cloud makes it painless when recovering several accounts compared to Google Auth or manual methods. With the latter two you would need to manually transfer keys for each account each after the other, to the new device.
Google Authenticator also automatically unregisters your current device when you register a new one, but Authy doesn't.  Thus with Authy, you may not need a long while to log in to your account after losing a mobile phone or having it break or wiped up or stolen or apps uninstalled.
Plus Authy offers a passcode protection to increase security for access of the codes even if someone is in possession of your device. The secret codes or tokens are secured with Backup passwords, Master passwords, and PIN protection. In addition to supporting 8 digit tokens/codes, Authy is also supporting thousands of other providers and services including the major ones like Google and Facebook and major in the crypto space such as Coinbase, CEX.IO, BitGo. Generally, this means that it can be used wherever Google Authenticator is used.
On Authy, a user sets up a new account with the service by registering with their mobile phone. However, the app start to generate the codes after setting up a service account which the user wants to secure with 2FA. This is done by scanning a QR code provided by the service on their website or app and remember, a secret key is also provided during this step, which the user should save just in case the phone and Authenticator app are lost/broken/inaccessible from the current device.
Like Google Authenticator, Authy generates all the codes offline without needing any internet connectivity. It works just like Google Authenticator to generate time-dependent codes to login to the service a user wants to. The app displays code's remaining time before it can time out, and automatically displays a new code when time runs out.
Additionally, Authy app offers more (three) different authentication types: OTP (one-time passcode) delivered via sms or voice. This one means the application can also be utilized on the many services that support only SMS or call authentication, which has largest global reach than other types of authentication; Soft token TOTP (Time-based One-time Passwords) which generates time-based codes even offline; Push Authentication, deemed as the most secure and most-user friendly way to deliver 2FA. This push notification triggered solution for a streamlined user experience with advanced protection is not supported by Authenticator.
Duo Mobile
Duo Mobile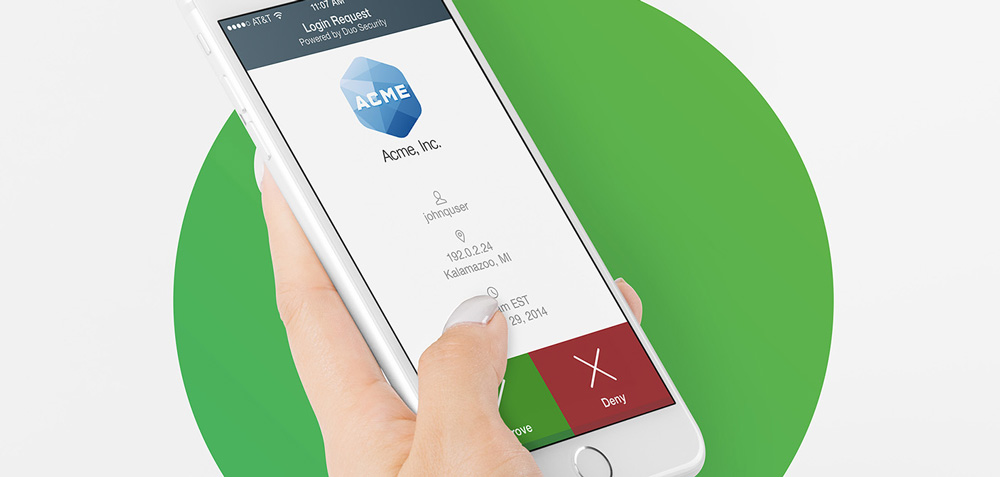 offers a feature known as Duo Push where the user receives login requests on his or her mobile phone and he or she can then make a single tap to authenticate the request and therefore, log in. The user can also deny this request without necessarily marking it as fraudulent. All in all, Duo provides variety of authentication options includes: fingerprints for those with Android Lollipop and passcode authentication for those without internet connectivity and/or a fingerprint reader.
Users can use it to login to other services and websites that require passcodes to login to. Therefore, it allows for the simultaneous management of several accounts. To access any account previously added, the only requirement is tapping on the icon next to that site's name in Duo mobile's list.
The application works on iOS, Android, BlackBerry, or Windows Phone. It works pretty much like Google Authenticator app or Authy in that a user simply scans a code or inputs a key provided by a service website or app when enabling the authentication app.
Like Authy, it lets a user to enroll/register on the app but in a different way. When using it for the first time, a user will receive a verification link in their email box, on which they should click to access the Authenticator services. Users can then add service accounts for crypto exchanges and other apps that require 2F to login. During adding, it also provides the secret key that the user should save and use it to recover in case the device is lost or broken or app cannot be accessed from the device. Otherwise, the device "backup and restore" procedure can be used to recover from a lost or stolen or broken device in case the user wants to use it on another device and hadn't written the secret key provided in the previous device. 
Unlike Authy, Duo Mobile does not allow for the backing up and restoring of accounts securely.
Again when a user is using it instead of the Google Authenticator app, Duo has to authenticate by supplying a numeric authentication code. When it is being used directly on a service, the super-simple Duo Push feature is also an option. During this process, the app or website that is using or supporting the service will send an authorization request to the app on the user's smartphone or wearable device displaying only two simple buttons, "Approve and Deny," which the user can then tap, depending on which they want.
<img src="data:image/png;base64,iVBORw0KGgoAAAANSUhEUgAAAaAAAAGDCAYAAABtDsTBAAAgAElEQVR4nOx9Z58TV/K1P8vuf5/12utd73q9DmsbYzDYgAPgQLINQ8ZgwAaMAZNhclJsqdVJUusqS91KkzSRYQj7nc7z4ga1ZqQZTcDYXl7UbxRarSuNus6tqlOnntvw/B/we7Z3n/8/bHj+D3j7hb8setw7f/kzNjz/B7z54ktNj3n/xedbft9Nf/sr3v/rX7DxhT9j41/oGjb+5f+w8YU/4/2//gXvPf8HrH/+j1j3l/+HjS/8P6x//v/w3vN/wNsvvoT3X6y95u0XX8Lmv72ED/7xT7zFbjttw/N/ELe3/Os1fPTGOnz4z1ew9dU36ON//zs2//1v+PCfr2DLv17DttfewoevvIptr72ND//5Cja//DI2v/wyNr7wJ3z4z3/hg3/8Ax/+8xV89MY6bH31DWz512v4+M31wvZs3oLjX34h7MyBNvz8/Y+4cfEqbly8io7bN9HbdQcuV4ewoLsdsrcXhqxCC+kwFAUxLQQi9yEecIMEexALB5EnQRSJv6GVkiEM5U2MFJKL2lgxhZFCEuPltLg/WkhiqpLBSCGJmeEc5katNbXRYhJV9r7VUnrJNS7XRotJTFWyzDKYHsrWvf+9ZX6mh1MlPJou48FEEXNjNuZGLTwYL9DH71Xw37lhPL5XwcOpEh6MF+gxYzYeTBTxcKpEn5suLfmdTA9lMV5Ki+9+NTZWTGG8nF7w2Zdj1VIK4/P+P2N2TNweykVQyRgop3WU0xrKKRXltIZKRkclG8awncCwHW/pd7iYVbIRx3tG6//mTRTjAYwUkhi2CIatGHtNuLVzZwwM5WMopzV27UhNr6nVWIaoKBI/UmEZhZgfWTWCXNSDqORFTHKDSC4kJQ8SRgjJsIyInx6fJ3Lddf7ck3D6TocrHheP/WnF533v+T9i/fN/pOd54U945aXXsOH5P2LDX/4P6194HutfeB5bXnkVm19+Ge+++AI2vvAnbHrpRep8X3kV2/79H2x99XV8+M9/YfPLL+P9F5/Hxhf/jI9ef0c46I/fXI+t//4PdcKvv8NA5E/Y/PLL+PCVV/HRG+/W7PV12Pb6O9j22tvY9vrb+Oj1d/DRG+voa178M3X8r7yKrf9+k533TXz4yqvY/Pe/4aM33sX7f/0LPnpjHf7zyjt4/68v4KM33sXWV9/AB//4B7a98S42vvhnbHrpBXzwj3/g4zfXY9vr9H22vPo6PvjHP7DppRfqwOFJ2va3N+DAJ58K4Dm6ax++3fsVzrYdEuBz4+JV3P75Ojrv3KoDII+rHabkQUrqRDYiIWEEYCoDMMwYPO4e5E0JcVODTSTkIz7kTQkF54UTD6AYlzBsx1FOqUtehNNDWYwWqdNyAg9/brqSFU57uc57vs2O5ClIcLBYY/DhNjOUw73hHKaHKAg533+6Qp1ytZhCtZhqad0PJop4NF3G49khPL4/hEczZTycLFLAGbUwV7XxcLKIRzPsmNkhPJqmx8xVKWg9mi4vCkBjRerwJ8uNAWgu78NIIYkJe2nnOlXJYLycxr3hHGZH8pgZWvh/m6pkMDOUw/2RvPi/Tg9lMTuSx/2RPMZLaUzMX4sdZ2vxY9giqGTDKKc1lJIhlBJBlJIhVDK6AIhSMkRBKBdhgJRY1v9x2KLvN2wnUMkYGLYTKCWCjsfj7DEZ5ZSKYTtO39MiKKeUJc/vfM2TAJ4i8UMjGRSJHzaRkDQUFGJ+FGJ+aIE+RJVBpAwvshE/MsE+RCQ/VNlANhpANhqAza7rArOWAYjv/je+8Gds/ttL2PTXF7DxL3/Cxr/8CZte+is2/+0lbHzhz9jw/B+x6aUXsfnvf8fWV99wOP1XsOmlv+L9F59nu+9/Ucf92tvi/Jv/9hJ9/N//wdZX38CH//gnNr30V3Hera+/g00v/wNbXvk3Pn5zPV3L3/8ugOH9F5/HppdeZCBAAeijN94VYOIEii3/+rcAki2vvIqP31wvAIg+vk4A0LbX3xaOuBUA2vb62/jojXWLOvTaedbhvVffWXjeN979xcClFduxbiOOfLYTx7/8Aof2HVs2ALldXUgZPgFAQUVG3vTC64/BCnULAApKBvuBSkgSvQ6AKhljxQA06rC1AiDu7GZH8hgtJDFZzjwVAJobtTBRTteta9G1j9l4OF3Cw4kiHlRtzFVtPJhgERADnEczZRoBTRTwoGrjQdXGQxYBPZop4/G9SsNzT7K13RvOCaffDIBG7DhGbYIZK9TSdzBeTmN2JI9qMVX3eRtHO+m672gtAIjfH7bjKKe1NQegSjZMAcQiDHBWBkCVjI6hvIlhizwxEOIAVDAlAUC6rNGNJgOgkHcQlilBlQ3kTQk5JQabSEgTrQZAm199Cxv++iI+fOXf2PzPV7H+b3/Hln+9hk1/e4k6/X+/iQ9efhlbX32DOs7X19FUDnOyH72xjjpgBhpb/vWaOHbrq2/UHOprb2Hrv9/Elldfp8f8+01se+0tfPT6O+y879SO+ddr2PLq6+yYmvPf9vrb2PbaW3Vgwe9vfO3X5bBXattW+LovN3wgbn/13n/w8Zvr8dn6Tdj+9gZ88p/Gr9n1/of47O138Olb7+HTt96rvX7LNgo672zElxs+EMDjtLNth3C27WAd+Ny9fgPtN2+iv+9uHQD5XO2IyB5kIj5Ypg+psISI4kE67IbHG0IqLCMWCcFioTkP751WTqnUCSQXd1ZjxRQmKxmMl9IYLSbF7fESTd9QB57FRJk+znfJq4mCZoZymChnMFFem3TTfOOgOT1EgZOD5ngpvWAdiwPPvNsMeB5MFPBwskijm1ELj2ZoZMMfezBewOPZIRr5jNm11NwS38kMW+/scH5Vn3+qksFkJYN7w7lFPyP/bmYc/897wzkBVjw9O9+qNv1dVbKOFFxKRTmlCIdOwUFBOa1hKB9b1eehABSn75cNs/dmfzMGivGAI/1nYNgidb/9SsZYAuQoeBWJH6VE87T2aswkMWSjAVgkgELMDzvmR1gOISq7QDQJcT0IJSAjEpSQDruRDMswFA05IovXF4kfz2351+v4+M31+ODllylo/PtNkTL6X7Ev3tu86PO73v8Qn6/fhJ3r3heO+tO3N2Dnu+/jiw2bsfv9D/Hlxg/w+fpN2PHORnzyH3rM9rc34LP1m+gxm7bgiw2bBSh8/OZ6fPKf97DjnY34fP0mfLnxg/o1baBr+vSt97Bz3fv4fP0m7Hr/Q+x6/0N88R493851GxlgfIS9H2zFvg+34ujnn+Hg9h34etvH2PvBVny58QMc/fwz7P/oE+z9YCs+W78JH7+5Hvs+3Ia9H2zFns1bsXvTFuz7cBsOfrodbZ98ip3rNuKrrR9h96YtOPDxpwvA59Txizi5d28d+Ny8dA03Ll5FV7sz+mmH29UOl6sXQcmNTMQPy/QjFfYhomqIyEEYch/CioKo7keW0LRBnEQWAlBaayn3zvP8U5WMiEqmKhnMjuRFCmeinFkQSazWJisZTDSIgEaLSUxaOgUoO4xqqbETXApUJ8oZ3GfRDk03rQ40H0zQ2s7DySIe3x/Cg/ECrQMxEHo4VaJRz1RJPDY3ZtPjJgp19xd7n6lKVmwCVuqs+WaBA+/kMv5vHLCaRmGFJMppHdN5Ci7ltE4BJ2M4TBdgwO+vtg40UqB1H37OckpBkfjnvbcu6lG0DiqL15XTWtO6kPO8vAa0Vik5iwRQJH6kCV1TWNVgx/ywTAnRoISI34ew5IPbIyGhBRAJupBWvbBjfkQ1FQmDroNnN55brrPe8RZNLW3/zzrseGsddryzEdvf3kAdM9tpf/If6ji3v7MBO9ZtxI53NuLTtzfgE8cu+5P/vIedb68Xu/Od6+gx29/eIBzrJ2+9h53rNja0g9t3UEe5ZRs+ees9HPjkUxz45FN8vfUj7Nm8BV+8txk719Ed/N4PtqLtk09x9PPPcGjHDuz/+BPsYoBx7IvP0cZe99n6Tdi5biOOff45vtn2MXZv2oJDO3bg8/c2Y+8HW/HNto9xaMcO5uS34+utH+Hg9u115937wVZ8/t5mfPbuJuzetAXfbPsYB7dvx/Evv8DOdRux78Nt2L1pCz57lwLR3g+24qstH9Wd98hnn+HLDR+I836z7WPs//iTBUDAbdf7H4rbn727Sdze+8HWpq9Zrh3Z8w32t13CobZzuHrup3ngcxU9nbfR13sX7Tdv1EU/LlcHIr4OhBUFimwgGIhACfQhb0qQgxEEfN3IxYKIKgNQdPajJom6HztPw/HUx+LOikY+91jNZ6JMd8589zvB0jizjkhitc6cGwWchQDD33vSMjBqk2U7qmopjWopLQBoypFCdILSkqAzXgMODjJzY1Yd0Dyapum1B+MFAUychMCjIkFcqNr1UVUDm2AbgNHiyh013zTMsHrO7DI+89woTcdVm0Q/I4UkZvIyKskgRvJRFgHxFJyMckphEVAEQ3kTQ7kohnJRDFvL/z/Ot0o2jEo2IgCCAiB772SIRV8Gfc98TERMwxZBKSEved6hfOyJpd/yJIiopqIQk2DH/MibEmIBD0xNRlbuhR3xIB3oRURREDdCsCMeJAwZUU2lqTuegtu3/i188c7b+OTNd7HzrXXYte5tfLPhTRzZ/LrYOe959y18tn4TTnz4Gnau24jdm7Zg/0ef4PDOnTi8cye+Zs565zq6+/9s/aY6p39w+w58tWUbdm38ANvf3oDjX36B/R99gq+2bMPxnR/j+JdfoO2TT8V5j37+mTjv19s+xsHtOxbs4rlDb9WB7v/ok0Vfs5bOejH7asu2ho/zz/hLrGEldmL3Lpz66qs64OHWdffWAtBxuTrgdnXB6+qB5r0LU1ORiQRhmRJShhuRUD9ShrsW0msqUmxXxIucTuO7v6VskqXAOCBMlDPiNn98opzBGCvWV0utFe0Xs9Fi7bzN1sUL7iux8XJagNhaACW3R9PlBSy4/84NY27Uwn/nhhew4ARoOQDNeb+RrQUL7t5wriH7r1XjNaBG5y6nNQzloniQ94rUF2eSccZbJaOjlJRRJBJKieCqgUcABYuk+HmLxC8AhqfdePQzUkiKtYwUkjSyYWy5Zuelxz25GlCR+KHIYVimhFw0gLg0CMMvweU1kJKSkP0qopIPReKH10/B0FD0utc/d3jnThz57DMc++JzHP38cxz5jO66D366HW2fbsfxz3fi8I6dOLh9B9o++RQHt2/H4R30Nce//ALHd1LHfnjHwjpBIzv2xec49sXnOLRjxwIHPP/Y+cdwm++oxVqcgPPZx0/cKR/66sSanKftm9Pi9oED58Tfbw5eEY8f3neYfq62S2jb/z0lAuz+in7+PfvRtv8sDu9tw7Evd+Ho7q9weN9htH1zGgcO/IhvDl5B2/7vcXT3PhzbtZv+H77chaO79qFt//fY33YJ+9su4cjur3H2yEl8u+9rHN+1C+dPnMb3Bw/j3PHvcOm773Hx5Jk6yvWNi1fR3X4Lvd13GgOQR4Hb3YeQpwdRNYi4NohkOIhMJIhYVEWOyPD4NKTCXigqZclESbzhD72UCLaUhuPOmrPeJssZzAznROprkqXfZofzgpK93B11MyfHazQLdthDWYwUkpiytKZ1CKfN363ztCKPdrhDXdYaGYAsACFe75ko1upC4wU8mi7V7jPW21LRTiPj3/dKQJf/3+6P5Ovo88shjvD0XyN6fNWmv6VpS6lFHTzVlo3QVFY2TFNhKVWQDoat+BpGQGFW41REpF9KyMyClIAjrgMJpaRco4QzQkMj49EPJU4o4n3WwrIhghyRYRk60pEgCjEJBTOAWMCLcMAHOaAgqbsQl3oRUWWkwjQFF2fpt6iminT7c097Z70mQLDvKA5+/R11xru/xuF9h3Hw65MUrHbvw+G9B+sc/ZE9+3Fkz34c27Ubx778Eoe+OobDew/i6O599DW79uLInjYc+uoYDu0/gxO7d+G7Qyfx3ddf4+iuvTj25Zc4euA0Tn+zH+ePnsDB/Wdx+MAZnDzyA47s2Y/je/bi+K5dOPTVMRzZ0ybO27b/LA7vO4xDXx1D2/6zOLZrN47s2c/WfxJt35zGoa9O4PDeg/j+IAWQU99eoa/ZdxSnTl3DD4eP4vThkzh56BTOHz2Btv1ncXLvXnx7kN7/4egJnD3yLc4fPYEzB9rw/aEjOHfkGH46dRbnj54Qaz5/9AR+OHwUP506i2vnL+P80RO4cvYCfjh8VDx/+pv9uHz63ALQmU886OtZCEB+dzvcHj887g5EggHoch8kP90JEV1BWvMhFg0jqvQjpMpIhmVkInQXmCBh5Fmxkhvd/Rksly0t6bxGCrR4z4GHRyfTQ1nMDOVEbWK1BIRGDm+kkKxLOU2W0xi1Cap2VNRzeF2jWU1okh0zVkwJYsWyQWcZxtluzihHRD/O46qNgazZd8HJA/xztZqK46+9P5JfVs3HafeGcxgvp0X9bMF7WDSaGM8zosGStnjxf7nGIxpe+2m88ZIFoaAYD7BoLLRoBMTBjUdDpWRoHpCtjdkRGXY0KGpAkWCAmq8TUcmHSCiESNCFSEBCQe+HbbiQiRjIERk2kWATqTEAcYd5eN8R5rC/weG9bTi076hw5kf2HMDp/ftxev9+HN29D99+cwgndu3C8S+/wIndu3Fy3z589/U3OLP/AE5/sx+n9n2Fb/fsweG9h3Fm/wF89/XXOLl3L07s3l17zd69+O7rr3Fm/wEcOPAjjrR9j2/37MHBth9x4OAlfLtnN461ncbJA8dw5kAbTh04iuNtp3DmQBtO7t2Lk3v34syBNvHcmQNtONR2HmcOtOFw2w8420Yd+7d79uDit6dx9YefcO385TrnfPzLL3Dqq6/w47ff4fKZ87h6/hKunr+EHw4fw0/fncWVsxdw7fxlXPn+R1w8eQY/njiFaxeu4OcfLuLS6R/ww+Fj4rwXjp/EheMnceX7H/HTqbM4990lnD92At8fOYlju3bjx1Pn8MPJC/j+4GGcOPAt2g5dxrkjx3H+6AmcPHUTZ9sO4YfDR3H2FD3Xsf0n8P2hw7h85jx+/PY7/HCYfsbLZ87h4skzuHzmPM62HcKl0z/gxsWruHT6B/z8w0Vcu3AFl8+cx42LV3GFgckPh48KEPn+0GFxPH9sPr26nmp9De03bjQFH5erAwGvDwlpAHF/B3w+P0wtIFhwMc2HuBESFE0t2Is8CSIS1gQ7hu+QnBciLwYvRkd1suCmKtSBTzJnP8oAiLOppoeymGQ1orWIgOZGLeHo5kc6E4WoiIKqpRSmKlmMFVMNd+ZjxRSmh7ICnMZLaUxXsoLyvdbgs1g/j9MEGaEFmyinBQtuMQLA/EiPfx+UQp/FzFBWpFFXAkBTDMSaRWFjtolhK84Yb0pd4ymvuVQyOqbzIZRTCoZyqycfcHOy1ZaKUJygM5SL0n6hFqIwXlfi0dzagU8IRFdQMGssuLw2CEPywueTIXvcCEpuREIhWGEP1JCBVFgG0WmkJ1hw54+ewMWTZ3D13E+4fOYcDrT9iO8PHsapffvw7Z49ONt2EBeOn8Sl777HtfOXcfnMOVw4fhJn2w7i1L59OLVvH65fuIJzR47h8plzuHbhMk7vP4Dzx77FtQtX8O2ePbj+48+4cPwkLp48javnfsLVcz/hzIE2/HjiFC599z1uXLyKy6f5eQ/hxO5duHbhMi6epCmg777+hq3lEM4f+xaXz5xjzvQCrv94Bd8fOoIr3/+Iq+d+wtm2Q/jxxCncuHgVJ3bvwo2LV3H+2Lf4ib3Pd19/g+sXruDGxau4duEybly8ius//lx77Dx/7MoCJ3zuyDFxm6/Bad8fOiJuf7tnD679SG+f2X8ANy5exen9bbj2I32/Gxev4uqPV8X7fvf1N03P+2uy7vbb6Lh5E4MD7RgcaG8IPrrfD0XqgdfTCb+3C1pIh6mpKMT88Ho6kY6FWAHTj3zUj2w0gBhraNNJuumPXrCFFtn5jRRqKS9n8ylXRJgeoo6cW7W0eD/Jco0DkDONNuvYfc9YtJZVI0k0SA05QImzx3hfzVqDz5Oy+w5A5im0pZylE7QnHU2lYy021zb7X9xvUgO6n2e1lRwt2NNCP+sDSsg0HTavEXUtbdhOCHYarQUt/M2L6IdtwkS6Lh5oqR5VSsgYthMopxSR0hPpvlWaZeiwGfjYMT+0kI6Y5EYm7IYV9SJluBAJDSDkV+GTTAZSYaSIjgKh1/pz54+ewM/n6I7+0ukfcO38JXx/6IjYxZ9tO4Rr5y/j6rlLuPoDBY9r5y/j+oUr1HH/+DOunb9EHSpjR12/cAUXjp/E1XOXHMdcxk+nzojjrp6/hK4fvsXVc5fEa7jz5yD106kzuHb+Ek4zB8536nw37wSR+cysxazResV7//BT3XlXYz9fuFb/vj9exdUL1wToXLlwTazl12i3f76Ojls3cefaddz86SpuX7mGgf52dNy6iYH+uxiY1+/DTfP7oEq98Hu6IXl7oQX6BABJUhSGGYOpqbBjfmQjHmQjHhgKpXMWiR8GaVA8FUoISzfjzTcebTgBiLOp+C55rQFovo0W6lODzr/zHbAzLcf7l2ZX4YifhvH1zi4DgBYCMU0/3mdqD8uNhGZH8oIFec9RB1wABLkwZbjlzUUbUWnUsfoeoBoA1RQLhnLRFh2/JMBkMSbc/Pehr+GgqqCc1pfxns0ASINlSsibEvySCcv0wwj2Q/a0Q/IZUPwhRCQ/ChE3pEAUeVMC0RXEiFljwc133ndOH69zQrcutO7Yl2NP6rz/8/bTVdy8fA3tN2/gxkV6+8ZPNG129/oN3Ll2He03bqCv9y5u/3wdXXdvobv9Fgb629HdcRsdt27i9pVr6Om4ja67t9B55xYG+u5icLAdAwPt6GtCOHC5fXC53TD9/Qj43YgqA/THproR1VQYmoSE7oKu6EiGZSSMEKVuqoPIR70IK0HkovV5as6K4wDE60DLvdB5vWWk4EzB0cbOldYXFji74foU3HKMA9Ekq/k4gXNu1BJr/iUioCWbWVdorabh+P+I1754/89KNwlTlWzTCEiAvB3BWMq/JAuuFRWO5ZqTXdesDlSfBXDo1LW4Hq6KQKMpiaWzDYde3ErTcAqVzVJ7oId0qEEPTHkQujwAzdsBw9+DTCSIYCAIXdGRMGRBROB9RM89dYf5hO3mpdrtuzdu4O61G7h99XrT49v5MT9fF867u/0Wuu7cQsetm8K537pyDbevXMOda9frznuLvYY7/9s/XxdOf9F1/lRbr/O8Ny5epe919TruXqd1l45bN9F5mwLFjYtX6f07txiY3Eb7jRvouH0THbfpcR03b6Lr7i30dN5Gb9cdtN+gvTqdd26hr+euSKd1t98WgNJx86a43dfTONKhwNMPl3sAfp8bLrcbfh+lWBtKCFpIhxbsRzjkRjwsIRzqR9yg6bdMhPYRaMFeWKYXUVVFmpEQYmRhOoI23kWWnYPnhf6pSlY4t5mhnKilOJUF1mrnv1wn5AQd53pnR/KYcigg/JZScPNtOQ24HHhqBBIq57NSAFqMhj1SSGIyr6CSVlFJO8RHMwar/xh1Tn8twUc0jLL34Sm2RWtBiWDtNa0KlDLxU9FnlJDZ3yBWI1ZqR4PI6JThZhkuhINynRhpTHIjEpKRjXgQN0KIqBoykSCyRIFNArBJoDEA3bx8DbeuMLt8jTrFn6/j9pVruHuNOsDujtvo7b6D3u476Gq/JXbON3+6ijtXqR7Y3evUUff13sXNS9fQ1X4Lty5fw52r13Hn6nXhFPt676K3+w46bt1E+40b4r0779xCx82bAhDab9xA553aa/p676Lr7i2xo+/rvYv2Gzcw0H8X/X30fk/nbQz0twsn29N1G523b6Kni65/cKAdPZ230XnnFgYH2nH7yjUMDtJogEcMLlcHerpuL3C+3e30M95h4MDPO9B/F309d0REcff6DfrdXb9RW+NAO/r77lJwaL+Fnq7b6Ou5I9Zy+8o1er+LRSK3b4rvbXCgHV13bwnJm8GBdgz01+oxd6/XmkH7++42rdWs2rwaXK5uGEoAcd2HTIRSraPKALSQDsv0IRf1gugeGEoIIakXBUbHjOkKMpEgAr5u2DEfooobCYNegLwRtW7nxy7S5dJfJ8q0CZLXhbgcD29EXUpTrFXj8i+zK0g18QI5j9JGi7R+xR0nTxuuJVAuCaRMd25ihSSN+a9ZbiPqZKXGAKwyDbeVfI7JcmZJAJrJyygnZZTi0qIR0FA+tqIU8GLG02m0IbUFMIhLqGTDoil2Oe81bMUF6JXT2qqZcQVTQoYosGNUFVsN9MNUBpCJeGCZPhDNBRL0QQ6oyEYDQhPOeY0/13H7JgYG2uuM7/BvXqZOk6dfbv50FYODtAYwONCOW5evCcfedfeWuD040I7BwQbGXnPr8jUMDNDz9HbdwcBAO+5cu46BgXbcvV5zzgPsPLd/vo7BwXqguHHxat15+doHB2trGZi3Fu6s+Q5ffIbBdnpefozj2NtXrjV0vnevXUcXe83gQDv6e++ip4MW6G9fqX0vHbduij4Z/j32dN7G4GA7bjGwq/ve2Hr7GDjy+z0dt+u+S+dncT72i5jbBZerG/lAO+J6CFqwD0nDA8uUkDRcMDVKKOANakRzIR4zEPB1oxDzIxmmHdHpSBBeTycKMR9MTRXheSMiAm/KW674I6dF33MQEibLGVRZbWGtHXejPqBWrVpKifWOFJK1+oeDOPGkAGeGfS+NnlvJ+/LvYVEx0haMA+9KPztXvmgGQJMWIxiwUQuLkRCG7eZ9NysxCnSmADq+0VoyCnIw4pYbldV/xqBIyfEMw7IAKOaHJoUEwYD42+H2eJENdMMy/UjqbpiSD0YsDjvmRzAYoWBFdFgkCIsE8VznHZr/547Q5epA191bYqZLM5ptX0/NQTZK0fT30sf4efj9RlItTnPu5Hn6RzhltpZGdYjaWnxDfsAAACAASURBVGrP9XTervs735xr4evjx84X1FyJDfS3i8ipp/M2+rrvLPheuu6yGgv7jAP9FMw6HXN11mIta2VBfzfkQACyvwdEG0Q45IXkcyMV9iJhhBDTJCQNGVo4LPoD4oYP2WgAWkins0OYNHtY1aAEemGbPkQUL1JhGRYJCAmenKMXiO4Sw8vW4Jpgjak8BTdRzogem/linqsxXqNoJLzJI5zJcoZRjel6Rh0AOT2UpeMUSuk6GvaToF07I5T5wDbDIh/nMfWfc+Esopl5AqCc4s7VpydXoYTg/O44fX45dSquA7gUAHEl7GZipNPW2kY+3GoAFGPabcuIQphCPJXrae264BEQ/8zDdkLMIFr2+0fdiKoqCjEf7JgPhtQLUxlAwi+DaIPQ/fQ6jygK0kxgOE1UZAhl4WWIiuf47rzrTmM5lWe2dtbdUQMjHg3x5/gmgB/zazO3qwNedydCARckbxcM2YVwaACSpMFU/VRcVNUQCfXDNCQ6+4MBUCISoEOpmHBhRNWQCsvIRQOIhAaQNyVEFKmuEXVBDYipYTuHebViXEXA6eipPtnqCQg1LbmMqNM0qgFNcmFUllaacDSZCoUGppc2f71PAnxWY606f65Ezm01TnqyQoGbR0LLiYac0WMj8BkptNaIOrYCDb/lAtByBUPr1riMgXXO+0JdIbMyVlw2GkBUU2EqA4goXkQCg5A8nfB4fMirA4ioGnIRWejFZYgqNpYJEsZzT9uxPbNfo/Uh4OuGy9ULl6sDHnc/XK4aCPn9dKZPMhxETB1AWNGgyQOQgxGogV7ENIVJdND+gKQZQkxjooQxP7SQAcJqQB53B7QgfQ3PD3NzTk6kM1MIyml9WRe4cyQDV8eeZKMT1mI6Kpfg4dFBI7pxtZQS6+BU8DE2PI7XRmhUlBHHVRmF+bdEvZ7v+IXixCpScHzT4IwGW41c+QylxVhwozYRdOjFpHhanVm0GgBadgTCNmZCP26Z6Wn+/rU6V+sAyDXdLDYPyI75YSoDCPs7kQjSdLsWUBCXfbBMqnqQJ0GR4eCSW88A6JlR80bm3TeRllg606PA5eqEy9ULl0eGGuiFyxuBZfog6VHoch/kYARuH4EcjMBQdCG7XiQ052souhAjLRIaBfHnAwF6jiLxi9zwwry3vGIplPld8HOj1po69tEi7fHh9xutwTkcj0dJ80cU8GiIr5cf9ySBwvn+EyxFuNj36BR35QDO/zq/UyeBYjGR1uXY+CoJI02dME9HOQfS8foIiw7G7bVvRF1LAOKkiZWuYbkA5AQhbkQbhKkMQPJ2wePugOxXxXVumbUMBzeNZJ4B0DOrN6/XA7fzvqcHLlcHAr5u+L1d8Hgl6ME++Lx98Ph0pMIyDEWHHFDh9hFoIR1RTRWz4sOxBPKmhAQJIxWljBnOhuGFyQLxw9RrTW15tmNy9gFRWZTIslhw00NZ0WMjBEEZLXctnThXw+aNrRxwuMrBWDGFUed4cB4BlVJifbVxEXT0NN+1j64CgGYXifCqDoHOVptEazp3NZDin7H5GvJNqelc5aDKotP5z4sGYkHLTovvem7Uark3iINho3rUqE0wbtO07v28hHJaw0ReYyMQTFSyEUxaOu5ZzZs+q6VUXa8Z/z+29Du143QybD4ihtHxaGyplBh9XlpVBMSbWTmtm4NhSyBkepHV3CjE/JD9PdBkBZbeD0U2IHn6EfQPIKbTaz4bImIzajkioaUByO1+6k7xmf1yFpJ64HF3wuXqgBIYYKm4HkSUftrn4+2CHKDjE1yuTihBCSbxIqyEYCg6ctEAMpEgiK7A1FRYpoRYNCz6fsKqRms+7K8d84OYBhJGCBmiCq2oPKH9ArV8t7Fs6ukEY7s5d9CcabbWIqRTTHSTT0Z1ptxGCsm6GtAkAxlOMx5xHFN1ECbuO9J7a7G++dEAd5itjEsYd4Ipf4z16iwGkpxdx1ONTjo2d9LjpTTG7JrCwJgdE6DAvxf+vTnrdq2kUJ0puNnhfMMIb9LSMWLHMZRlw+ZyEZQSQUxatB/IuZZmNlXJrEjtYaRA1bjpNFZdpAGLRGqhMZXSxnmj6UoAaKSQFKQE5zC85dSAaEZDpQxYRsPOaRqiahAp1Ye8KSGsamJDmScy4iSCclpfDICoE6IOqP45yd0Ol9sHt6sLblfXU3eaz2wtrReyT4LLPYhIqB9KwAWXqw+y1IOoMgBd9kAN9MLt7kZcd8NU6VRELTggZoPwptJkmKpcZw0vkoSKESbDMsKqJlhwQT2CDFEQN2k0ZZkSkiYN25OkdiGUkrJg8LR6YVElZLq75jZSSNJd+fDaRUGc6jteStex4DjgiPsNWHDVul0zXS8fvbCa3h/nZ2x0Du7UpyrZhoKoThtlIMGJE9OV7ILP2Gwd46W0iD45gDn/OoFozI7RiMDpnNnk2tEic/LLVGrgYqT3R/JCnNa5KRljIxnuWVTpYDKvLOgDGrNj4ri1BqBR9nlnrJCYfsrp0EspFdTEU3lj6vIIOtyG8jFWX9UE86/VUd68eTwZpql5U/Ugq7thK91IhelG047W6sFpoiJBwigQCQUiNQcgLxunLPt7Fj7v9sPl6kA67GbNiE/baT6zJ2FxbRAuVwdiqgsuVydc7l4ogX7E1AH4/Ab83i6kYwoMRYc7RFltdswPU1eRDMuwSJDK7RATRmgQYTOOAvEjYQRgEwmKHIZO0rAIvc/leTgN26mIwJWJS8nWi8HcyfFUDqc3T6/RBFRuvKdoupLFaDG5LOOjw3lkMOFonLzPlBCeVAQ0WkwuiMKWcrLCcbJmWWdKrBk4TzNyxmgxWfdZnb1CEzZlcc3lfRixE8Ix3x9Oi82EE0xmGaAsCsIOzT+uKtEcCAhGbYKhHI1E7udbGz7HNzXTbEqt83/b0hwkO4ERO44xO8Z+30odwCwW/QjpID4faIUREM8qlFPKslJwfBqqHfMjH/FBC7JG1LAEW+5EKhxERNUESBWJHzah/oBf463VgHgabn6h+pn9fs1rUAByexkAdcDtVaEE+uF2dSAd9sHn6YYq64gqLqRMCkCKHIYRGkQyLCNnBpAOUyCJ6SoKphcF4kfKpPNAIrE4bMK6qYmENNHqAMh2dIbXxhG3XmidD0BPqpGzyuo9c6OWUNd26pfxCGGayerw11AHnRGpJKdQqlMw9UmsmUcXizHEeNrN2VzLowj+fbZah3ESFpZURXAA0KhNcD8viffm30krKg283sfPu5QcUCkhY8IOY9LSMWy1VtTnaVIOQM73bwWAZvNU2f1+XmIpuFYBaB4LbhUAxK8pIXLaIhmBA1CR+BGUDGjBfqqGbbhhmT6kg30CgCgLThbXuUUCMEjyd0RC8Ejsdh84fbhWv+L3Xex+g6jO1QGXe4DdfpZWdLk64PfS70GX+xBTB+FxdyLg60ZQ8iOmDsDtM2EoIURVFabqBdEVZKMBmGEdpjIAf5CCTy4aQNgIwSaSECPNERl2xIMCkZAgBrIkRDWi2I7KIsG6oXR8JPdyIqBamikjdqTcMaylM+fEAd4HxNWf+a59vJwWg9G4xA5P2c2NWuJ53k/E1+cEp7U2rjHXrEmTp92cTps39Y4WeLqw9T4q/jmcn3FhFBLHiJ3AuB3BhB3GuB0R4yvG7YiY6zRVyYjz8Imrjd6TP89Tm638Zqp2FON2BKM2odFJCwDEm5tXAkBjdgwTliHqQE49uAUpuHhjqR5OHlgpAI0UHGm4lNJyBGRHg7AjIeghDfmgjHRoEEmtHxFfCLo/AF0eRErTRZ2I13+SxKhpwbXskNxe9tf31B3j0tZfAxEOOgKMuhxAM/8zumrHPPXP8DStGy5XJ7yeTrjcAwhJPTDkPvh8lO2iBt1MRNSHhOGHEfIJGnbCCCEVpsrWsVgUtukTAoSKTrn/GTOEiEGPSRIDCRKm0Q+REVFVxAnNgTtJCMV4QMjlLweARgpJUQR/Eo6cRza05yUj0kROJWsezcwI/bmMOJY70rlRWrfhO3seXaxUA21JQGC1FJoGbAAGhdpMI97Hw5tonZHlir6vJgA0ZWnMKZuoctqznWDTZGs1GL6eiXJGECAayQhVSykBsq0A0LSlYsIyULVNAYZLvYYLpfLorBEALdYHNWHz8doEo7nlkhBW3wfkNKEEsYx5QZahwTJ0xNRBWgNSBpBV+mGrvUiFabtFwaT13gQJI0uUuo3l8iIgr/ErcI6LmEeFy9VBHWdDp/orWONvylikyBpR4zrVgIuE+uH3dkGSwkgwodGgfwBuH0EuGkBcDyEXDSAbC8GKBZAmKgzFhVxMhh2ToIYMEDOCTCSIHJERJXEkSBg2kRAKhhEmiQWK2FwFeDkXFKfvjjNW2loPn+PGd76ccTVSSAqhU662zYHHeZ+nBPnx40yGh4MOnyb6JNbspHpzOnQzm23w/GoGxXEAXPA/sxMiAqpkwxR02GPNNhgcvGcc3+m94Rxmh3OoMkWJmaFag/B8uveoQ+FgzI5h2lJq4LOIQ+fRNR1qWJt7xDcSTgBaPAIyWQ3IpJEHo2Fz0dFfEoDKaU0wTYvxQEtipXktgmw0gEQgiojkh6UPQvWH4PWZyEUlxFRZZDWy0ZrMVpgkMJSL/o5ScAuMpd3mkyQ4iIq6lkn/evzC0f7qgfaXNI8fIak+ZUl0RXx3Cd1F+4BYBBT0d9c1qPklEyYhSGq19EGYDZzjf3WSrgMcjWRQJDVJnpFCUqQkWr2YuGPn/Rm8MPwknDk/7/wmTedfZyMqP97ZpOlc7/xd9JNYcyNz1nOc6aS1rkU534fXgyat+s3FtKWK5s+5vG/J/zen1zt7ccYdUU+jNCM/LydAjBSSi/b7iLUNZTHOmI8jhRqdnf8PnZ9xqXM1bERlzr+VWsxaNKI6rUhovY2ft9VIqEj8ILoCwy8hEKD9Sykmv8XruVyCxyRkhRHQb8SUwGD9YxxsPMpTX9tvySRWA4qE+uHyKJAYJd+Q+xHwdSPg66YRkOxCUBqkACQNIqYpsEwJ4VgcEZMgqvQjQQyRikubKqJpN6IkCtlPYJIYEsSgbLiYH5FYnOWLg6L+w2XyW7mI5s/X4fNl1lJ8dL5znhnOieFnI4VkHXXY2dvDU0bjpbR4DXdaPNr4pQBnubYWw+qc6cn5hISpSlak3iZZKoyzxJwgwb9HJ/iMl9Oiv6taSjUUhW0KKExotGpHMWWprP7TPAU3VkzVRdUT5bTQAuSadU4CRLNIaNIyhAzQsJ1gIxIkYaWEjGrSg0rct8DZ8yhpbSMgXYzv5rODlgKdlBFCIeaHIoeRUlQkZA/iug+pQB8yEcqCs1i/X45FQBmi1iaiPm0nt/bWw6jjvI7TKPXWixoxgdW03P21Y92eX8Hn+HVY0N8tyAhasA8u9yBcrl7o8gAMeQARxVMTIlU1RFQZ6UgQUTYv3jIlxMMqMkRFTFcQ0JJIER1m2IBFgoiTCJLEECKFpqaKyCfDFHS54GKrTaii6bFQG242yWoza+mQnWKkXKmZOx0hLMpqBBPlWkGf7/zvDeeEM5tkfSTzWWW/ZAT0pI0DBAcyp1ApV46Ysuh4gXE7SgVA7QSmrYUjB2rKEek60VPeQzVaqFeXaAwAVFdwwjIwascxyoCuakcXJSHwSbrceCRbLdGU5OxIHpPsNzFSSC4qxjpqUdAbtuJsKB0fEie1EAE5AWh1JARuToHTVtlwXGA4obsQkWWQoA9RTUUkFEJa8yEXDaBA/AJ8eERkL9YH9Nu1PgegsMc4ucAjs8e6HWDDo6Ue2nTrHhTim//z5vE7iBmdcLm6EZQGEfR3w+sZhBLohSx7EFVVxDQfEkYIYVVDLhpAVFWR0N0oEAmpsIxsNABD0RAlBEa2H2nNgElisImEJNGRI7IYbkVZcAHRiMpFIYfysZYuIr475um3tRq73cx4pOOkK3PlgyrrPeLOkrPI7jMnNcPkgvg4hqcNEr+UcfDm30m1lMKMFapriq3aUdEj4/z/zidNcEDg0W6VjfFe6nfCBUY54HCyw4QdbtgUO+L4XfHf1ngpXQdA4yWamuMj3+fr/c23oXxMzLqifUCykOIpJWSMx/0okYURkDMSWu6U4OZrMQUhoqaHtwT4RGSoIQPJsAwtZCCnuaD7A1BlHemwG4Q1nVthSmxwjmP4HabgGpEP+pd4npqbPe9xt3re/12LqYPwejrhcXdBlQ3och+CwTDcPoKQHEYh5ocaMqDG0igQOgG1QPzQYymoJAObSIgTqgFnEwlZQp9PEV2E5gXiByE0lzxsx9lAsMV3eJx2+6T6fR7NlOvuc3YbBxcOQtQB5cQYgZrjWuiMnuR6f0vGFcIX/F9ZgZ5HK2ttk5Ym+l94EyyX5qkDK0cazSmV1Gw8BO8PWur9S8kQRuwESgmZjgXPhkUE1Er04bwmivHAqr+PYTtOB9Sl1JbevxDzQ41lUIjR27rcj3TYi3y0NniSRzwGSYprmg+d/P0AkEdFfVrNWTjn6Tj+/GAt8mEkBa+7Ey5XD617eEJMD62z/nXPDC5XFzzuTvh8GtzuPmghDVFlADHDi0wkyEZxSzAUDUE/BRQ5RCOabJQ2n+VJkPUCSKwxTYVFKFuOg49NJJGKG8rHWhIipaKQazNmYW7MedvGw8kivV2165zm3Kgl6gBTLKK5N5zDPUuu25WPFOrVr52NsU+iNvVbs0YkgVYIAWvhcGeskIiARm2CSctoGnU5IzTOZuT0+fnEDU7BX1JpgjHuhjI0CirGg9QaOf15vUDDdrxuRMlqoyE+drycUltiweWUmAAfy5RgSAEkDBmZQA/kQBgxpu3I2a5Fx8YyTBK/IwAS1ld/X9R4vOBppEavowX3HjpqwNVB60huLyh4/a/3BdVM8/XB56Eg5PYGEZJ6EFHoSG3eiBpVVWQiQTaEivbzRIwwiKGyxtOw6IZe0IjKQMkiQSpeyC4Crk682MUzVkzVpdtWGlk8cIDM3KiFB+OFGgA5zCnxMlnJ1DU9TpQzqNombUh1DJjjvTVTldpoA6ESsAZF/t+qOZXL6yIPS15AQGiW1nKKv7YqL1TNaQx4aA2IN4Y635PPkhop1EexvJ9p/pRWTiShOnbZOjbeAofPIvtqiipvl1MqSkkFw1aNKTaR8mAs6a2RD5wAxDZl8+ujyxHtrQdkmoKj9Sh5UfCxwiosQnXe4rpCU26yDMkfhK7oMCMqEroLybAMk8QE8DjnfP1+AEgoIXSARixL9P24PQxYOuFyewXVmALQs56hxb63gK8bHm8ALlcHoqoPRigASTaghQwkzRDCSpApXUvIxwKIh2k4bhMJBcLUEYiMPJHZ/RhSREeeBEWHdI6EkCX0YiunVCHSuNjFw+suc6PWqmbHPKjamBuzFz7neIxL7UxVsgKAnE2ak8U4popEHMNHbfN6Ea8d8HOtdtbN78GcjpoDAAebVhSpKUBkFtV8qzuWvceUpYmxCFU7iqodXTCCmzeTOs/tVPPm0RAHID6WnDPkFgOgoWwEo/kExjIhoUbdSJF6JMFBqAYMvDmbKyE4I6ByaiF5o1WjkVgLfUC6zuZ9aWIDqvu7oYWo4knCCIneHz6We2VKCL8VYyoHXk8nXN6I0DNzuTocPUAueNydVEzV1Q3Z3wOPuya+6XLRKZ1CMUH0Ej2LhFyuTsqGYyDt9sow5AGEpF74JRN2zAdTC0EJavB6e+ncD5PWfORgGAXiR4TE62o/YZJEnETofKBABAbrD7Ln5cErmcZ1AO70l5qd83h2CA/GCwxM6GOP7lXw+P4QHs/W7NF0mR43ZuHx/aGG55pyFr0LNI3D6wa8v2SynMJ4MSGK7Nw5OnfJDQGQr3EV9nCyuKBm9VswHlU6mWOtRjOtWE1tgaVzHXTruTztORu140J/br7NOCI1rrDO5YH4hoLXhXhdq9k8pGlLFX1ANLUmYTThRZH4UCQ+lFuowdDrwmCRkVSnGM97icppbUUMuWE70dL752IyrFgAuqKD6AryES8kKYK8KcFkNSCeWk8SHWlC6d2/Ly04Z/OoR4Lb3QHL9MHlUWDIC1lttaFrneJ+o9ET853vU/+cvwLjhA03A3i3qxOpMN2VpcJBmJoCRdbh8XTD5+2hM39IVAyfC5MECoSm5grED4OkQEgUBTY3Pm9KiBKCguNHzplwzS4WfpEvxXh7MFHv3B/dq+DhVKnm9Ks2HkwUa6DUAgCNFRJ0Z8wu8gd5D3NuCVSLNTo4ByAeCbVS+3kwUZ/6Wwtw+jXbfaaRtxh1eaU2bocFzZuLnToVD0TD6zKctXPqK6dhc304TgdvlFrk7+NsRC0SP8ZTMQFAlRZp0M6GUQ5APF1dSsirAqBWdOGsWABWjFKt81oYkq8HPsmkKXjdENc5v55NEhOTj38/AOTqgMsTdNyvgYniTKsJinUfZKkPXPPM76YpuITuQtDfLY6hoNNJX8eJC4LO/b9nkq8LXk8n3F4ZcW0Q4ZAXfp8PMV1BQnchpkmIqgEYig4l0AeLBBAjJrIRD2LERJqoICSKPKGCpAVCO6OThPYFWaZEjZES+I+ci5E2MmffT1PnNkbTao0c+sOpEh7NlCnYsGMeTZebAtDMcA4zjGIr5PdtgmnbEPTdaUuhNamCKeSAnJphLUVAzrU4IrX5INrIHk6VnjqYrMT49/okAGikUOv5oYBE03qU7k2BiGvOtZLyo7Od0kJiiWvP8d8Hp2E3BaCsVgdAnPY8lAmjnFgEfBxEBBr9yOCsOT7FlW/WaPpaX5aK/EghKUaUL9ULZEdq6UBD0ZDT3TAUDcmwjLROGbBc0zFDlN87DZuZexCG3AfDexeiv8fV4Wgw7YUS6KVpNlcHJJ9bzD3S5T4YsoPI8GwibJ3J3l643C5ElQG4PRJ8ni5EQv2IKh6Ymkob0BQ/wiE3whIlFMQiBlLhIOJ6CIREkSYaMoz5xsdxZ4mCLAmJPiAuSFokftGV3YyE4Cw8L+qUJ4sLajscgJwst6UAaIpJ7zsBqGpHqeJBOUX1zEppjNsRQcOe4o2L5YyYR9RMzPPxbAUPJ2kU9uhehYImI0bw9bYCQI/vVZ46oCzXJh29W2sOPqzmwxluPB03aem1RlRrabWNailVN6GV1/9EI+pwngFSTbm74Xls1v+T1jCU0VBKKhhLelFN+TAaDaEaa1KDcdRmymmdseYCgpQwlDeFbBWtJ+kt99Dx1wxbMQZcZFEA4sxVm0hIaDq9zjUZXp+JmKbAjshIEAOERMVE1AxRf8+NqA5bZFge7e7vQ9BH5XnUQG9dD5Ai9aCOfu0ecDS0/o9L+rh9IoUZDOiIqkHIAQUudz+C0iDCqgcxTULS8CAZGKBTUEMuRjKQkCK0cJkjVDUhE2HK2GF6n5MPePGS7/SWomE3FO4cs2l0w+o7DyeL1Dnfp/WgB+MFPJou4+FEkd6fKNRFRc5zcVYdH0NNnRZxjA4IYdYKMkHNKCYtAxOFmABHPmyukeN9dK9C61Fsjf+dG8Z/54bZ2isiAno4XRIR0YPxAgWpmTJ9fKYsbjdi7a25OdiCj+8P4TFPZ06s7r2bCbA6hVz5/8D5/+eRpVNglR8z00JPzlI2M5zDjCPScQ7H42vkIDQ3WhMjbVTDmrFCmLZUjFlRDNtxVPMGxtM+jMRq0cFSLLRiXHJMRI0wpmgMlYy+LN3EpSKhoVx00XVEYgkUYlS70QpTBmw6EoSh6FQVn+k85th1vXI17N+S1dWE/I6+nwZCo+567bhMxCnF41BNeGZwud0g2iD4yIaQ1ANTGUAqTNOScjACXe6j7BdTQi4aoCKFCgUcSj5QECeL/6iLpH4i6mIUbGefTUPn7gCgR9Nl/HdueEFE8d+5YeFEH02Xl0zBjRQoDXfMJhiziehZ4XWEcTuKaUvFjEOhmc8Gmn8+nnJ7MF7Af+eGBbDQdFtRrJcDEl8vBwFOOBCfsQn54EnWj9YSgBrZBJv74xxIt2ADwogA/Ptey+hpfm8Z14IbKTRP+y7GfruflwQJ4WHejVIiKLTXynEfynEfxtMEk2mPuAaGGQuOWv1EVDFCPBdlEc/aqCMUCe01aqUWlSK6IB0UiR9yMCL+OsVIi6QmOPz7BSBhzZpIWWrOowitMy6+6XLxCMgp5+NDDYj+t6V6ZH8PvO5OuN390IJ9UP0y1GA/gv5uqMF+hBUNMc1HaZi6F5GIjoQRouKEJIEckZEitGGVz4rPmxKy0UBdBJQgRh0A8Zx0w3RGMdW4AXXMro8OpkoiPcUd+6NpWv95fJ8CFE/J8Qhp/jlHCoxYYJuYtYJiiNmYHRMRUNU2MW0bok+Ey8UsNt/nwUSRgglb24OJgoiEnMYjoGYANFdtQCEfpfTy+T1OvxYAahYZ8iL/7HC+Tv6moapEEwCaWSMw4j1dzjlDfH3NAIjXghpFQJOWgbG8gXtZD4ZTAQynQyjH5QXRTyMxUkrKobWeckpFKRHEvayHzfRZXsptMSsl5CUjoCxRRJMpv86dEVBWMwX5wNkDVErIv2MActZu3AOozbahj1PQoX1APk9XXQ1o4bn8jtu/hYF8T/J7HUBNb8+DcKgfhqLD5+2FLvchrGgwiReKHIbH44XP50WYDalLEX1hDYh1UGciQSTDMoiuIMlyxc4dE60BxZo22HFdNX7hO50uBx2ncSf9cKpEmXCTNeYbByBu83fiU5VsTePN0T8yY4UwYykYsROYsRRUSylM2WEhTNksAuLr4PZoukTTaCzSeTRTrgcgR6pOrNXx+qa1n6qNh08gOlkLAFrKatNNM2IC6S8ZAU06BgiOFVsHoGbnm7I0jNsRjOc1TKa9qKYljKYiqMR9qKRUVNI6xsyl+nCkBREQFxJdKl3dqnEV+sXWwTUb4yQiar0xXUFMU5COBBHTFDF4ski4EgKlnf9+AehXbJwUwUHPOUCPSgC1Qgl/eib5mBKCZxBhuZ8SEVQataTCMkwtgFDADa8/mgutsAAAIABJREFURnc9Jg2/dcVgrLcY8kQGIVGoIQMxYoLoCjJEESy4LAnVseB4M2qji4QPV2vkCDjAPJgo0giD1XaEc2dOU/QD3a8BULNd+gxTsZ4sZ4R8y5SlCQbcrBUUBe1pSxHimPOVrrnxiOfRvYqIzJYyXid6NMMYcs4+pmb9P2MWHk3XP/d4tjHN/JcGoJWoQDilbxpFv40mlHLgmBtlWn6MMMDVDMbLacwO5+vqOzzi4mxGTruuRWP1atx8Supik1CrdlQMwBu3w5jK+jGRUzCaoeMgKikZVSuMcTOImRSNgGbYxmwoTnuFSsSHUlIWUVA5pSyb7baY8doSj1Zqat31ABRl830sEoQdDcJQNKghA+lIEHEjBDsSqmO/8VpQJRt+BkC/pPFGVw4yLletH4mDkNf9K+81crvgcrsoFdvdgZjqgscrIWXSGpBfVWhXtOZB1gyKGT+mXtN5czai2kRic+J1xIhZ14jKd0wiFbFIH9Biw+Yezw4JGjZ33vwxHvFwGvaD8QIeThTxcHoh04zXH2pjtbOCvjtp6YxNxVWVo5iyNMzmqUDkYgAkakATtPbTCgA9cgAVjZrY+qs2HkxQ6SAOTPNB50nYk46AVmtOgoJzgu10haoVVIspVFnT6DRjOfJj+SiPWkMxrf/w6bC8EXV2JC/6u5ZUZLATYvzDiB3HSMKHqXwIlWwY93NejFompjOs5hPjzDcKRGNpE6W4hCG+MUupTD07KIBjLQBoPE3YnKF4vQbdPIUEKp1FlQ3smB+hYBhSICoaUfOmVEcqsgnVhBzKm88A6Jc0JwBxokMzAHKqMvzaTGGyRZmIBy6PDF3ug9sXQS7qhV8yYcgDFICiAeRNCXpIh02khkoIiwGQUwmBN6I2kxdZDIAeTZcFy4xHPzytJYCHOX9OQngwUawXJB2tnwzqBKC5vB+jdpxN8YyI2hCVeEksCUAcJHkUtmT0w0kIHFA5AM2PgMZacM6tHPM7AKCRQrJubHYza0SNbxWAnOPBuQTTYgA0bakCgMbtCCoZA1NpL+7n/agkJIxbYVQjIdzLuOsAiIPASC4mNmZOEsJaRUBDuUgdAJXT+ooBSCfpOgDidd1nAPQLGic7OOtMPNXmjIrmj8D+dVk/tGAvPO4uuF2djHjgQiossRScD6YqQZHD8PpjMOQ+0XgaUTWkiI44iSBHZMRJRIgUpoiOrCMF59SCc1JOm+bUm/TUcJWDh9MlkV7jfTYPGPWaExQeTTvqRIyEwM/D0zQjhSRmhnKClTVSSIohZlzEcsaSMWOFMGGH6WAztr6maSaWGuNA0lIKjoHQw8laz9LDiSK1ySKNgtj5mlGy1wIo+Hf0awWgZr+LlYIYHyDIR3I7U3AchKYcvUHNfq9jdgxV28S4HcE9S8ZQWsVUNkBp1akQKqkQRlJBVNOSAJlKQsFQ3IfxlIEikTCV9tEZQkztYCa/turhY2lK/OFzisopRaTD+XXpzFJkiSKmoOpKTQsuFqGSPjylniUKYsREJWM8A6AnaT5PFyRfF3weCjyK1CPAxe2ioKMw9W3e/MqP1YM1kJJ8XTVdul+JebxU/DUc6ofk9yCqBmuNqKqKiK7DkPtpg1pUgxk2kCI6AnoKaaKxiagB1sQWYAPp1AYkBEmIM86nllZLKdEz4nQ0nM782Bn1MEIBBx9nnw0v3D++P1QjHzBH6mz65EoLYgpnISI04HjKrWqboj+IEhMUuhsup+pqFhwAOHutFdBZDIward9pzdhvPAW5EodcR4JgtzlLz0niEJsAxvB7Uky8+Tb/+15r43WiqUpW9Ajx3+ZkOVM3umFBxG4TStO3FFTSGmYsBWNZFVMJDRN5FcMWQTUbwnBcQYn4MBaRMZrwYmgeMYEL9M5Pu40WamKpVSb9xAkcrQLQsBUTEVAlozftS+KNqEXihxVWFpAQisSPsKoJsOINqf8jNOyn7KjdnZBYlOPzdAmgSRmUjRdygBJ/TAv2sde0w+0JweWqJyr8Wszt1eDzyVAD/VACfZC8dEBdWNEQN3xIR6gqdozEEEu5kFViyCTcSBENMWIgEwmKulCK6LBIkKbtGPvNubuiBdZ6Zg8nH1TZGGYnAM2NWpT1Na++w3XeuPN+PFthzZ2MPcZozY0aUbmqARcWnanQfg6aTlEwahNa87ETTI5HRZX1ioyXUguK4o9nK6L/aKXgw1OH/DOKOpaDar5A766R0vcKjEeMzjXQCJN911W71tQ7by2/BADNjTZvauXGafLO9CrX+avyMeEtRlG8L8iZFm6egqO/jxE7jrm8H7P5AIYyGoazOsasCGZzPoxka46aa7JVMjrG4n5UTAn3Mu4F84CcNjdKo7aJMmVfUumglNAjbEXktZQMsXlcTB27iUJ2mCRASBRxnaqZFGJ+ZCJBxFQZeRJcMA+oQPyo5J6l4J6oyQxYeJrN7epARKE9RLkoVehWAr0iCuKPGXI/e00neB+T+wmvdbnmZg29SqAXekgTiuKhYBiGoiERpj9EnaSh53pgqDpyMRl5wqU4/IiQBFSSYSq5BgpEolI8bDdVNxGVjQueD0DOjvT5AMQjgvpG1FJdBMTTcjyN9eheBQ8nigKQnCwxJwBNWTrGSyk8YFM0JyyjLgLijah8/k/VMYCu5sDLqwegqi1qWHNVm0oJNQCgJ+HcRT3tXg1IOZ19jq1LkCMczba/iEoDAxc+8vtJnH9+Tcn522zUp9SoBnQ/L2HUjqNqm1SSJ2tgxIqhSCRMWJTefD9MU1djmRjGU16UkwrKhDasDtuJpnXRGgDVXyd8hMhSVPUZS2asNwmlZKgpHZvP7+KRTjAQQSHmRzoSRFStzfjitV2TxFBgoPoMgJ6wRZV+0eAqebtEai2hU1kf2d8j6Nj8MTXQK14TU6nqgN/76xoFIaR4/L0IKyFoIQNBfzeyUR1mOAhFDiMVCSJCCCwSQJxEkIwHIMsGtHgEFgkiEanpSKWJhjypl+Kh9M8gSkl6IcyPgLgI5D2W/nA69keMTPBwivbU8OI8TxNxhQHOiHvIIiPxmga7dC40yVN/9ywZ48UEo2GrdY2ok5YhpHjG7aiQ4nGe7+F0/VpWFgGx9TuabX8xAHJEVk5ZoMezFfEYjzIfCKmjhb1VT8qWUkZfawByRhTOSbiNnXuIkVaiYuz4dC6I4bSCUlxCORXCSCqAMvGhbEpiBtBoVMZYTkMx5kcpJmHYijdkvXHCxGgxidnhvLg++OypWUZBXwyApphSw1IARKnYcTp6xdChhXTRiEp0WheiZKOg6AF8loJbI/Ox1JjGgCUk0UggEqKRTsDXLY5RA72Q/T3we7tYDYiCUkjqgRbsgyH3Qw30Iuinr3G7KCuOA5QRouk4v7frKfcJUd08t8cPNeiHLLmRCvtFH1AkHELU0BHVVMhaAgkjBDNJo5w4oeDDa0JxEqXjukmI1oY0FQkSRor9UGkjnC5EFp0XyL3hnJg6yZ2AU1qH/22V0swbURspCThBbrSYxGQxhvtFHZPllGAzVVnUM2InMMZy/NUCwUghgbFCfME5uYNeVf2HpcF4Ok8QDxo03zZqxG3VhDJE1cbcmCVSbXV08OnSgqbZWqpzSKzPec5GDl1IK7F+Gj7u/JcArdUC0iRrNm7k0MdLaUpKYZH8uB3FmE0wbCcwmVcxlItilEgYSmsYSmsomxKG49RZT1sqyjEJwwkvfdyOYzzpQTmlLlA94EoNvDdpqR6rZut1npc3uPLr0ZmK48LBXNuxYNIG81w0gFRYFtERPTYqmHC/z4F0T8l4RMDBhd92MaBJGW6YyoAYZ81f43V3wu/tguTrRsDXDcnbBZ+nUwij8voRPy8nLzzVmpB7AAEfHVUR9PfC5+1FKhxwNKKqCOs6MkRFMumFodBpp6FQFBmiIkySsEgQMWIiQ1TkSRCERIU6gsVICU7KJ1VBqJfIHy+nF15cY7ZIbTWTsmnkHGvyN4136LPzdroT5QxmyglU7SijXHMQMjGbD6Bqm5i0DFSLCTwsyJgoxBbUEjgDbzUAxNfLAfTBeIGy0RgTTkQdLBKkbL/l9wU9cNbGpsuiAbZV1p5IwzUBPv5/nGF9N3xyLN/FL0az/7UYJyJwanYjp85/HyOFJCaZ8jadwmpiJKtjLO5DOSELynU16WkYcZSID2XiQzEuLeiPmy/5ND2UrSNk8DHyfFO1mGIDN94Izsc+1P7WIiAORHGDpt+5yDBPweVJsE5geCgXfQZAawZA7nog4qY52GwJ3dWwluNmr3e7OwTILHbeX0s9KB+4A7dnEFGFKl5bpg8hmdaAbELHcVskiGRMRzwWFn0/BbZr4kBUmwsUozUjkoZT4oP3DMy/0KYq2YbqB4J0wAQ8W3GOHAh4I2e9c3REWSM5JrGjY2YogzHbxKhNMGkZmLFCGLNNwYqbtlSMFBIYZTWgRsVsnoZbqXGFbE4E4LWXh5NFwTYTRABHnWslDlYoSfAGV5aCa3Wd/Pttdn6ezuIOkU8f5RHR0waYVgDoPhuM2KgG5GxcpqxJVRASSgmauuVU51KMjeCO+TGta5jVDEwZ6gIgqmnByXUA5ByOtxiJgtcnlxp/4UzBzRcntYkkrllCorAiMgoxCWlGyS44jqtnwT2T4lk98LC/PNrhkQkd903TbvyYmDooFAT463k04/d2we+llG2vu7PpeV0umvYzGmnW/WJG15QKu+Hz0UbUoJ/SxNUQZcEliY5sNIAwSVBpHV1HMN8HgyQRJXEkiYE8ofUeGgHRYXU8AnIqYfMIiFNOnRc0nx8jLirWU/P4XmV5EdBMLWpqVv+ZG7UwN5QS9aeZCh1cNmoTzFghjNpxIcdTtU0qt19IUMdqBxekkXg0sioAmq3UIhIeAfE+JxZx1HqCSoKWvmwHO1bPDnzEGYMtAmgrADTLdulTlUzdjKdRNlbhaQNMKwB0bzi3BPutNvhu0qLstTHbRCkRpCzKhB9l4sNwjDrrckxaADpFQkHJCUDllNIQgPh36swUTJZrTbO8htp0aF4DAOK1WX47R2SESUIwVxOGLCKgvCkJ4MkTqgcpJLbiv7eJqL+gze/XiSrUAYdD/QJg/N4uhEP98HroMd5AJ8KhfkRC/XCzseF+LxVCVQO9sEwfFNKNSKgfPq8PEYXWhJzndbs7xCA9AUJu7y/bJ+R2QQv2IqqGEAoMIiD9f/a++y2Kc28//8J73vM973sSE2NJNCpSRFBAEbFgNzG2gD3YjSaWWLHQOyydpS0sLL0Xkd5BxYYFRFRABJGyC9t34f7+MIVdQFnQxOS881zXfTE7M88zhZnnnk8PQTQnnP4CSooKRkxsGFI5RHaDUC4HKWQF1HReIGJ5UUjihSGRR8QGUCo3KkiVeqhVk5G+zwakNqmTdXI0/TK/XTWUg41yYx4+sVDqi+rsKFTlUTYgHiquJ9CFzErTQlGQHo2StHDaJbs0LQwl2cS5jiapUcf+EAK6XZWrpoKjvP7U4nBGiQsa7+SqGqA7lLhV83NXtQG9ywZFJRylDOhULjVKCirIGgoCzcuMJ92kk+jJ/0PI4133acQ9GyNzBJWSpyQniY4Xu5ERT38olZA2QqqIIWHsJ92vU8JRkBiI4ng/IiFprD9h8yHVcTmx/sjlBhOF6mIIKSk/lYOS5EC6uB5F2iU5yfS9GSse6n1F825kxBMkl0gUzMuMDVIjItV3lLLjppFeeylkdvs0XhB4PO6wOCAmGemEQblNB/oNSSuUhMIN9SQSdZLrokI8EeDngrAgdwSQGaP9owhpKCacDV64N4L8XRER7AEfXx9EsD0QFRoEVoAjQoPc6f5E9gFn+PoQ2QfYAW5g+XgTtXl8vIayJ/gGg8VyQXAA6w+8B57w8wuGj68PoiKCEMH2QHQYkbcqmRuEsPhwxEeF0u6ZlI2HynigSj6UF1wsL4pO1U5JP6lqBBSL3DR1Y+tw1QI1UVC2kdtVIzNJj0pAZUMSxLuSc1LxIlV5REBqcSYP5RkcVGWEqzkg5KXHopzMhFCSyUNxBhdF2USCStXxCEnlwwJQhxModS2qCVfVHBLI7A+qNi6qCJ/GJFScSY8zUYmNmuiHj19xI5UgF/IrPo/8H1NxK8O9vKivfUoi/RACUq0XpXqNqqREp2ci7Yxjjanq5kwlKB3yMAtHYVYiGchMeFKWJkcgLymESDLKG1mCgX4X4vyQk0C4Yt9ICkdRaijpWTekhqNCBjS9/vep4N7lBZcVH4KseDb9DlOlt3k8LlLCoogCk7xwNbsPJQkxBPSB8FNxJKAkGW6oF008lD2HG+pFe8IlcHzAinIgbEHJdmCxyEqsPC/Ec1hIivJFXAQLvv5+iI3whZ+vM+IjWPDxIcZJjPRBYqQP7cTg5+sMll8Ugvxd4evnDyJuiDrHP85tOzTQDSx/F7B8XcEO9AA3PAQJ0Wz4+zojmReKyLAIZPACEZjuCA4vATG8aMTxIpFKSjVpvCDE8SKRyAunA1HjeJF0Tqk0XhCieTFqueBy0+OQm66e6Xd4hdGbtEfY0MR+UwMVEV2QrmIoXkUVlWSCSup3YTqX+NJNC0FBOhd5VEG69FhUpgaiKtUfFalBhIccaQAe7ixBqcI+BgGp2rBUJQ212BuVgNyJluquUckmTkmLoxJiVd57yfJdQbHUpEn9bylD/nDyUc04UEZmt/5QCWg4AQ0vWEhnS1fNFTjKOJSzRGlOspoqroRMepqXzkNVqj9BrpTUQuaCK06LQE5CCCqSfVDKCVchoSEyyo8a+ii7nhqN60kclKex6eeOOp5q1m9N8D4JiCIgVccDIv1PhBqxpPOCaNV7OhkHRNl8qZyP1H6ZsUFMLriPQUBxJEFoQkB+8Q6kSs4byVG+SIz0QUyYF8JDwsDycUNykCN8/ELg6+tIExCLJDiKgCjSYvn40ATE8g0hveacMRS8+gfGDfkGIjHSH8lRAYgJI6Q2TnQMAgKjaTLh8njI4AXQBJTOCyTsQWQsAKV6i+AlqhFQJi9g1GSkmhAQ9ZU+XslivAREHzstBFXX499LQNSkOlow5Mcgn9EIiJJOxiKg8VZIHYuAiqrvjJ+Aht1n1f8tZVOhfv8dCIiSfCgyGo2AKJsLEbjMpQmoNC0MOQkhdEXUdxFQSaIPsmICUJXkixtpPOQmc9QIqCg7adwS0HgJKCc5iiag4U5DFAGlR7FpAqL6xfMiGAIaD4hA0KEEosEBruCFe9N53Cj3aH9fQjXGDfWCX6wDfP1CEB3qhQi2BwL83Om+EWwPxPG8ERrkjrAgd8RHutOBp74+TvANckJUqC9iwrzg6xeCQD8XBER5ExmnWQSpEYTmQscXUQ4MkSEs+lwi2KQKzjeIvJaP6LTg44eYMBZ44SxwIwIQxPYHj4wDSuSyEcMLQ3Q0F4m8MITzkhDHi0QKj41okpTieRwk8MLJ7AcBiObxEM/jIIUXohakxlMp252bHqsWiFqSk0zr2qmXiDLATzSzADWJj/aCVuQOEV15TjxKsuJQmRNHl18oyiTsQGU58ShK4xDxF9lx9EQwMgvC+IlyPIRKxQbdLMumY4Vo12xq8swnoKqCG7J1pA/lb6NUlBXkBFz2YRkcKNvRzbJsNZsKFalPxbBQLsKlOcm0YZ1SyVG51obX+BkXoao4VNDXWJ5DP0M0KnLU6kXR96E0672quIobqSgjVbdUEbuiTLKAYWYcCrMSUZoWivK0YLI4XQQKE3xxPT4E2bwAlMYFIJcbjOJEX5RwwujKqEQ9IOK9KEoJpSWp8jSiHENhViJ9795FNlTxxsIssnbROwgoL52H7IQQZCeG0yXDKVDed5TmQvWdDQvhIJkXigReOJJ5oWr54lJ4RNkJph7QexAcQMTfUAZ/Chy2B+1aHRXiSUspvmQ8T1SoPx3HExjsguBIFyRwfAjjGxkLRAWr+vs6I5wdCF64N5KifJEW7Y8Ejg8xbpAzuP6OCAvyQmSIJ4ICfGgbkL+vC4IDXGlVXGigG20TYrGcEMZmk0TBAlFG3Bl0RdiPQkBe8PUlVH7+fp6IDPVDZAgLnNAIhCUS2W7jeRyE8lJI2w6bDEANol2wk3khiCP3oTJhx/KI2vGUDYjSKWfyAkZEe1N1eVRfrOrCDLq66YdO4O+buIpzklCRFY3i7CSUpHNQks5BaRaPtgHdSI9DcVYsHQhIGdbpia84U+NzrL1ZNKEJfjQnBI0koHz16qyqY1CT9FjHr6wq0+w+D6s4q5pZoDw3BSUZUYTtJCuOniQpgzl1Xz8kQPWWijT2LqcVmsRH2X6rYnSnFbVnJTsJpaQNi6roWpIegZKMKIJ0shJxIz0OJWlhpBt/DG0fyYoLphOAUvaXithw+ndhnB8KU0KRlxKBkrRw2quOIurR7GKlw+ymJTlEufNi0mlC9R0rTQujk5FeT+EiKy54iIRig5AVx1bzhhuew5EiI8q2S7lfM04I4wRVmydUJbdboJ8L/P39EEhmJQj0d0VkiA/hdu0XgngOCzFhXgiIcEJYsCdYwY5DElAEC2nR/kjh+oEX7q0mAQUGusCfQwSuxkcFISg4CBFsQgLy83GGH0lCoYFuavFAYUHuKtkRiP04bE+wfIOJ9b4BH/GeuCHI3wPBZFYHbqgneBGhSIhnISkqmCSYULr2TyqPjTgeBxG8RETx4hDDi6YDUUN5KUghvWeoBzeZF6LmXZMVzyb03cMCUYenWqFS7nwoAY01cZXlpqA4OwnVmREozIhGYUY0ijO4KMmKQ0VOHFHcLD2a/oovyBqZB07TGKUJSRhUiXHyy512RKDT4WQM5WQb5tU1Io0R1Ydy736Pd2F1leZkSUkTqi7hVCVSiowKsxNRmM6lv9KpcgdU9gsqS8JECYgKrh2Py/5oBDRcknvXR0th9lB6noLMODoQlQpcLkkLw/WkcNxIiUJZNAflvDDkxfmhmMtBRZIPyhMIt+wbCUFkTJA/SpIID9HyNDadd5DKfE25Yg9HeW6KWnXf0uuEvWp4QGp+egwK0iLpWlzDPeCI30NZsikP1mheDNKjQpDOZdOZD6JIN+1UXjCt5ciKYzME9C5Ek27V/r7OtKqLxXKiC8mNBopMWP6OYPk6IiTQjYyRIYhhNAkoLMh9VAmIkHAITztOMuGmrXouqjWFqD4j6gj5+Kgse38gCQ0lRqXhF0389SVSblBSC+VgkMkLQDgvifZso9ywCWmHqybhUFIPtb/qlxRlcB2uHhiuYqBS23xoipuxPJwKshJQlhZCpFYho/SL0zi0naIm1QeVqYE0AY2wAalUZ/0jMcKOMUwCoovYqXzF02mJVG01w6rJfjSifIfXoaoKjnYrTgunVW0VpJquaJhkORFQkt2HXoum+e2oZLUFWUQKp7LcFNSk+pBebCG4kRGP6mQWMnkByIsjVG2V5G9C8lE3/Jcm+tBENjwOiLIBqUpCo2WUoO7zaBkRiEwkQ15wRG44lfi8FC7t7RpNluambELU+x3Ji0c6L3BEWEUmj8kFNyoouw8lUcSGe9MBoTFh3moSkK+vB00UfqFOiAzxRgrXD2nR/oiK9ERkaAgCQ1xI21EA/Dl+iIv1RkhwJEJTXMCLCCYkoMBQwgYUEoSoEE9Ecz2RFu2PmPAAcEM9wQ70piWgmDAvdQko0JGOF4qL8EGgvxvYgd5kDjlntWv5YPj4D0lifmGICfNCZGg4wpPcCQIJ4SAykYV0Ut2mKgGl8EIQxYsj3a65ah4yPDIn3Eh3TUICyopXL7ZFxYWovUwF6WqpeCZMQGN4iVWSk2DFjVQUZkSj6jrxxVmSFYeq66QRPSMGpemcEYlSq/LS3utBpoq7d2pw53b5+Cd2MlMBdYxblUT5cbVUPPnp7/xqH8r5lk4TEPHFr1ncT01VgUb3mC7hMMrkXZyThPLsOLosdgkpQeRlxtPBkxOx+wx/XobXh5rIs0Ld79FUt9SzQpXwoDz78tJjUZidSFxjKpH5uiSei6KESJSnBqGSG4aiaA5yeMEoigxFdVQYCiNDURkbiILESOQmRyMvNQ55CYFEYtMYLipTA1GQmTCqQwa1jgrapkIYqPV03jgykJao7BuDovRI5KZykZ/KQUG8L01ClDouJykC11O4au8tRT4pMcF0HjhKAlLVdOSm8RgCUsXw/GoU6USGeA4lBCVtQAkcHwQF+IIb6omoME9wwoMQxfZDUIQLwkPcEc72oINOuaGeiA71AjfUEwkcHwREuYPD9gCH7YGoUH+ER7nBL8oRXHKfqBBPwqGA4wAO2wPB4S6ICvGkbUBRIZ5gBTrSNiB/XyKYNdDHFSzfQLB8/En7z8e9P1Qy1aBgb/j6+oIb6gVOaASiYvyRyAtHCC8NcTzC+MjjcRHDi6bzvRFSTyRtA6JywsXxIhFLSkyUrYiX6Il4HkdN/01huBcc/SVbkvXRvs5HBB8OC5qk7BCV2TGoyuYSSA9BeXYcSnMSiO1ZcajIjkUZ+Vt1slSNVxoNd26V4m5tJe7crsCdWyW4W1uF29V5uFtbhbu1Vai9WYzaihvqpEOqxyhJRzVpKJ1IVKXA3mgph9RIkpSAKIM87dhASkjvSzyqEUmqnC9VU2i4mmj4BFqiYgNSzfCs2qdsFMP7aHFHtfk3hoJqP0Iw8PDgX+qZoWxXVAVdys5FVVEtSo9EUXYiUX8ofUi6yE4II2rxxL47HiiTR1QJJly4ObQN6EZGPJ3ZoCibsJVR6k1VVTDlxKMaN6SKwvQoOu0OkZU+lM7NmJPEQVZ8KC3VxPKiaBtPWnQgUoLYiI1gEer06FCkhkciLTIM6VEhTEG6d0G15EFIoBstNbAD3EZ4wfn5BSGA4056q4XC39cVYUHuiOC40xJQEI8gk6gIf8RFsOAX4wYOJwDRYQGIjfBBaJIbOGwWuGGBiItkwcfXmyhxHe6NBI4P0qL9kRTlSyQxDR3KExfB9kBIoBuCA4iM274+zgjQcwBRAAAgAElEQVTw9wOL5UGo2nw8wWJRqj/KCcHjw0jJl3BsCAxggRXgCb8ALkKD3JEQHQZOSDBCw6KRyAunS23H8qLA5fEQzYtBDJlmJ4kXCi6Ph3ReEO0FRyUpjOVFIY4XiSReGKJ5MaS3DJtWzanmuqIw6tc7mRPtQyYTyuZBYfgxynNTUJhFTBpFWfEoyopH9fU4lGRwUZWbhMIsIhllVVYEijNHz4JdlfceN+zqITfm2pvF5O8bQ9uq8yd0DeOpRDpq/6IhRwTq/G+VTNQT7rq6Rx75df4u5GXG08sVtFSUrO6dSEpGY13bnfw8+hrU0gtNkFApEqvKS3tnmiOKgCgbUOn1ZOSm8VCVGISyJF+UJvujJCUYRTFBKE/0QXmiDyoSfVGcGIa8hFBcTwhDfkIIimJ8kRftg6wob5THeaI4zh9FMUEoTuSiJp6oGZSfEkvbykZDYWYcCrISCU/O9ERU5/BQlRmH6hweCtMikZ8Ug7JENkoTOKiK80cuNwiFcSxkRnojM5r0wIv0RibXB5nRfrgeH4bMSBbSI4OQHhaA5KAYpIRykRoSgVhOCCKT3WlNR0Z0MFJUyq0wBESCw/YclYgom0902FCqmxSuH1i+oeCwPYnA0TR7BPi5IDTIndgv2Y52MAgP9qCJLDiYg/BgD/DCvZHC9QeL5YrQYHfEhLORwPFBCtcPcREselxWqgMSIwPB4tojjB1OH58d6AZWhIP6NUQ6gB3oRscksWLsP+r98WU5qvx2hJ+vM3z9nOAb54Do8FCwU4is35G8WGTw/BGa6kwWm/NHBs8fPF400nn+SOf50V9M6Tx/+Gc4gMOLRwbPH/G88Hd+7WXFh4xIRkoZXN/7FT9GIKqaui1/yDmgZlicRwkZUHoz1Qd5mXEoTY9AVXoQqtP8UZ3mj9IkPxQm+KMgPQY5cQFEQbr0cFSlB5F2ooTRzzU/nSSX8aGupIxerinJRlX+kK2mmgTxO4P4Pey4eZmJdFVMIt+a+u+C7CSUXE8mx80YGic/HdVq6zJQk5+B2qobqK3IJf5W38AdErXVebhTfQO3K66jRmV/VVSTqMxLQ3V+OnEOZD2dgqxEFGSpnxt9juT2PHKf0uspKMpJRn5WIj1mDXmeNfkZdOns4pxk1BRkoqZA5TwKMlFTkInb5ddxqzQHtdV59LoxMWyMmoJMlF5PRcWNdNTkZ6AwOwk1+RkoyEpEVV46fU0VGRyUZPJQzY1BTQYbNZExKI3moCYyegRy4tmoiYzGrfgw3ORFoCaKi9p0f9xOYuNmbARupwegKDseN3kRqMgkxi3ITkJRdjJ5bsT53Rzl/ItzUujlwuxkFOck41ZOJGoyklGTm46avAzcjIpBeUIcaqJicDMqBsVpCaiJikFNVAyqo6JRGcVFaTQH2XHByA53Q5C/G7JDHBEd4ITMUGekR/shOZhLB56n8Qj13P89Aoq3BytaZXJOtgPb1xGsVDs1pHD9iEzNXD9iOZaNrOTocSM3LZZeLkvyQm5aLEpTglCcFY/slCjkZvJQmhKM4qyEd6L6Ohdl+akozkrA3fyQoXU5sSjOSkB5Dg81uVGoLYjE/QI2yovTUVMUh9uFUSgvTv8gPK7NR+PdHNSUZOD53Uw03MnFo9oi1N6qwK27lXh4pxRP7+bh+b1s3Km9ibq7ZWi8dxO192vxui4Trx/cxouHd/HsRQ0ePXmI+08eoeHRIzx/WIHmh7V40F6Fh201ePmkHo9bbuNl/RO8rH+CpsY6NLy8A8HLCghbS/C88TFEr8rAf1ULSVs5OtqaIXz9CIL2+xC+vglxexXE7bXobm9FR28rXgla0d/+Ev3tL9HZ/ope7u9tQVd7K/o7utHe/hr9nc3Een4LvY9Q2EqgrxXC/lb6dz+/Bf39LRAJmyESNkMsfIn+9hfo729Rh6CbXqbHEr5SWVaBqA1C0WvIZDKIxO2jQizphkjcCZG4A2JJFyQSPsTit+T2ToglvRCJ2yGTiglIBJCIuyEWv4FI3A65pA9ScTfEojcQCtsgk4ohl0mhkIqhkEqgkEogk0khJ5cVUjFkMhnkUilkMhkNuUwKuVQKuco6hUwGpUyGAbkMSjn5Wy6HUk6sU8jlxDZyHzm1r0ofOTUO1UcqgUJG/KX2lUup8xXT562USaEkz2OAPLacPtehY1HbKSjlChXISSg+AKOPIZeJIBN3QCZ5A7mkR+0chjC8n3yMcYl1dH+FjN5nUClV6zOoHDnOoFKBAQUBpYLYrpBLiN/UdiWxjVqn2k+pIJbpcZTq56aQySAjn63+/lYI395HQ2kWShO8kRnqghQOofVIDuEhOeQ/2QZExsTwwr1Rlp+Nx7fL0fz4LtpfPUbH60b09XaCL3sLGb8b4v5uiHo7IRK2Q9b/GtL+N+gRd6FL0guBsIOApBcCcRcEwjfoE7ZDIOpEt0yIt1Ih+MI+dAjegi8T0mjnd+JNXzfeCnvwpq8Lr3s7x4fuDrR1tKnhYdNzPGx6jvoXL9HU0owHjc/xoPE5Hj57hQeNz1H3rBUPm9rw8Nkr1D1rJX4/e4WHTW3k7xbUPXtJ9Gl6jbtPWnG7rgU37zfj5v1m1D5swd0nrbj1oBk1917i9oNm1Nx9OSbKbz1GWc0DlFTfeS+KK2tRXFWLvIJq5BVU40bpLdzIr0JMRjnScysRk1H+hyA0Jg/RaWWITitDWGw+IhKKwE0pRUxGOaKSSxDEyXkv/MOy1MBiZ34Q3IJS4RaUCvegVHgGpcLTLwmuQSlwC0iBe0AyvHyT1ODim4irHnG44h4HW8942HvFw4mVABffRDj5JMLeOwG2nvG46h6Hq+Q+dp48OHjx4OKbCAdPHk7a+OCsHRuX3WNx5IwDLrvH4sQFD1x0joKNawzO2rHx6yUvnLMPw2X3WFxwjMCpK/745ZwrDp+yxeFTtjhxwQOnrvjjgmMEDpywwbHfnXDSxgcHTtjAxjUGB07YTBj7jlxU/330Iqx/uYT9J2xgffwSfj52EfuOXMSeQxew59AF7D1yAT8fuwjr45dw4IQNrH+5hH1HL2LX/rPYffA8rI9fwk5rYvldsNp7BpZ7TmPn/nPYdeA8dh04jx37fsdO67PYdeAcdh88D8s9p9VgtfcMdlqfHbF+wtj5Gyx3n4Llrt9gZXUcVpbHYLnrJIGdv8LK8hdYbT+CHVsPwmr7EVhZHYflzl/JPidhteMErCyPYcfWg7DcfYrYz+o43Yce96ejsNp2GD9uPYgtWw5g25YDsNx6EFbkuFstjxH7bD0Iy22HsGPrQWz/ifg7HJu27MfmLQewY+tBbN5+BFZbD8Fq22H6mo6ccYCLbyJS0ktQc/cl3nb1QC58hq6GG6jO4iEzzBWJ4X7/uSq4wEBfJKfyUNdzD939b9HU8hYFtQ1IyK1CQm4VgiJTcMkhRA2Hz7hh5+HL2GZ9CcfO2GGb9SU1bN5zFj/uOo3vfzqBrdYXsWXvOazbcgIWGw5h9aYT2LDtBJavPYCVG45g9aYTo2L56v1Yse4gLDYcxaofjmPVD7/A3GKfRliwaCPMLfZBS3sR9PSXY4HxRixeaglzi31YtGQbDBeug5a2CWbPWYg5c42gpbMI2vOWYNbsBZg1ewG0tE0wV9eU/j0RfPvNPHwzXe+DMVvLhP47R9sUs7UW4Zvpepg123jMvlO/moPZcxdh+hQdfDNdD1MmzcKX/5qGL/4xGZM/n4FpX8/F5H9/iymTZmHy5zPw1f9Mx1f/S/z+/B9fYcqkWWqY/O9vMfnzGZj0zyn4ZpouJn8+A1Mna9H7fzONOObkf3+LSf9vKj7/ry8x6f9NxeR/f4upX83B9Ck6mD5FB1O+JMaa9M8p+PwfX+GL//4aX/5rGib/+1t8/l9fMmDwfwrfTNPFN9P1oG+wGta/uSKz8Ba6evqgEDbhZU0S8jnOyAq2/88joMjYeDxpfIxufj84yfk4dMoVc7QXYfpUHcycaYjP/+tLTPt6LqZ9PRczZsyn1zFgwIABg4+PL/9nOuZoLYKNHRv3G1shF4vRXZ+JfI7zfxYBpSdFobW7F5W1jVi23gRf/PfkT37zGTBgwIDBl5ijtQhrfjyOopqnGByU4+39ZIKAXBxs6Unc3fXjek/9WeAl56OX34eQiGRo65h/8pvNgAEDBgzUMX2qDn7c+TvuNbyCTN5FEJCnu8MnJ5APQVRsPFo63yIiJgvffvHNJ7/JDBgwYMBgdEz9ajZOXAlDl1AyREDeXo7w9Pj7ERE7PAx3HtxEZUExpn8x45PfXAYMGDBg8H7oGa5CTFrZ390G5I649FK8eN2Mlfomn/ymMmDAgAGDsTHpn1OwZY8tQUBOttfUJCA3F7s/XC3nZHsNXp5D0fXeXo5wdbIb3zi+IWhoaALL1/aT31AGDBgwYKAZJv1zCvSNVo4uAbk52cHLyxHe3o4fRDKawMuTIDpPDwe4OY+PgCJic9HU8ATmZos/+Q1lwIABAwaa4Yt/fIW5eksIAvJwU/d88yIlIXeXP84jzsPNHq6OdnC2u0YS0fjJ7mbtfaREhXzym8mAAQMGDMaHWXOMCQIaPvlPhAw+BpztbcexvysevWjGpXM7PvmNZMDgQzFrjjEmf8440TD4v4OZMw0JAnJ1siNsQO6EGszL0xFenoRn3KcgIk3g489Db3MpVpqu/OQ3kgGDD8WsOcb44r+//uTnwYDBn4lRbUBefwN3bG5KOR7dT4WJ9vxPfhMZMPhQMNIPg/9r+GaaHikBkbYYFwdbuDnZwd3FHs72trR95q+I1Pz7yEsJxfQpcz/5jWTAgAEDBuPDlEmz1CUgyg3bi1S9/XUzJDij+HYDUv3tP/lNZMCAAQMG4wfthPC3g48nGt904vxvBz/5TWTAgAEDBuMHTUDDJR1Pdwd4e/85cUATgW8AC41vOrFv34ZPfhP/8H/SbEPMnGmIqZO1Pvm5MGDAgMHHgra+2egSkLO97Z8WiDoRBAQHofFNJ9as3TTmRU6ZNAu6Bsuga7AMBosWQN/IAvNNVv3lMW/hCixZZY7bD56h8203OnsFEEsU44JIJFaDWKJAv1CGvn4p+oVSCEXEMgMGDCYCCQR9/SoQQtDXP+GxRluvPr46iOOLIegTjbJ99HMh1otVxviwe8AXCCGWyNDdL0J8UpbG5PPeTAh/dYRERKG1vxPzZ+mMeaEzZxpCz3D5JyeUiRDQxhXm6OzqQb9QhH6hDBKpnAEDBgz+MhBLZBBLZOgXStH4rAHTp449J1MEtGbzCXxGqdooOF0b6fmmqo77K0hFcem56G3IgdZ07TEvdK7u4k9OJhOB8bL5MF35PSRSGRQKJQR90k/+sDFgwICBKoQiGQYHByGRylF99wU+/8dXGhPQlj22+MzL0xHeXo7vtflQ+/xVCCg+Mx8Pbhbgu8nfaUxAxsuM3zvh6w6TkoZLTTrzl/3pEtDBHdvQJxR/8oeMAQMGDEaDWCKj/94oqMKkf2oWTE0TkJuzHVwcbOF07RrcXOzg6jh6QlAXe1s4Xr0KN5dxZqz+2PDxxvXiR8hLjsBX/zt1zAvVNTBXmdgtYLBoBeYtNIOu4XLo6JtD39gCOvrm0NE3p4lH38gEeuR2CvMWroDeghUjiGie0Uro6C+FvvEKLFxq+tEISHveUtg5e0EkZiQfBgwY/DUhlRHkIxJLkRSfPi4b0N5fPUbagEYrSkd5yY27XMIfAd8AlN5vQGakFyb9c8qYFzpv4QrMN1kFfaOVBMEsWIFdP1nB1c4RLCdnsJxd4OPsggNHT2P58h8w32QVzM3WwMPeCe7OnnC86oCr521x7YoN3Gzt4e3qhUtnLkDXYDkWLlyOrT/txq8XTuD46SvY+P1O6BouH1Pa0gQ68xcjOzYVEqkcgj4pROKxbUAKhRIAoFQOgGl/bpPLFZ98MmDw8UDZNj7V8YWiv4fNVyZXgC+QQKlUIig0VmMCmjp5Dg5d8MNnLg62cHexp3PBjZaIVNUjzv7ylRHbvb0c4WxvS1dWdbhylVbdUX28vBw/Sm65gJAQ1NxvgPfxHRpdKEVAqrhsz8Lg4OAItLW1Ys3mxfhp9VqIFUpat+lh7wylcgAK5QCkMgVyUuPx3bS5SE1MhkyuoPu/eduDIwdOwGDRCsw3WTlh8jEyXwwtnSW4e6sYfaTtR6FQavAwEOfc1y+DXKGEnLyGwcFBAKAJCgAGBwehUCghlyvo34ODg1CMQl5SqVxtHNUx5HIF5HIFpDLFmJP0wAAxhkz+7n1HG0cqldPHUz02tU0qI0Cte9f4UplixDWM1uQq90n1WGP11eR/xODPQ1+/uvaAmtQpe6pILEN/vxRSqQIiMUE4fIEUYokMCsUAevkS8AUSyOWEDbaXL4FEKodYQoxN9VEolBCKhvoI+qQQS4jxe/kS9PIlEIqIZZFIgu6eXrUPyoEBoh8hScgglsjRyxdAKhv9eeon1fKqx6LOjRqXLxj6LRTJwBdIMDAwQPcTS+TkdimEIglNuD29Q8tyhRJ8wdgaGGpuOH7qosYENPnf3yKYW0BIQI5Xr9IE5O3lSNQD8iCW3V3s4e3tSBOPp7sDnO2uwd3FHl4eDsR+3o5wdSQyWdteuAyHy1fgYm+rRjguDrZq9qOJlnoICAnBk4e3wPrFUqML1Te2oCUfaoJnsTxHfVgHBwdx5+5dbN17FmKJDDI58WCeO3wYEqmcnPBk2P+rNzJSkiGTEeuoh2hwcBDPXnRg8Sp9+rgTha6BCR4+egipbPwv3sDAIH2+FIl2dfegq6ubnpylMgUUSnVCGhwchFAootfxBX1QKJRqJKvaqGMoSKJ7V5uIREb1GRgYpI8lVyjR3SOgz1cuV0IuV9IvQU+vZMxx5aOQE3WNAHFflEpiQqCOyxDQ3xOCPin9DoslMgj6CLdmpXKAnmj7+qXo71eXNkQiOXp6JejplUCpHIBYQrzfAwPEM9bXL4RESkhJFHH09Uv