Top 5 ASICs Bitcoin Miners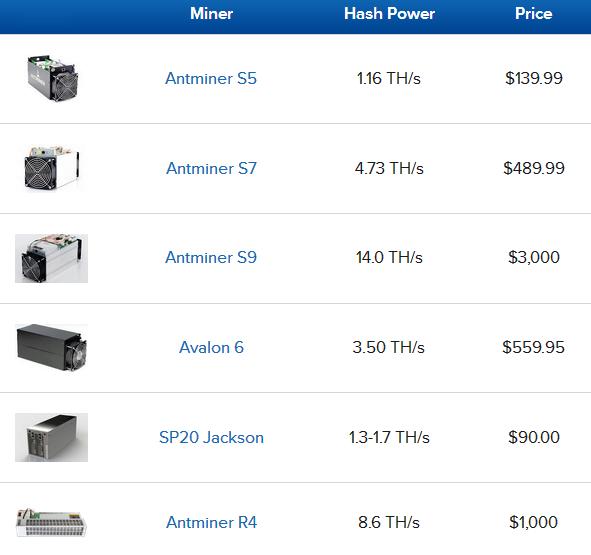 Today, Bitcoins are mined using the ASICs that deliver higher efficiency, hash rates and speeds than GPU cards.
Finding the best Bitcoin miner or rig requires assessing the hash rate, efficiency and price and comparing the three. The more the hash rate the higher the power consumption but the device will also cost more, thus you need to also consider efficiency. Fastest and more efficient devices will also cost more but will mine more Bitcoins.
Thus the best miner is the most efficient one because it delivers the best value for its price. Apart from the brand new miners available, you can also buy used miners at eBay and Amazon. Their customer protection guidelines ensure you get a working product.
Before going into discussing the best mining hardware for Bitcoin, remember that Bitcoin mining hardware requires Bitcoin mining software and mining pool.
Also, be sure to use the Bitcoin mining profitability calculators that provide a clue on what amount of profits to expect by putting into consideration the power consumption of the equipment, Bitcoin difficulty, conversion rate, hash rate, electricity rate. The calculator can also provide some guidance on which mining machine is best for your case.
Here are the top five Bitcoin ASIC miners starting with the best in the market today.
Bitmain Antminer S7
The Bitmain Antminer S7 was released in mid-2015 and is now at its 19th batch of production. It consists of 135, 28nm BM1385 ASIC chips spread across 3 boards. It is cooled by dual fans.
A new Bitmain Antminer S7 costs around $440 without including shipping costs. Previously, it was priced at $2000 after its' release by Bitmain.
This machine delivers a hash rate of about 4.73 TH/s and the power efficiency is about 0.25 Joule per GH/s. Thus it offers high hash rate for the amount of power consumed.
It has a higher power consumption of above 1350 Watts compared to the 590 watts for the S5, which requires high-end PSU. The recommended power supply ((1600 Watt APW3 power supply unit) for this miner costs about $140 plus shipping but loses only 7% of electricity between outlet and miner, and is thus highly efficient.
It is popular in the market, and there are plentiful guides and parts available. It is, however, quite noisy at 62dB.
Avalon 6
Avalon 6 is the second most efficient Bitcoin miner out there after the Antminer S7 although it delivers a lesser hash power (3.50 TH/s) for the money compared to the Antminer S7 or Antminer S9
It was produced by Canaan Creative who took over the troubled Avalon brand.
It runs on eighty 18nm A3218 chips at 500 MHz. It costs about $550 and you get $100 and $130 discounts for 10 and 50 units respectively.
It can be powered by a power supply of 1100W and up will run the Avalon 6. It draws about 1050 Watts when using a platinum-rated PSU. The miner can work well where there is lower electricity cost or higher Bitcoin price.
The noise level is about 55 dB from 1.2 m or 4 feet and so is quieter for home use (not at the bedroom or living room though). You can reduce the noise further by underclocking the unit.
Bitmain Antminer S9
The 16 Nanometer-based Antminer S9 miner affords the highest available hashrate in the market so far at 14 TH/s for a cost of about $2100 at Amazon though it cost about $3,000 when it was first released from Bitmain. The first batch became available on June 2017.
It is very efficient though, with an efficiency of 0.1 Joule per GH/s. It also affords lower electricity cost compared to many miners out there.
You need a separate power supply that costs about $170 – $200. The recommended power supply include AntMiner APW-12 1600 Watt Bitcoin Miner PSU and EVGA SuperNOVA 1300 Watt GPU PSU which cost $200 and $170 respectively on Amazon and eBay.
Antminer S5
Antminer S5 is rated the best miner in terms of cost for budget and beginner miners operating where electricity cost is high. Most ship from the United States. It was released in 2014 and was the fastest and most efficient at that time but there are better devices now in terms of hash power and speed.
The miner is based on the 28nm fabrication process while modern miners are based on 16nm or 14nm ASIC designs hence modern ones are faster and more efficient. It has an efficiency of S5's 0.25W/GH.
You can get a second-hand rig costs $139.99 but a new miner from Bitmain in China costs $413 and you will need to wait for some time to get the stock. There will also be additional shipping costs and possible customs duties.
The machine delivers 1.16 TH/s in hash power through 1.16 TH/s is low by today's standards. It has a power demand of 590 watts and is certainly a great device for learning and experimentation.
Its bad side includes having a high noise level of above 75dB for a single fan design) although you can make it quieter by using mods.
Spondoolies SP20
The Spondoolies SP20 miner costs just $110 on Amazon or eBay and gives a hashrate of about 1.7 TH/s and so rivals the AntMiner S5. It was produced by Spondoolies co. on May 4th, 2016. The company had earlier on in 2014 released the SP20. The machine uses eight 28nm RockerBox ASIC mining chips onto 2 circuit boards.
Home miners will find the SP20 cheap and quieter for home use although it is inefficient, drawing too much power for its low hash rate (in modern standards).
It is limited in availability and support because Spondoolies co. has closed.
The unit, however, becomes quite hot at higher speed and has a poorer efficiency of 0.9W/GH compared to S5's 0.25W/GH.
It can be powered by any ATX PSU of sufficient wattage (1200W+). You can also use dual lower wattage (750W+) PSUs to replace a single powerful PSU.