Charles "Charlie" Shrem IV is an American Bitcoin investor and advocate. He started investments in Bitcoin as a college senior in 2011 but after losing Bitcoins when the service he was using collapsed, he met Gareth Nelson online and they together started the now-defunct BitInstant in September 2011.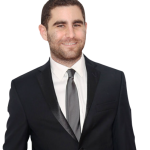 He is currently a founding board member of Bitcoin Foundation, an organization that promotes use of Bitcoin, where he served as a vice-chairman from 2012 until his arrest in 2014.
Charlie is also Chief Operating Officer at Jaxx Blockchain Interface, a multi-token blockchain wallet that works on 9 platforms and devices. He is also Chief Operating Officer at Decentral, a Toronto-based innovation hub focused on disruptive and decentralized technologies; and Business Development Advisor at Changelly, an instant cryptocurrency exchange service.
Charlie holds a Bachelor of Science (BS) in Economics & Finance from City University of New York where he graduated in 2011. His first shot in startups was DailyCheckout.com, which he founded in 2009 in his home town Brooklyn where he was born in November 25, 1989.
After recording success with the company, he traveled around the world advising on business development using his expertise in eCommerce and the finance industry. He sold the company in 2012.
He was later arrested and imprisoned for two years for involvement with unlicensed money-transmitting business related to the Silk Road marketplace started by Roger Ver.
He now lives in New York.
Days at BitInstant
The company let people buy Bitcoins and make purchases with Bitcoins from over 700,000 locations around the world. It provided credit to speed up operations.
The company had grown to the point of processing 30% of all bitcoin transactions by 2013 but stopped operations in July
2013.
Imprisonment
Charlie was arrested at JFK Airport on January 26, 2014 upon returning to New York from an e-commerce convention in Amsterdam. He was accused of conspiring to launder
$1 million worth of bitcoins to help users of the Silk Road marketplace anonymously make illegal purchases. The marketplace was started by Roger Ver, who was also an angel investor in BitInstant.
Charlie was released on bail on condition that he would be under house arrest and electronic monitoring. He defended himself on Skype at the Texas Bitcoin Conference on March 5, 2014, saying that he had not knowingly handled money used for illegal transactions, saying the motives of the arrest were the fears that Bitcoin would shift economic power.
His charges of "operating an unlicensed money transmitting business, money laundering conspiracy and willfully failing to file suspicious activity reports with banking authorities" were reduced (and he pleaded guilty) to "aiding and abetting unlicensed money transmission" of which he was convicted on December 19, 2014, ordered to forfeit $950,000, and sentenced to two years in prison.
He surrendered himself to authorities on March 30, 2015 and sentenced to Lewisburg Federal Prison Camp in Pennsylvania until June 2016.
A Bitcoin advocate
In his high school days, Charlie started Epiphany Design and Production, a company that fixed printers and computers. In 1999 while in Brooklyn College, he started Daily Checkout, a daily deal website that sold refurbished used goods but it was acquired by BlueSwitch in 2012.
Not much of Bitcoin there but as noted earlier, he started investing in Bitcoin as college senior in 2011. He co-owns Manhattan bar EVR, the first bar in New York to accept Bitcoins as payment.
As vice chairman of Bitcoin Foundation, he led partnerships and mergers of Fundación Bitcoin Argentina, Bitcoin Embassy of Canada, and Bitcoin Association of Australia.
He has also involved in advising hotels about receiving Bitcoin as payment.
After prison, Charlie started Intellisys Capital together with its co-founder and CEO Jason Granger on November 22, 2016 . The plan was to offer cryptocurrency tokens on Ethereum blockchain and the tokens would represent shares in a portfolio of companies
involved in manufacturing, real estate and sanitary waste. Intellisys was dissolved in March 2017.
In 2017, he also proposed creation of a Dash debit card that could be loaded with Dash coins which would be converted to local currency to allow the user to purchase items.
He is featured in The Rise and Rise of Bitcoin, a highly anticipated documentary about the early days of Bitcoin.
In addition to serving at Bitcoin Foundation, Changelly, Jaxx and Decentral, Charlie is also Business Development consultant for payments startup Payza, an international online payment platform. He also participates in industry panels in addition to guiding news outlet with interest in Bitcoin reporting.