What are the Top Ten Coin Exchange Markets in Volume?
There are hundreds of coin exchange markets out there. For instance, CoinMarketCap has a list of about 400 places where you can trade your various crypto coins and there are many more out there.
There are many things to consider when selecting a market: You can select your choice depending on the cryptocurrencies you want to trade -- called trade pairs --, and country whose local currency the company allows you to trade with. There are other factors: history of the market, its trustworthiness, security and market standings.
Below are some of the popular markets in terms of transaction volumes. The volume of transactions keep changing from time to time because it is usually tracked on a 24 hour basis so you should check for the latest volume in the last 24 hours.
Bitfinex
Bitfinex allows you to trade Bitcoin, Ethereum, Ethereum Classic, Zcash, Monero, Litecoin, Dash, and Ripple coins. With it you can trade from a variety of devices including desktop, laptop and tablets.It is suitable for professional and beginner traders. It led all other markets in Bitcoin trades with a volume of $200,626,000 for the BTC/USD pair.
The market had $706,192,781 in total transaction volume in the last 24 hours for all pairs and the highest was BTC/USD pair at $200,626,000. Bitcoin led with a share of $204,320,000.
It has a volume of $2,764,295,627 in the last 7 days.
Bithumb
Bithumb Korean cryptocurrency exchange allows you to buy, sell and store Bitcoin and Ethereum and you can buy them using the Korean currency Won, only. Bithumb traded a total of $1,282,917,400 in volume in the last 24 hours for all pairs with Litecoin leading at $393,584,000 for the LTC/KRW pair.
Poloniex
Poloniex It allows you to trade a variety of crytocurrencies including AMP, ARDR, BCH, BCN, BCY, BELA, BLK, BTC, BTCD, BTM, BTS, BURST and CLAM offers a number of features. For instance, you can stay up to date with news flow and analyze price trends using their live chat and technical analysis tools, before making or moving forward with a market decision.
It was second for Bitcoin exchange with $114,716,000 for the LTC/BTC pair but had a total market transaction volume of $616,621,944 in the last 24 hours for all pairs.
Huobi
Huobi, together with the OKCoin, moves China's global Bitcoin exchange market. The two have invested around 1 billion yuan ($150 million) of idle client funds into "wealth-management products" according to Xinhua news house. It had a volume of $77,132,600 in the last 24 hours for the BTC/CNY and a volume of $621,514,380 for all pairs.
OKCoin.cn
OKCoin allows for LTC and BTC trading pairs into USD as well as Ethereum. It also allows futures on LTC and BTC with leverage up to 20 X. With futures now into the coin markets, you can structure various financial positions in both Bitcoin and Litecoin markets
It had a volume of $89,046,500 in the last 24 hours for the BTC/CNY pair and a total of $515,743,300 for all pairs.
GDAX
GDAX allows users to trade Bitcoin, Ethereum, and more currencies in a U.S. regulated exchange. It had a volume of $420,929,660 for all coin pairs in the last 24 hours with Litecoin leading at $192,261,000 for the LTC/USD pair.
This cryptocurrency exchange is a good choice for those willing to trade Bitcoins, Ethereum and Litecoin. It packs an easy to navigate and clean website interface, which is good for beginners.
With 8.3M customers in 32 countries and more than $6.0B in digital currency exchanged, it is a popular stop for crypto traders. It runs own crypto currency wallet with Android and iOS apps.
HitBTC
HitBTC market offers 0.1% fees on every market trade and allows people to trade bitcoin, Dogecoi, Litecoin, the Euro, USD and other lesser known crypto coins. It allows for trading bot developers to use a robust set of APIs. The market had traded $186,896,081 in volume for all pairs in the last 24 hours, with Bitcoin market leading at $99,841,900 for the BCC/BTC pair.
Bitstamp
Bitstamp market was the largest in volume as of 2016. It allows people to trade USD currency with other cryptos. You can also make USD, EUR, Bitcoin, Litecoin, Ethereum, or Ripple deposits and withdrawals. Bitstamp had a volume of $159,451,330 in the last 24 hours for all pairs with Bitcoin market leading at $88,343,100 for the BTC/USD pair.
BTCC
Actually, BTCC is the oldest bitcoin exchange in China and one of the largest in terms of volume of trade, the market offers bitcoin and litecoin exchanges, a mining pool, payment processing, a wallet, and more features.
It had a volume of $81,289,600 for the BTC/CNY pair in the last 24 hours for the BTC/CNY pair and $114,564,169 for all pairs.
bitFlyer
BitFlyer had a volume of $78,627,700 in the last 24 hours for the BTC/JPY pair but the total for all pairs was $84,725,951. It offers one of the most active exchanges for the JPY/BTC pair although it allows for BTC/ETH trading. It offers property insurance for customer Bitcoin deposits through a major Japanese insurance company.
It just announced expansion to U.S. this fall.
Other familiar markets in terms of user rating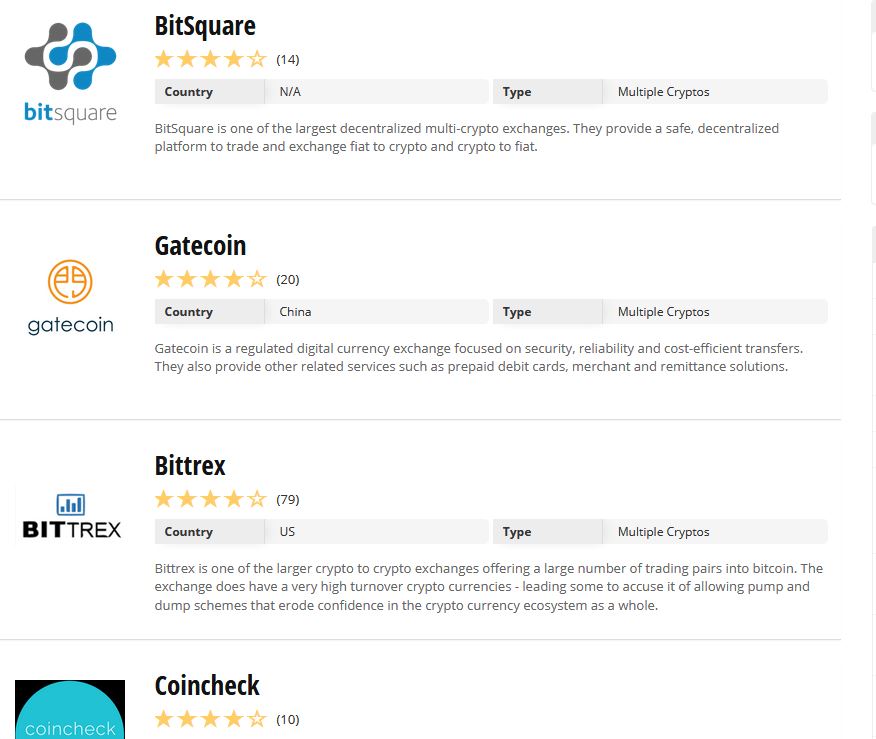 CoinMama
CoinMama has been in the market since 2013. With it, you can deposit cash via credit cards, MoneyGram and the Western Union money transfer and then buy Bitcoin.
Its exchange rates are however high due to charge-back issues.
CEX.IO
CEX.IO started operations in 2013 and accepts credit card, bank transfers and crypto capital payments. You can also buy cryptocurrencies with USD, EUR and RUB. They also offer ETH/USD margin trading.
Localbitcoins
Localbitcoins market allows people from different countries to exchange Bitcoins with their local currencies as the name suggests. You can post an advertisement on the website indicating your exchange rate and someone would agree to meet you and buy the crypto with online banking or via cash.
You pay for the purchases directly from the web wallet where these Bitcoins are placed.
Bittrex
Bittrex is based and regulated in U.S. and you can trade various cryptocurrencies in the market. It packs fast trade execution, stable wallets and the security practices are the best in the world.
Bitsquare
Bitsquare allows you to trade Bitcoin and other cryptocurrencies for national currencies and has an open-source desktop application.
You do not even need to register to use this exchange service and you can exchange Bitcoin with either your local currencies and other altcoins.
Kraken
Kraken is based in San Francisco and the lagest Bitcoin exchange in Euro volume and liquidity. You can also trade Canadian dollars, US dollars, British pounds and Japanese Yen in this market. They charge low fees and have high liquidity and fast funding. You can trade Bitcoin for a margin of up to 5x leverage.
Coinhouse
Coinhouse allows users in France and other European countries to trade Bitcoins and accepts Visa and Mastercard credit card, and has 3D (3DS) secure activated to ensure that your payment is not reversed and to protect users against charge-backs. It had a total of for all pairs.